This year's 7th Nursten Postgraduate Flavour Symposium was held at the University of Reading. Postgraduate students delivered oral presentations on different aspects of their research work covering a wide range of subject areas.
The SCI Food Group awards prizes to the best oral presentations with Sam Riley winning for his talk on 'Enhancing Palatability and the Nutritional Profile of Vetch as a New Food Source for Human and Animal Diets'. Here, Sam tells us about his experience at the symposium and the work he has been doing in the last year.
Image: Sam Riley (centre) with Craig Duckham (right) and Maria-Jose Oruna-Concha (left), from SCI's Food Group Committee.
'Despite currently being only in the first year into my PhD project within the Joint University of Nottingham – University of Adelaide Doctoral Training Partnership, this was in fact the second Nursten symposium I had ever attended. The first of which was a mere 10 months ago when the University of Nottingham hosted and I was invited to attend. I remember listening to the presentations as a very excited but still very fresh postgraduate student with very little prior knowledge of food flavour chemistry. With an entire year passing and now armed with my own data and a clearer idea of my own research in mind, along with Nottingham's flavour group, I boarded a coach set for Reading and the seventh Annual Nursten Symposium.
'Our hosts at Reading University were absolutely fantastic and very accommodating with both days running incredibly smoothly and everyone having plenty of time to speak and take questions with no notable rushed presentations. Some really interesting research was presented by the students ranging from increasing the durability of tooth paste flavour post brushing to the study of fungal mutations during mycoprotein production and how they affect the texture of the final food product post fermentation. We also received a fascinating talk on the concept of food flavour evolution within early humans by Visiting Professor David Baines, his insight and very engaging use of aroma and food samples, as well as model human skulls among his props, made the experience an absolute pleasure.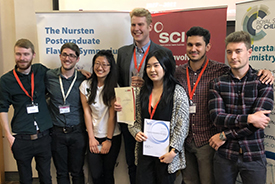 'My own presentation towards the end of the first day was titled 'Enhancing Palatability and the Nutritional Profile of Vetch as a New Food Source for Human and Animal Diets' and gave an overview of the research I had done over the past nine months. My research revolves solely around Common vetch (Vicia sativa) which is a leguminous plant currently used as an intermediate cover crop; protecting the fragile topsoil from erosion whilst providing a natural source of soil nitrogen. The crop has high drought tolerances and yields which gives it great potential to become both a cheap protein source for both livestock and humans. The neurotoxins β-cyano-alanine (BCA) and γ-glutamyl-β-cyano-alanine (GCA), are sadly present within the seed and these are highly toxic to monogastric animals so these will have to be eliminated either by genetic or processing means before a foodstuff can be produced.
'My work this past year has mainly involved efforts to reduce concentrations of these undesirable compounds through usage of novel post - harvest processing methods. I have successfully adapted natto and tempeh fermentation techniques, germination and microwaves for use with both whole and de-hulled vetch. There appears to have been no prior research detailing the flavour and aroma profile of vetch varieties. With the facilities at the University of Nottingham, within the flavour lab, we used GCMS to detect the major aroma compounds and an Electronic Tongue to detect the relative levels of bitterness, the results of which were presented at the symposium. Looking forward, it will be interesting to compare the palatability of the currently toxic vetch with a zero toxin vetch produced whilst in the University of Adelaide during my second and third years. My upcoming research will aim to develop a new cell based viability assay for detecting overall levels of anti-nutritional factors within the produced samples indicating whether the seed is still toxic to mammalian species.
'I was incredibly grateful to receive both the SCI prize for best overall presentation, The Nursten Award, and also the IFST award for most popular presentation this year as judged by the audience. I thoroughly enjoy talking to people about my work and helping them learn something new in both an interesting and engaging way. I look forward to engaging with SCI in the future, starting with me following up on my invitation to speak at the upcoming SCI Food Group Committee meeting at the SCI Belgrave Square HQ on the 11th September. '
Sam Riley
PhD Student
Joint University of Nottingham – University of Adelaide Doctoral Training Partnership
Related Links