For over thirty years, SCI has supported and recognised the excellence of early career people, by aiding their studies in the form of an SCI Scholarship.
Since 1985 over 80 scholarships have been awarded which have not only given the recipients financial assistance, but have enabled them to broaden their network, and strengthen their skills and knowledge. SCI Scholars receive access to publishing and mentoring opportunities and are given a platform to present their work amongst esteemed scientists and industrialists, thus raising their profile within the scientific community.
Joe Anderson was awarded an SCI Scholarship in 2021. At the end of their first year, SCI Scholars present an end of year report to SCI. Read on to find out more about what Joe has done in his first year as an SCI Scholar.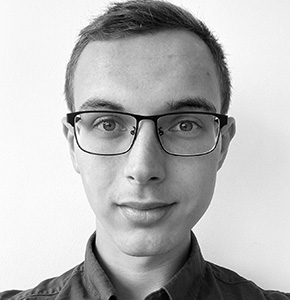 'It was a great privilege to be awarded an SCI Scholarship last June. I would like to thank all members of the SCI, particularly those in the Young Chemists' Panel, for welcoming me into the College of Scholars and for their support over the past 12 months. This has proven to be a very busy period in my PhD. I successfully completed my first-year transfer viva; I began to participate in internal teaching opportunities; I am close to completing our graduate-level taught modules; and I published a short review of the literature surrounding my PhD topic (ACIE 2021, 60, 24754). My research (the synthetic chemistry of bicyclo[1.1.1]pentane derivatives) has been progressing well, with a manuscript now in preparation. We hope to publish our findings in this area before autumn 2022.
'During my time as an SCI Scholar, I have greatly enjoyed engaging with SCI events including the 2022 Retrosynthesis Competition and the 2021 College of Scholars Day. The latter was an excellent opportunity to present my work to a broad audience, and to connect with individuals across academia and our industry. The Members' Lunch in 2021 was enjoyable, as I was able to further broaden my professional network and became more aware of the breadth of careers accessible following my PhD. Attendance of the 2021 Young Chemist in Industry event was memorable, with a range of exciting science presented in addition to an inspiring talk from keynote speaker Derek Lowe.
'In October 2021, the funding provided by the Scholarship allowed me to attend the SCI webinar "Exciting developments in photochemistry and electrochemistry for synthesis". Both are powerful enabling technologies in contemporary organic chemistry, and the concise overview of recent advances in the two disciplines presented during the webinar was extremely helpful. In February 2022, the funding also enabled my attendance of the virtual 3rd Winter Alpine Conference on Synthetic and Medicinal Chemistry, where a spectacular range of science was discussed. Finally, the Scholarship funding has allowed continual investment in resources for my own continued education and technical skill development. Later this month, with assistance from the Scholarship I am attending the ACS National Organic Chemistry Symposium in San Diego, where I will deliver a poster presentation summarising my PhD work to date.
'During the second half of the Scholarship, I look forward to continued attendance of SCI events with further opportunities to present my research. I also look forward to developing further connections with members from across the organisation. Overall, the opportunities provided by the Scholarship will be invaluable in the near future as I complete my studies and launch my career in synthetic chemistry. I would like to re-iterate my gratitude to the SCI for their continued guidance and support.'
Joe Anderson
PhD student
University of Strathclyde/GSK

Related Links