19 Apr 2018
One of SCI's longest running and most successful events, the 35th annual Process Development Symposium was held on 11-13 April 2018 at Churchill College, Cambridge.
Churchill College, Cambridge. Image: Wikimedia Commons
With over 150 delegates, speakers, and exhibitors, the event again proved an excellent forum for process development experts and scientists across a range of industries.
— Asynt Lab Supplies (@Asynt) April 11, 2018
Photochemistry shines
Reaching an international audience, the event attracted delegates and speakers from the US, Switzerland, Germany, Sweden, and Japan – among others.
It's all part of the #process with @SCIupdate ! pic.twitter.com/JIdv2roQjm
— Dr Will Bromley (@Will_Bromley) April 11, 2018
Kicking off the first day was Dr Danielle Schultz of Merck Sharpe & Dohme, who flew from the US to give her presentation on using photomediated transformations in pharmaceutical development.
— SCI (@SCIupdate) April 11, 2018
Dr Schultz spoke about her group's work into photocatalysis and the various synthetic challenges they had faced when incorporating the technique into pharmaceutical development, using Elbasvir – a drug used to treat hepatitis C – as a case study.
By using direct oxidation, Dr Schultz and the team were able to create value-added building blocks from inexpensive amine reagents which were amenable to the scale-up of the flow technology used.
— CatSci Ltd (@CatSciLtd) April 12, 2018
Safety first
The second day of the symposium was again filled with an array of interesting talks. Andy Payne from GSK gave his lecture on the importance of safety in process chemistry – a topic not often covered at the symposia.
As processes go from laboratory to industry, the scale-up process can unearth hazardous challenges for researchers. This is particularly important for flow chemistry technology – a rapidly developing area of science.
— High Force Research (@HFResearch) April 12, 2018
Payne spoke about his work at GSK's process safety group, highlighting the different calorimetry techniques that can be used to test the thermal stability of the process or compounds involved. Gas output can be measured by mass spectrometry, he said.
These methods together can be used to assess the safety of the process by a multidisciplinary team – a key factor to completing a successful hazard assessment.
Long-time attendees, Chiral Quest and Johnson Matthey both kindly sponsored the event wine receptions.
— Johnson Matthey (@JM_FineChems) April 13, 2018
Rewarding industry collaboration
The 2018 AstraZeneca, GSK, Pzifer and Syngenta Prize for Process Chemistry went to the Durham Fluorine group – led by Prof Graham Sandford – for its work on fluorinated systems in the development of HIV drug flucytosine.
On receiving his award, Prof Sandford said: 'The technology and techniques we are developing at Durham can be used by industry and could have significant benefits in enhancing the use and application of fluorine gas.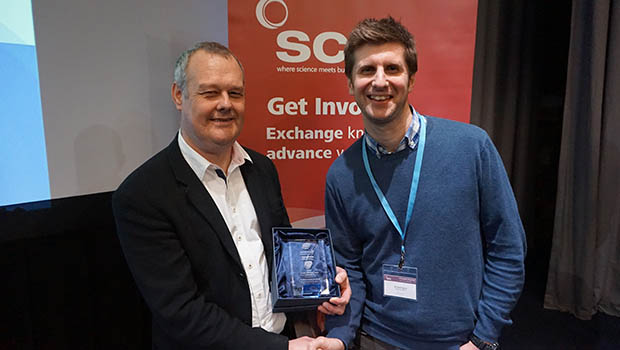 Graham Sandford (left) accepts his award from David Pascoe of GSK. Image: SCI
'This award is for everyone who has worked on our fluorination research, including students, analytical support staff, and for our successful knowledge transfer partnerships with industry.'
SCI would like to thank all of our kind sponsors and exhibitors for their support in making the 35th Process Development Symposium a great event.
Related links:
A Celebration of Organic Chemistry 2018
Continuous Flow Technology IV