18 Sept 2017
Delegates gathered at SCI's headquarters on 13 September to discuss the latest composites research and innovation about to reach the market. The event, run by SCI's Materials Chemistry group, also celebrated this year's Beilby Medal and Prize winner, Associate Professor Ken-Tye Yong of Nanyang Technological University, Singapore, who gave a lecture on his work on quantum dots.
Repurposing silica
First to speak was Martyn Bennett, Chief Scientist at ARTIS, a research and development (R&D) consultancy firm specialising in end-of-life rubbers and polymers. The company, which works closely with Avon Rubber, has recently submitted a patent for its pioneering silica pyrolysis technology. Silica is now widely used in energy-saving tyres, replacing the traditional carbon black (CB) material previously relied on. This repurposing method was up to four-times as fast as CB technology currently on the market, and the recycled silica produced had better energy-saving properties than the original material, Bennett said.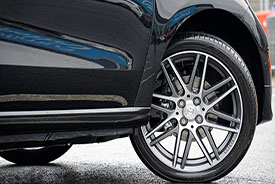 However, as it stands, there is no direct financial advantage for using repurposed silica or CB instead of their unused counterparts. Full-scale recycling projects are also known to vary in consistency when it comes to the quality of the product produced, leading to uncertainty in industry. Nonetheless, with three billion tyres predicted to be on the road by 2019, and with the industry struggling to find the materials to keep up with demand, there is a real opportunity to develop this innovation into a sustainable resource for tyre manufacturers.
Credit: MikesPhotos@Pixabay
Material focus
John Conti-Ramsden, Director of the Knowledge Centre for Materials Chemistry since 2013, which is now integrated within the Centre for Process Innovation, was also on hand to provide delegates with an update on the proposal for a new National Composite Materials Centre (NCMC). Building on the success of the National Composites Centre, launched as part of the government's 2009 UK Composites Strategy, Conti-Ramsden said the centre would focus on materials, rather than the assembly of parts for industry. A current issue hoped to be addressed by the NCMC if approved is that composites can be flammable, which is problematic for the marine and rail industries.
Conti-Ramsden said he hoped the project would be included in the next stream of investment from the Industrial Strategy Challenge Fund, which was created by the current government to provide support to UK R&D with an extra £4.7 billion over the next four years. The centre has support from the Department for Business, Energy, Innovation & Skills after a Science and Innovation Audit of the South-East highlighted the project as a positive investment.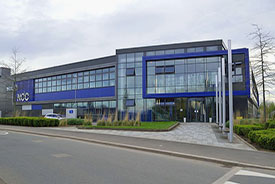 Credit: Rwendland@Wikimedia Commons
Caption: The National Composites Centre in Emersons Green, Bristol
Other lectures of the day included:
'Towards erosion-resistant ceramic-metallic coatings for epoxy/carbon fibre composites' by Gordon Armstrong, University of Limerick
'3D Printing and composite materials' by David Birkett
'Interfaces In engineering and bio composites' by Bob Bradley
You can find out more from Prof Tye-Yong's lecture in our upcoming Q&A with the award winner.
By Georgina Hines
Related links: