15 Sep 2017
A first-of-its kind industrial project linking three major process industries in the UK's Humber Estuary has been launched in Hull.
EPOS, a four-year EU SPIRE Horizon 2020-funded project, has developed a 'toolbox' allowing regionally linked process industries to reduce their carbon emissions, while improving both the efficiency and economics of their operations. Its aim is to enable regional clusters of cross-sectorial companies to benefit from industrial symbiosis – using waste streams of one industry as fuels or material feedstocks for another.
Three companies operating in the Humber Estuary – INEOS, CEMEX and Omya – in the petrochemical, cement, and minerals sectors, respectively – are the first in the UK ready to implement the initiative, following research by PhD students based in the UK, Switzerland, Belgium, and France. The wider EPOS project includes clusters in France, Switzerland, and Poland, with ArcelorMittal and Veolia, five SMEs, and two research institutes – École polytechnique fédérale de Lausanne, Switzerland, and Ghent University, Belgium – completing the partnership.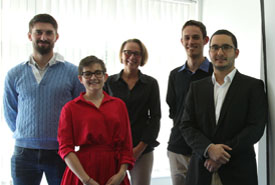 Credit: INEOS
Caption: (L–R) PhD students Stéphane Ogé, Hélène Cervo, Project Coordinator Greet Van Eetvelde, Franz Wolf, and Sebastián Arias.
The project's PhD researchers have developed blueprints for each energy-intensive sector within the project's scope – chemicals, cement, steel, minerals, and engineering – allowing companies to share a generic view of their sector's heat, electricity, and material stream profiles with other companies, without divulging confidential industry data specific to their own processes.
'It started with INEOS, where we had a willingness to share our results, to share what we are doing, but not to share our data […] these blueprints are the heart of the toolbox,' EPOS Project Coordinator, Professor Greet Van Eetvelde explained. Through access to the blueprints, chief engineers and plant managers can identify opportunities to make best use of their industrial neighbours' waste streams.
Waste becomes fuel
At the launch, the researchers demonstrated the use of EPOS to develop a symbiotic resource management process between INEOS and CEMEX – a case which features in the Chemistry Growth Partnership's upcoming Developing a Low Carbon Future for the Chemical Industry report, prepared by SCI.
Currently, INEOS sends waste liquid fuel to its utility provider to produce steam to be fed back into INEOS, while CEMEX derives 20% of its fuel from primary sources – presenting an opportunity for CEMEX to increase its secondary fuel proportion by re-using the waste from INEOS.
The process involves valorisation of high-calorie waste liquid fuel from INEOS, by separation of its acid and high-calorific organic components The latter can then be delivered directly to CEMEX for use as a fuel, while the former can be fed back into INEOS' process. The researchers estimate that this will deliver equivalent savings of 1,200–1,400 tonnes of CO2 per year. It requires investment from both companies, but a payback timeline estimates that the process will break even and then continue to deliver savings in two years for INEOS and three for CEMEX.
Before INEOS and CEMEX can begin their industrial symbiosis, however, new permits will be required – some materials currently classified as hazardous waste require reclassification to be transported and re-used. Professor Van Eetvelde told SCI that it is not investments that will hamper the implementation of EPOS, but waste legislation, which presents different challenges regionally. 'We need policymakers to come with us,' she said.
Stephen Elliott, CEO of the Chemical Industries Association said, 'We applaud this symbiosis initiative by INEOS and CEMEX under the EPOS project. This is a good demonstration of the carbon and cost savings which can be achieved through industrial symbiosis in a cluster. We aim for further such savings to be realised through the forthcoming Chemical Sector Decarbonisation and Energy Efficiency Action Plan with BEIS under the industries' Chemical Growth Partnership. We hope that by these and other innovative approaches and technologies the action plan will help our sector to further decarbonise while remaining competitive.'
Related links: