27 Feb 2018
Our 2018 finalists for the Bright SCIdea Challenge have been selected!
On Thursday 8 March, our shortlisted teams will enjoy a series of expert talks before pitching their science-based innovation to our panel of judges. The teams and other guests from across SCI's network will also have the opportunity to meet with prominent industry figures on the day.
SCI launched the Bright SCIdea Challenge last year to encourage students to think about the process of starting their own business or launching a new product.
As part of the Challenge, SCI produced a series of free business training videos with advice from experts that provided the opportunity for entrants to develop their skills in entrepreneurship and business pitching.
Subjects covered include top tips for marketing a product, the basics of finance, and how to effectively pitch your business.
The winners of the Bright SCIdea Challenge will walk away with £1,000 cash!
Meet the teams who will be vying for the top prize:
EasyMed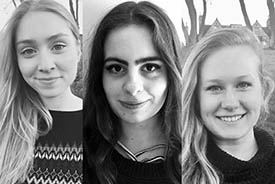 Team EasyMed – Isobel Dunstan, Georgina Brown and Morganne Wilbourne – are all second-year undergraduates at the University of St Andrew's, studying biochemistry, chemistry, and biomolecular science respectively.
What is your product?
A brain implant to combat Alzheimer's disease.
Why did you enter the competition?
As biology and chemistry students, we're extensively familiar with the theory behind drug development and chemical synthesis, but we have little to no exposure on the practical aspects of business and management. In the next few years, we'll be entering a modern working environment, which will require us to have a sense of financial literacy. We wanted to use this opportunity to hone our skills in that realm, taking the feedback from this competition into account so we may be more successful in our careers to come.
Glucoguard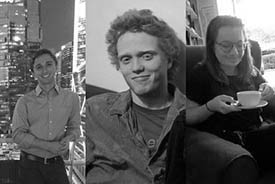 UCL students Camillo Moschner, Jack O'Shea and Libby Linfield are third-year undergraduates with varying scientific interests. Camillo is set for postgraduate study in industrial biotechnology and bioenergy, Jack an avid cell biologist with a PhD in sight after graduation, and Libby is a keen astrophysicist.
What is your product?
A genetically modified bacterium that will help prevent and treat type II diabetes.
Why did you enter the competition?
We see the competition as an exciting opportunity to get insights into how scientific ideas can be taken into real-world markets. The aspects of the Bright SCIdea Challenge that especially motivated us to participate were the opportunities to develop our own idea as a team, create a business plan and pitch it to experts.
LEAD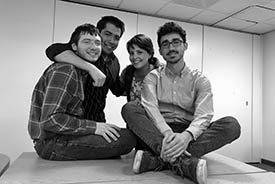 Another diverse group, team LEAD met at an enterprise event at the University of Manchester, where they are all completing PhDs. Daniel Florin Sava is a third-year in inorganic chemistry, Luca Minciullo is a final-year in computer science, Aranzazu Carmona Orbezo is a second-year studying electrochemical engineering, and Eric Gonzalez Peralta is a also second-year PhD researcher specialising in atmospheric sciences.
What is your product?
A novel low-cost desalination module.
Why did you enter the competition?
To develop our entrepreneurial skills and validate our idea with experienced entrepreneurs and business professionals.
Protector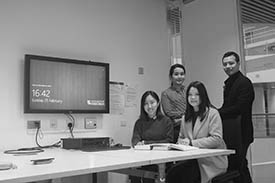 University of Aberdeen's team Protector met during their postgraduate studies. Beini Jiang, Mahrijemal Eyupova, Qian Zhao, and Heliang Shi have interests ranging from international business management to environmental sciences. They are led by Josephine Liang, who is not pictured.
What is your product?
A sustainable organic fertiliser.
Why did you enter the competition?
We want to use our knowledge to make our society much better and test our idea by taking part in this competition.
SALSOC Synthesis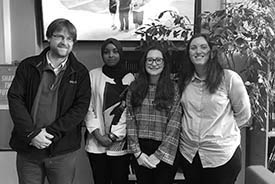 Team SALSOC Synthesis is comprised of third-year students Idil Ismail, BSc Biochemistry, Eva Rodger, BSc Medicinal Chemistry, and Nicola Guest, BSc Pharmaceutical Science – all from the University of Salford. They are pictured with Dr Steven Rossington, a lecturer in organic chemistry at the university.
What is your service?
Recycling chemical waste from university laboratories.
Why did you enter the competition?
We wanted to enter the Bright SCIdea Challenge to develop interpersonal skills and public speaking prowess, further develop our pitching skills, gain a wider range of industry contacts, and to promote and improve the image of our business in the public domain.
ZRZ Tech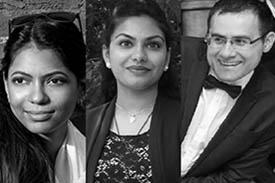 Our second Bright SCIdea finalists from UCL are based at the School of Pharmacy and are currently all in postgraduate study. Zenobia Rao, Rumintha Thavarajah, and Zaid Muwaffak, come from a range of academic backgrounds but are all passionate about product design and development.
What is your product?
Smart medical device for weight loss.
Why did you enter the competition?
There is clearly an unmet medical need concerning obesity. We would like to use our research towards helping this cause. By entering this competition, we hope to get support, advice and financial help by networking with experts in the field. Therefore, this could help us launch our project and develop it into a wide-reaching health initiative.