Taking on the task of eating and rigorously assessing mince pies from nine supermarkets, SCI's Business Development team reveals the winner of its Mince Pie Challenge.
SCI Business Development Team
Reporting: Muriel Cozier
24 December 2019
The mince pie is very much a part of Christmas tradition in many parts of the world. The mixture of dried fruit and spices, which is known as mincemeat, is placed inside a small pastry case and then baked; it is often served as a dessert or enjoyed as a snack.
It is said that the ingredients for the mince pie can be traced to the 13th century when returning European crusaders brought them back from the Middle East. The mix of ingredients are said to be symbolic of the Christmas story, representing the gifts presented by the Magi. Modern tradition has it that a mince pie should be consumed on each of the 12 days of Christmas.
Such is demand for this traditional fayre in the UK, that supermarket chains have their own take on the product and as such consumers can make a choice based on taste preferences. However, the choice means that helping the busy Christmas shopper make a considered judgement has become an art, with 'experts' giving their verdicts on which brand of mince pie is deserving of a place on the Christmas table.
Much of the expert opinion is based on a few simple criteria, so at SCI HQ it was decided that a somewhat more rigorous testing regime was required. To this end, SCI's Business Development team took on the task of conducting a methodical taste test of mince pies from leading supermarkets.
Method
All mince pies were supermarket own brand and purchased between 12th November and 12th December from stores across several geographical locations. All members of the Business Development team were required to eat a mince pie from each brand. The pies were judged on five categories these being: Appearance, Flavour, Pastry Structure, Filling (chunk:wet ratio) and Ratio (pastry:filling). Each category was scored out of ten, giving a maximum possible score of 50.
RESULTS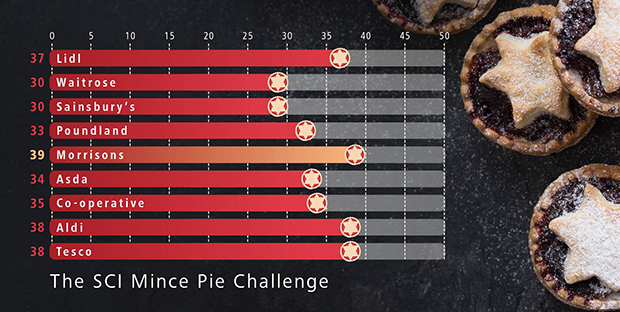 Image design: Christel Persson
The graphic above shows the overall winner of the SCI Mince Pie Challenge was Morrisons, with a total score of 39/50. The Business Development team scored this mince pie particularly well in the categories of Appearance and Flavour giving it 9 for each one. Indeed, several mince pies received scores of 9 for flavour, these being Aldi, Lidl and only one supermarket's mince pie, Asda, scored less than 6.
In the categories of Filling (chunk: wet) and Ratio (pastry: filling) most mince pies scored well, with Lidl's mince pie coming top in both these categories scoring 8 for each.
Maintaining high scores in the Pastry category was something of a struggle for all the supermarkets. One supermarket, Tesco, received 8 for its pastry, with another four supermarkets being awarded 7 points. However, the final four supermarkets received 6 points or less. Indeed, the lowest score across the whole challenge, 3 points, was awarded in the Pastry category. This particular pie had such crumbly pastry that one member of the Business Development team was led to declare that the pie was 'not very sociable.'
In the category of Appearance, top scores of 9 went to Aldi and Morisons. All the supermarkets, bar two, scored 7 points or more. The lowest mark in this category was 4.
Finally, defining the value for money, SCI Business Development's points per pence per pie (ppppp) metric was determined by comparing the cost of a single pie with the total score from the five categories.
Points per pence per pie (ppppp) is calculated:
S = Total score
P = Price (pence) ÷ number of pies in box
ppppp = S÷P
In this category Lidl scored highly receiving a ppppp score of 3.36, some way ahead of its nearest rival Morrisons, which scored 2.29.
Conclusion/Discussion
The overall winner was Morrison's with a score of 39/50. However, Lidl was highly commended with its ppppp rating of 3.36.
Not mincing their words, SCI Business Development team commented 'We found the whole process very ins-pie-ring. Devising the ppppp metric was a particular highlight and we're already thinking about what seasonal treats to rank next.'
The Business Development team really enjoyed the experience and hope readers get to sample a Morrisons or Lidl own brand mince pie this Christmas.
At this point the SCI team would like to take this opportunity to wish all its members, partners and friends a very happy Christmas and a peaceful and prosperous 2020.