13 Mar 2018
On 8 March 2018, SCI hosted the inaugural final of the Bright SCIdea Challenge, bringing together some of the brightest business minds of the future to pitch their science-based innovation to a panel of expert judges and a captivated audience.
All Images © SCI/Andrew Lunn
As an opportunity to support UK/ROI students interested in commercialising their ideas and developing their business skills, the final included talks and training from our judges and networking with industry professionals.
Inspiring the future
| | |
| --- | --- |
| | |
| Head Judge Victor Christou: CEO of Cambridge Innovation Capital. | Robin Harrison, judge and Global Innovation Director of Synthomer, our prize sponsor. |
Head Judge and CEO of Cambridge Innovation Capital, Victor Christou, started the series of afternoon talks with an interactive session, where the competing teams and guests from industry and academia were able to ask questions about attracting talent and investment when starting your own business.
To launch a successful business, Victor said, you need to have a view of where you want to go. 'Entrepreneurship is about conviction,' he said. 'It's about your ability to convince people that what you know is better than anyone else and that you are the person that can achieve it.'
| | |
| --- | --- |
| | |
| Lucinda Bruce-Gardyne, founder of Genius Foods. | The competitors take on some final advice. |
Lucinda Bruce-Gardyne, founder of Genius Foods and another expert on the judging panel, spoke about her experience as an entrepreneur and journey into business. A trained chef and physiology graduate, Lucinda struggled to find and cook food for her gluten-intolerant son.
After two years of development, Lucinda's gluten-free bread hit supermarket shelves nationwide to huge consumer demand. However, she says popularity can come with caveats - she reminded the budding entrepreneurs in attendance to never be complacent, especially when entering a new market that others will follow you into.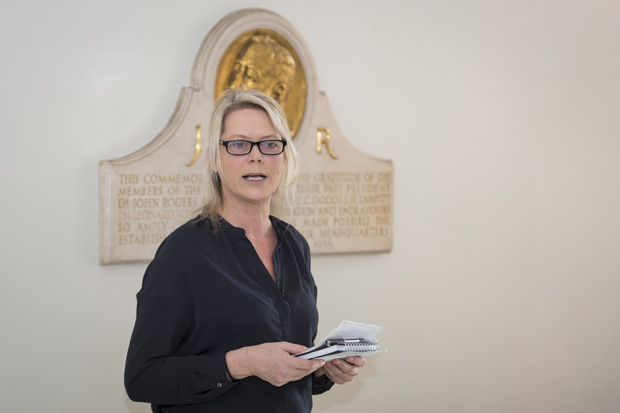 Sharon Todd, Executive Director of SCI, introduces the pitching session.
The pitches
After the opening talks and another chance to network, the teams took their place in the Council Room to pitch their business plans to our panel.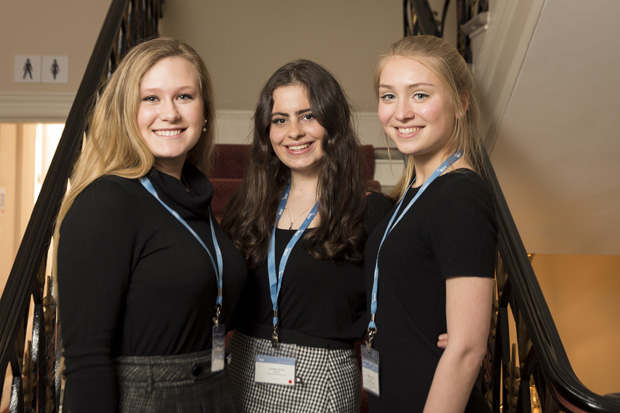 Team EasyMed (L–R: Morganne Wilbourne, Georgina Brown, Isobel Dunstan).
First up was team EasyMed from the University of St Andrews, who kicked off the first competition session with a passionate pitch for their product, Memim - an RNA-based implant to treat Alzheimer's disease. 'Current therapies just don't help the way you want them to,' the team said, with the market 'exponentially increasing'.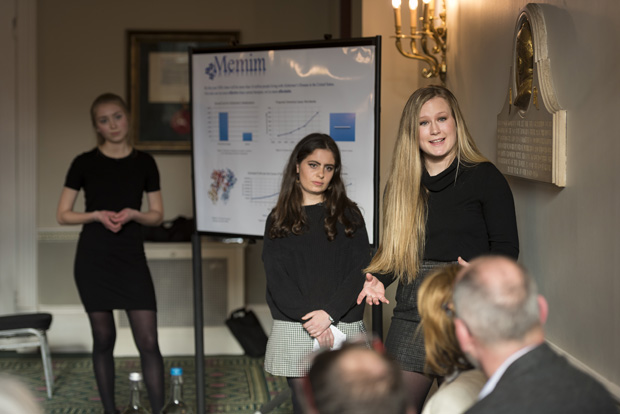 They predicted that while Memim would cost £25m to produce initially, the business would bring in £35m annually after ten years. Team EasyMed claimed to have a market advantage over pharmaceuticals, as an implant is easier for the patient to use and there are less similar products currently available.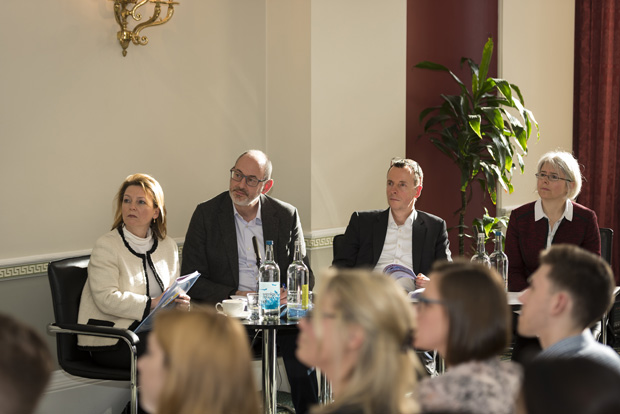 The Judges (L-R: Inna Baigozina-Goreli, Victor Christou, Robin Harrison, Lucinda Bruce-Gardyne).
Victor questioned the cost such an implant would have on the NHS and private practitioners, as healthcare professionals would be required to perform the 'surgical procedure', to which Team EasyMed explained the relatively low cost required of the procedure.

Team LEAD (Clockwise from top left: Daniel Florin Sava, Aranzazu Carmona Orbezo, Eric Gonzalez Peralta, Luca Minciullo).
Up next were team LEAD from the University of Manchester - a multi-disciplinary group of PhD students pitching their low-cost desalination module. At the beginning of the pitch the team asked: 'How would your everyday life look without water?', highlighting the 700m people who go without this basic need each day.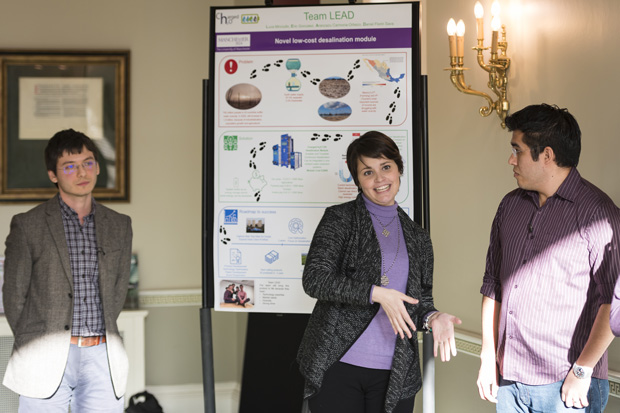 Currently, reverse osmosis is used but the process requires a high energy input - a cost that developing economies cannot endure, the team said. Team LEAD claimed that their desalination technique would reduce energy costs, requires less infrastructure, and could be useful in the military and for housing developments in the future.
Done with the presentation :D. Now, just enjoying the good pitches and networking availability at the event #BrightSCIdea @IQACarmona @UoMChemistry @OfficialUoM https://t.co/RYX0kCiPld

— Daniel - Florin Sava (@DanielFSava) March 8, 2018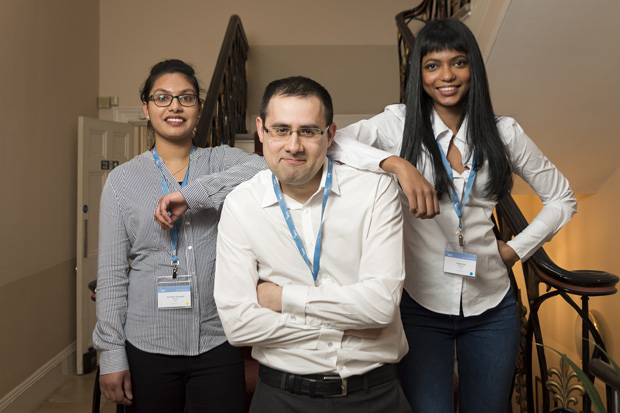 Team ZRZ Tech (L-R: Rumintha Thavarajah, Zaid Muwaffak, Zenobia Rao).
UCL School of Pharmacy students, team ZRZ Tech, pitched a smart medical device for weight loss. With low adherence, obesity is one of the most difficult diseases to treat, with current therapies focusing on diet and exercise.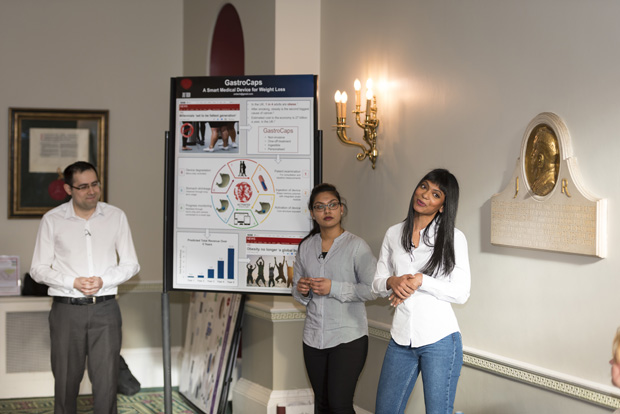 The team's Gastrocap contains a biocompatible polymer that reduces the size of the stomach and is linked to a smart app that monitors the patient's progress, the team said, estimating 500,000 individuals would be reached within the first year.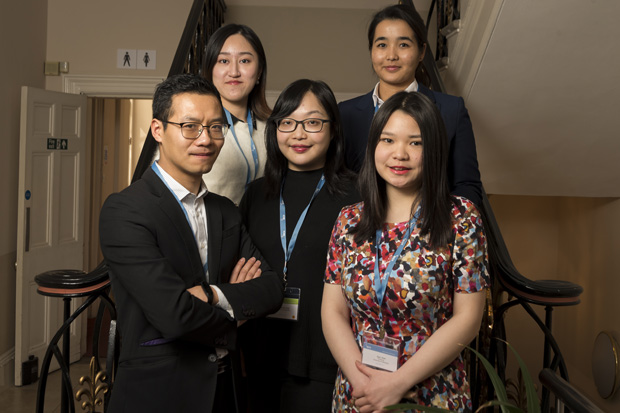 Team Protector (Clockwise from top left: Being Jiang, Mahrjemal Eyupova, Qian Zhao, Josephine Liang, Heliang Shi).
Presenting an organic fertiliser made of China's excessive food waste were team Protector from the University of Aberdeen. The team have been motivated to launch their product after a recent policy change in China that promotes the tackling of food waste.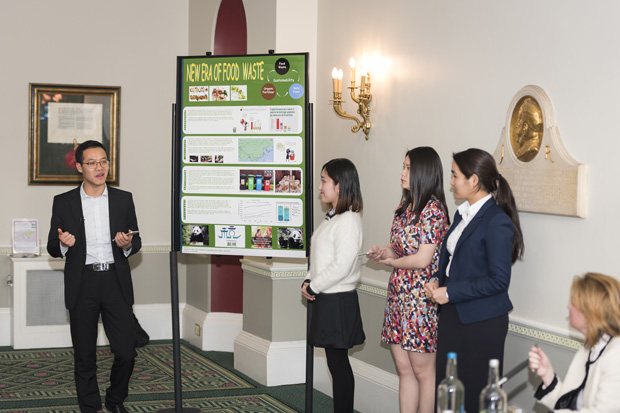 With the team focused on targeting residential areas, Lucinda advised they look into the B2B model - when a business provides a product or service to other businesses rather than consumers - to help grow and support their business in the early years.
#Bridght SCIdea Challenge#Glad to make a pitch in London last week, and honored to be a membership of SCI now, thanks for the team work, thanks for the organizer @graemepaton007 @UoABioSci @SCIupdate pic.twitter.com/nJXTGj5Y37

— heliang shi (@shiheliang) March 12, 2018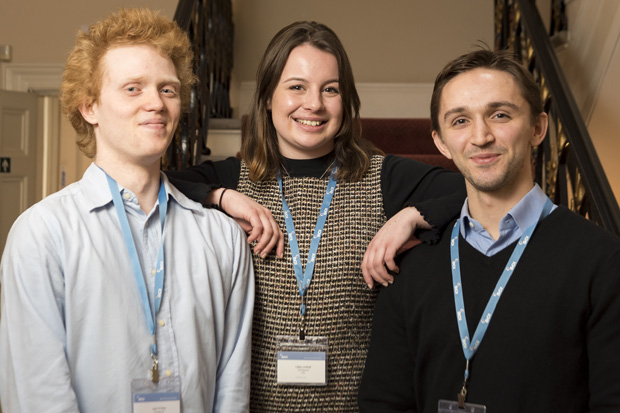 Team Glucoguard (L-R: Jack O'Shea, Libby Linfield, Camillo Moschner).
Team Glucoguard, the second team of the day from UCL, were up next to pitch a genetically modified bacterium that could prevent and treat pre- and type II diabetes, of which there are 4.5m patients in the UK alone. Diabetes is caused by sustained high glucose levels and is associated with obesity and cardiovascular disease.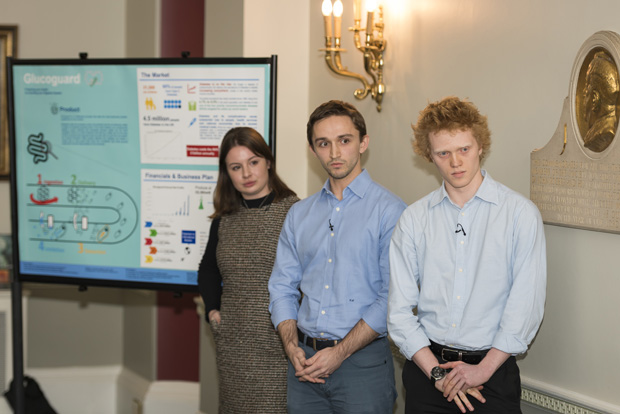 The team's product is administered by pill and lasts for up to a month, reducing potential issues with patient compliance.
SCI Trustee and Managing Director at Accenture, Inna Baigozina-Goreli, encouraged team Glucoguard to be more flexible with their timelines if they procured early investment, after they reported a strict two-year development period at the beginning of the process.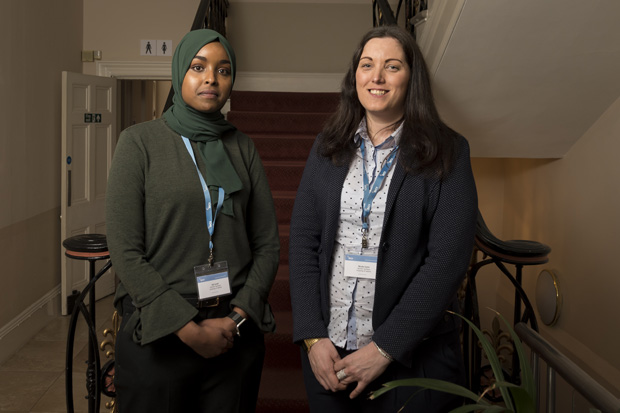 Team SalSoc Synthesis (L–R: Idil Ismail, Nicola Guest. Eva Rodger not present).
Finally, SalSoc Synthesis presented a non-profit enterprise that used undergraduate laboratories at the University of Salford to produce chemicals needed by local companies. Their main motivation behind the business was to provide education and skills training to students.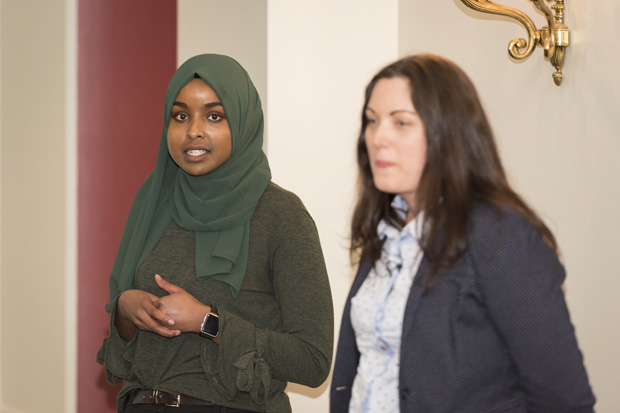 The team wanted to encourage an 'entrepreneurial environment on campus' and were focused on empowering women in STEM, supporting the Northern Powerhouse, and promoting industry-academia links.
And now for the final presentation - team from @SalfordUni pitches on a custom synthesis plan integrated into the teaching curriculum. It's a really great concept and very unusual #BrightSCIdea

— Darren Smyth (@EIP_Elements) March 8, 2018
Wow, the future of UK industry & innovation is in great hands! Amazing pitches from all teams today @SCIupdate #BrightSCIdea

— Chris Jones (@cjoneschemistry) March 8, 2018
And the winner is…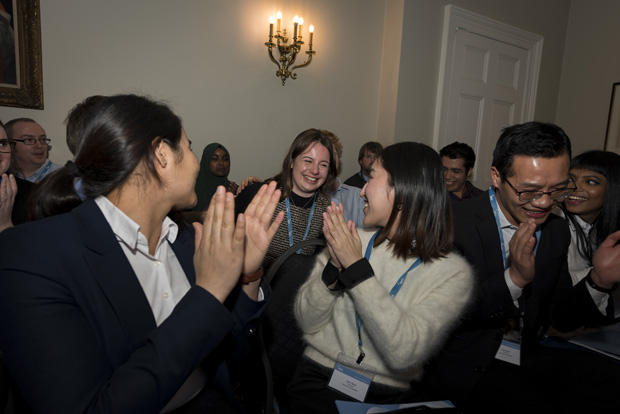 The competitors applaud as the winning team is announced!
Judges Victor and Robin, from our sponsor Synthomer, alongside SCI Executive Director Sharon Todd handed out the prizes to the top three competitors.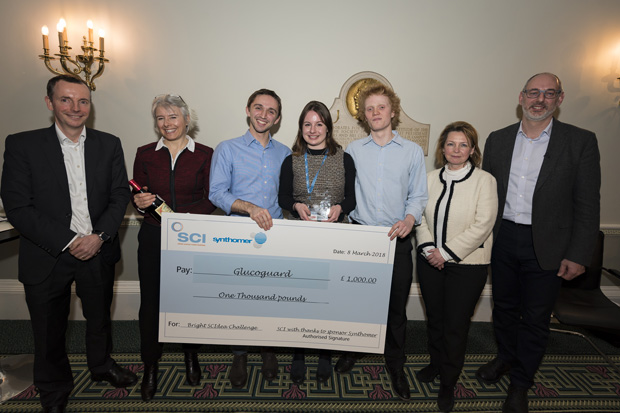 Team Glucoguard with their well deserved cheque for £1,000!
| | |
| --- | --- |
| | |
| 1st runner-up: LEAD | 2nd runner-up: EasyMed |
Not my best picture, but it was a great opportunity to be part of the first #BrightSCIdea challenge! And, we ended up as the first runner up! https://t.co/cZYXRS7zq8

— Aranzazu Carmona (@IQACarmona) March 9, 2018
Now rested and having something other than coffee running through me,I'd like to say what a great day I had yesterday and how proud I was to represent @SalfordUni at the final of the first ever @SCIupdate #BrightSCIdea challenge.Heartfelt congrats to the winning team from @ucl 😀

— Nicola Guest (@NGuest81) March 9, 2018
Congratulations to our winners, runners-up and all of the teams who participated for their amazing pitches and hard work they have put into bringing their innovations to the Bright SCIdea Challenge final. Watch out for a video with highlights from the day coming soon!
Great event, high levels of presentations and ideas! I really enjoyed it https://t.co/7KrTa2J5hV

— Nicola Caporaso (@NicolaCaporasok) March 9, 2018
Had a brilliant day @SCIupdate yesterday. Proud to represent @salfordUni. Got involved in some wonderful networking opportunities. And ofcourse a big congrats to the well deserved winners from @ucl with your exceptional idea.

— Idil Ismail (@IdilIsmail96) March 9, 2018
Click here to view a full gallery of images from the event on our Facebook page – tag yourself and follow us, too!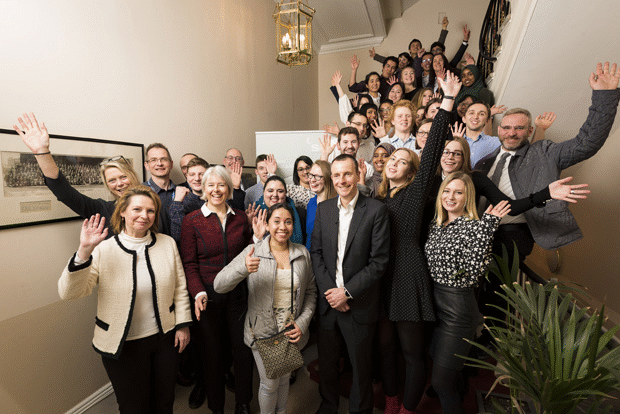 Related links: