This item first appeared in 2007
Prof Christine Williams honoured
The Oils & Fats Group has a multidisciplinary approach to all facets of lipid science and technology. Its series of conferences and seminars is designed to promote cooperation and exchange among professionals in all sectors of lipid science and technology. The Group has a number of awards, one of which is usually presented each year. The 2007 award was the Julius Lewkowitsch memorial lecture. In line with our desire to develop further our international contacts and to promote the SCI in the international community, the lecture was given at the Euro Fed Lipid Congress in Gothenburg in September 2007.
Dr Julius Lewkowitsch was born in Germany in 1857 but emigrated to England in his late twenties. He was a stalwart member of SCI from 1889, joining shortly after having contributed a series of papers to the Journal of the Society of Chemical Industry. He published one of the earliest books on oils and fats in 1895: The Chemical Technology and Analysis of Oils, Fats and Waxes, following a series of papers on analysis of oils, fats and soap in the Journal of the Society of Chemical Industry.
The SCI Lewkowitsch Lecture commemorates this chemist, entrepreneur and authority in the field of oils and fats. The lecture was endowed in 1980 in the Will of his daughter, Dr Elsa Lewkowitsch.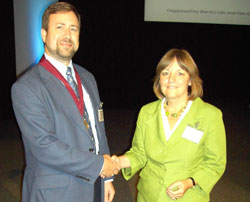 This year, the Oils & Fats Group of the SCI has selected Prof Christine Williams to be awarded the lecture. Prof. Williams was appointed the first Hugh Sinclair Professor of Human Nutrition at the University of Reading, UK, in 1995 following the award of an endowment from the estate of Professor Hugh Sinclair. Since then she has established a team of 40 academics, post doctoral researchers and postgraduate students investigating mechanisms underlying relationships between dietary fat, insulin resistance and cardiovascular disease. She is currently Dean of Life Sciences at the University.
The topic of Prof. Williams' lecture was entitled Insulin Resistance and Vascular Function: Modulatory Effects of Dietary Fatty Acids. Her lecture began by highlighting the increasing problem of obesity and type 2 diabetes in all parts of Europe (by 2010, it is predicted that 31 million people will be affected). She went on to describe how the obesity-diabetes link is due to the influence of excess fat in the body on the response of certain tissues to insulin. In particular, Prof. Williams presented the molecular process leading to insulin resistance in endothelial cells. She showed how this could be potentially modulated by dietary fatty acids and described work that should provide the basis for more informed dietary advice.
Related Links