26 Jun 2014
It was surreal to find yourself walking along a waterway in central London with the melding of the old and the new, the urban and the natural. The wooden lock gates, graffiti, goslings and grassy steps somehow seemed to fit together as an extension of the London mix. This experience will be the lasting memory of my day on the London Regional Group's visit to the London Canal Museum near Kings Cross St Pancras which included a meal at a most enjoyable Italian restaurant, Pasta House, and an excellent guided tour along the Regent's Canal tow path by Lester.
The day started at 11 am at the London Canal Museum with an introductory talk explaining that the museum was housed in an old warehouse previously owned by Carlo Gatti. Gatti used to sell ice cream in London and stored his ice in the two ice wells on the site and one well could still be seen in the floor. Upstairs, where there was a film of the London Canals, were the old stables where some of the horses that pulled the Regent's Canal boats were housed. 'Volunteers repairing the canal in pictures' was the visiting display. Attendees enjoyed seeing inside the cramped conditions of a working canal boat where up to 8 family members could have been housed in the tiny cabin which was the size of a small downstairs loo. Some found it disconcerting that the floor level was lower than then level of the canal outside.
At 12:45 pm, after exploring the museum, we went on a gentle short walk to the restaurant, Pasta House, that appeared to open especially for us. The name of the restaurant is perhaps slightly misleading as only 2 of the party had pasta and hides the fact that it is a traditional Italian restaurant run by the very genial Carlos. The pre ordered meals were very much enjoyed such that plates were cleared and restaurant cards were asked for suggesting that there may be return visits.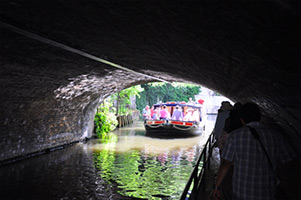 With much coercing the restaurant was left at 2:45 pm and we wandered back to the museum to burn off some of those calories on a guided walk along the tow path (pictured right) to Camden. I have already alluded to this being the most memorable part of my day as the sights and sounds of the canal mingled with the more traditional sights of London. The tour was also very informative and varied as Lester, the tour guide, linked the Canal to Harry Potter, Frankenstein, Sir William Perkin, the American National Anthem and Agincourt, among other things. He explained the sights around us and as we were chemists managed to get in a few chemistry links. The day ended in vibrant Camden at about 5 pm with attendees free to enjoy the rest of the glorious sunshine of the year's longest day.
A special thank you to Maksim Larin for providing the photographs.
Claire Skipper
Chair, SCI London Regional Group
Related Links