26 Feb 2013
A growing group of SCI members and guests gathered at Belgrave Square on 22 Feb 2013 for the third Annual Members' Lunch and Lecture. This time Dr Katherine Holt from UCL, spoke on Diamonds: more than just a girl's best friend. Katherine's research is focussed on nano particles, particularly nano-diamonds, but this lecture was much more, starting with stories about very large diamonds and ending with nano size.
Historically natural diamonds were first mined in India - where the Koh-i-Noor diamond was found around the 12-13th century. This very large diamond had a chequered history. It passed through the hands of many of India's Rajahs and dynasties, and became associated with death and tragedy, but in 1850, despite its reputation it was presented to Queen Victoria. Uncut, it was rather unattractive, but Prince Albert arranged to have it cut and polished to a 106 carat gem, first used on Queen Victoria's brooches. After her death it was mounted on a new crown, and became part of the crown jewels, used in all coronation ceremonies.
Synthetic diamonds were first produced in 1953, using high-pressure high-temperature (HPHT), and subsequently a chemical vapour deposition crystal formation method (CVD). These are structurally identical to natural diamond, and though very expensive to manufacture, production is increasing. While 20 tonnes of natural diamonds are mined annually, some 600 tonnes of synthetic diamonds are produced each year for industrial use alone. It is not possible to create gem-size synthetic diamonds - much to the jewellery industry's relief.
The very smallest diamonds, called nano-diamonds, were first synthesized in 1962 by a group of Soviet scientists by detonating an oxygen-deficient explosive mixture of TNT/RDX in a closed chamber.
Diamond particles with a diameter of circa 5 nm are formed at the front of a detonation wave in microseconds. The yield is around 10%, with graphite and other impurities being dissolved in hot nitric acid. The result is known as a detonation nano-diamond (DND), often also called ultra dispersed diamond (UDD).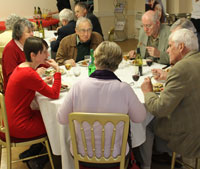 These tiny particles are round in shape and possess an active surface and a diamond-like hardness useful in a variety of technical applications. Like black diamonds, nano-diamonds are used in a variety of industrial processes. They make excellent polishing material, engine oil additives, metal lubricants and fillers for rubber and plastics. Recent work is focussing on their use as implants and carriers in medical applications. Dr Holt concluded her lecture with an account of some of her research using boron-doped diamond ultra microelectrodes for use in scanning electrochemical microscopy.
Following the lecture, the question and answer session continued beyond lunch, ending a most enjoyable event.
Dr Fred Parrett
Chairman, London Regional Group
Related Links