22 Nov 2012
Every seat in the lecture theatre was taken for the SCI London Group evening lecture 'Art Meets Science - The Technical Fundamentals of Perfumery' held at the Chemistry Department at University College London, on 20 November 2012.
Will Andrews, who is part of Proctor & Gamble's Creation Team, began by reminding us that perfume products are used not just for traditional fragrance products, but are widely used as an essential component in many domestic and industrial products.
Thousands of raw materials are available to the experienced perfumer, and while many are extracts from natural products, organic chemists have been able to produce significant numbers of synthetic products which are widely used in almost all perfumes. The audience were able to take part in testing a range of the raw ingredients which the perfumer uses to develop new products, and it is here where art takes over from science.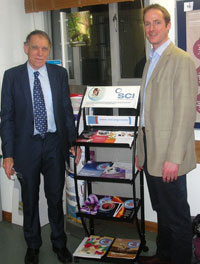 The London Group sponsors the evening lecture series with the UCL Chemical Physical Society, with lectures held almost every Tuesday evening in the autumn and winter terms. At this evening session with the full support of the UCL Chemistry department, SCI set up a permanent literature display at the Nyholm Room, a meeting point every day for the chemistry staff and students. The photo shows the display with Dr Fred Parrett (Chairman, SCI London Group, left) and Dr Simon Banks (President of the UCL Chemical Physical Society, right).
Fred Parrett
Chairman, London Group
Related Links