25 May 2017
'Day of Science and Careers was an excellent chance to share opinions with a wide cross section of people working in science - from teaching and industry to patents and regulation.' Nishal Chandarana, University of Bristol
Since 2012, SCI's Day of Science and Careers events have been going from strength to strength. Held annually since 2012 at SCI's prestigious Belgrave Square premises and in Scotland across various locations since 2015, these meetings have proved ever popular with early career scientists and business people and are designed to give information about the wide range of careers covered in science-based industries.
The sixth Day of Science and Careers London was held on Wednesday 26 April, and was enjoyed by all. Around 60 people gathered to hear talks from speakers from a range of industrial, academic and independent backgrounds, and to network with each other. The day was split into five sessions and ended with a drinks and nibbles reception, providing further opportunities to network.
The first session, themed on science-based industry, began with a talk by Dr Kevin Back (Pfizer) on getting into Industry. After giving the audience an overview of his background and career history so far, Kevin explained what he likes about his job, what is involved in the average day, and addressed the advantages and disadvantages of starting out in industry after completing a PhD. He also highlighted the transferable skills that can be taken across from academia to industry and gave an overview of the different roles available in the pharmaceutical industry.
Prof Joe Sweeney (University of Huddersfield) then spoke about his experience in academia. Samuel Howell (University of Bristol) found Joe's talk 'particularly insightful' as he gave a realistic picture of life as an academic, explaining the challenges academics face on a day to day basis (lots of paperwork and workload/assessment stress), which Sam found especially useful as 'his talk left me more informed of the challenges associated with academia, but also inspired me as to why it's worth taking those challenges on myself.'
John Hardy (University of Lancaster) ended the session with his talk on networking. John highlighted the importance of networking (70% of jobs in the US are found through networking), outlining the mechanisms that can be used and tips on how to use them effectively. He also covered electronic networking (social media) and ended with a summary of his own extremely varied career history and how he used networking to get where he is today.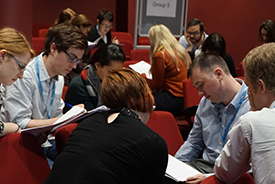 The next session was an interactive activity and was chaired by Dr Callie Seaman (SCI Early Careers Committee and AquaLabs). The delegates were split into five working groups and were asked to pick at least one job advert from the selection of real-life adverts provided and brainstorm the skills (both soft and technical) that they thought were needed for the role(s). Callie ended the activity by revealing the skills that the adverts had asked for, highlighting the common transferable skills asked for in each.
Then it was time for lunch and the delegates were able to put the networking tips they had learnt earlier into practice, whilst swapping the pre-prepared business cards that they had received.
After lunch, the third session, on industry-based science began. Dr Lee Dingwall, talked about his career at Johnson Matthey, specifically in the Clean Air Sector of the business. Niall Thomson (Syngenta) then followed with his presentation on his growing career in agricultural science. Having received his MSci from Glasgow University and a PhD from Imperial College, he has progressed in his career at Syngenta from Chemist through to Senior Team Leader, ultimately meaning less time in the Lab. Part of Niall's job involves a lot of international travel as he visits the various Syngenta sites across the Globe on a regular basis. Callie Seaman then ended the session by giving an insight into the incredible challenge of setting up your own company whilst studying for a PhD at the same time. Callie emphasised the hard work involved and how she managed to create a work-life balance whilst setting up the business, studying and caring for her family. She also explained what she would do differently if she had her time again – start writing up her thesis early, study for the PhD full time and not use an investor (set up the business independently).
We then ran straight into the fourth session - the business of science. Dr Robert Law (GSK) opened the session by sharing his experience of working as a student and employee in a big pharmaceutical company. Robert entered onto the University of Strathclyde/GSK collaborative PhD programme before being offered his current full-time role as a medicinal chemist in the Protein Degradation Unit at GSK. Dr Darren Smyth, EIP, then gave his talk on the role of patent attorneys. The role of the patent attorney is not always an obvious career path for a STEM graduate. As Sundararajan Thirumalai (University of Cambridge) explains, 'It was fascinating to note from the lecture of Dr Smyth that there is a good demand for STEM graduates in the Law industry for the role of patent attorneys. Until then, I had never thought that STEM graduates could enter law firms.' A huge amount of private study is needed to become a patent attorney, however, as there are many exams to take and it usually takes between 4 and 6 years to qualify. Dr Samantha Alsbury, Head of Professional Development at TOPRA, the regulatory affairs membership association, concluded the session. She gave us an insight into her career as a regulatory affairs professional, and explained why regulatory affairs is so important in life sciences.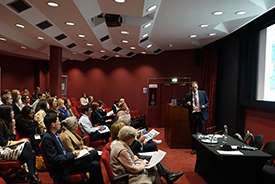 After the tea break, the delegates returned for the fifth and final session of the day - show you mean business. Samantha Foskett, Publisher at Wiley, explained about her unusual career path and what her job entails, along with tips on getting into publishing. Nathalie Huther (Arcinova) spoke about her transition from the lab to marketing and sales. She highlighted the perks of a job in marketing and sales (company bonus and benefits, job satisfaction, extensive international travel) and the challenges of the role (unsociable hours, being away from home, pressure to achieve targets). Nathalie also covered how to achieve a work/life balance whilst doing such a busy job and not fall in to the trap of living an unhealthy lifestyle.
The last presentation of the day was given by Richard Carruthers, Careers Advisor (Imperial College) on 'top tips for successful job applications' where he covered how to do a skills audit, how to research jobs and how to write successful cover letters and CVs.
After the formal part of the day ended the delegates enjoyed the drinks and nibbles reception where they could ask the speakers questions informally and network with each other.
The delegates left the event feeling enthused and better informed over their career prospects. Certainly, Anna Smith (University of Cambridge) felt that she 'would recommend this event to anyone who is either unsure of what scientific career they would like to pursue, or would like some advice on how to obtain the perfect job.'
We are already looking forward to making the event an even greater success next year!
Prof Alan Heaton
Chair of SCI's Early Careers Committee
Principal of the College of Scholars
Related Links: