18 Mar 2014
Chemistry has been central to warfare and never more so following the industrialisation of war in the twentieth century with the improvement of explosives and the development of chemical weapons.
Prof Peter Atkins presented the SCI/RSC Evening Lecture entitled 'War and Peace: Chemistry's Contribution' on 19 February 2014.
In his talk, Prof Atkins explored the positive contributions that spring from even the most horrible weapons such as explosives and chemical weapons, and if there are beneficial consequences from their development that might go some way towards mitigating their development if not their deployment.
Watch the video of the lecture by clicking on the link below.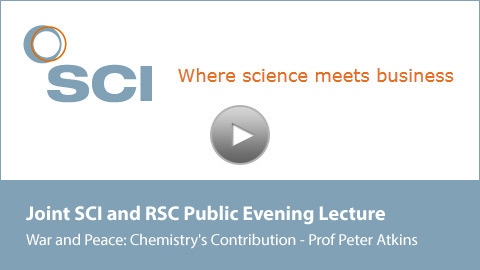 The lecture, which was jointly hosted by SCI and RSC, forms part of the celebrated series of SCI Public Evening Lectures on Sustainability - a collection of talks from some of today's most eminent scientific minds. They are all free and open to the general public.
About Prof Peter Atkins
Prof Peter Atkins was professor of physical chemistry at the University of Oxford and a fellow of Lincoln College until his retirement in 2007. He is the author of about 70 books, including his Physical Chemistry, now about to appear in its tenth edition and used throughout the world. He has also written a number of books on science and philosophical issues for the general public, including Galileo's Finger: the Ten Great Ideas of Science, The Periodic Kingdom, and, most recently, What is Chemistry? He has been a visiting professor in France, Japan, China, Israel, and New Zealand, and continues to write and lecture around the world.
Related Links