When the athletes competing at this month's Olympic Winter Games take to the snow and ice, scientists behind the scenes can take some of the credit for boosting their chances of taking gold. Helen Carmichael reports from Vancouver
The difference between standing on the podium and going home empty handed can be measured in hundredths of a second. This means that even the tiniest advantage can be worth its weight in gold.
Ice hockey is one of the fastest sports around, but that does not stop scientists attempting to speed it up. Mike McGrath, pro hockey product manager at hockey equipment manufacturer Easton explains that, in recent years, traditional wooden sticks, finished with ABS plastic and inserts and a fibreglass overlay, have gone the way of the dinosaurs. Today's sticks are finely-tuned engineering masterpieces based on carbon fibre and Kevlar. 'High-end composite materials, advanced laminates and aerospace materials are what we use at Easton on our sticks,' he says. Nanotubes have even made their way into hockey stick materials (C&I 2007, 7).
Innovations
Around half of the players in Canada's hockey team will be using Easton's new Stealth S19 stick, which incorporates an elliptical shaft. 'It's helped us save a lot of weight, meaning we really focus on the swing rate of the stick, which gives it an unmatched balance in the field,' says McGrath. 'That geometry has also helped us with control of torsional twisting of the stick blade – that's allowed players to shoot more accurately and with more velocity than ever before.'
Easton is not alone in its hockey stick innovations. Its competitor, Switzerland's Composites Busch has been working closely with Huntsman Advanced Materials to come up with its new Nano IV stick. The company says its new nanotechnology-based resin system has improved dampening and durability. NHL players have already 'discreetly' tested it during the current hockey season and Martin Plüss, Thomas Ziegler and Beat Gerber, representing Switzerland, will be wielding the Nano IV.
Savvas Hatzikiriakos' group at the University of British Columbia (UBC), Canada, has spent the last four years focusing on snow and ice to deliver those split-second advantages to Canada's top athletes. Working closely with Canada's snow and ice sport national teams, the UBC experts developed techniques to reduce friction at both the microscopic and macroscopic levels.
Hatzikiriakos' group is now producing high performance stainless steels for winter sports using lasers. 'We were extremely surprised to find out that the laser-irradiated metallic surfaces turn superhydrophobic after a few days,' says Hatzikiriakos. The material is destined for use in speed skating events.
Compared to the traditional steel used in skates, the new material has a much greater contact angle, which means that a bead of water stays more rounded on the surface and rolls off more easily. This is also known as the 'lotus effect', as water rolls off lotus leaves readily due to the tiny 10–20μm high surface bumps that dramatically reduce the surface of the water droplet in contact with the leaf.
'The greatly increased hydrophobicity of the laser-structured steel increases the slider's ability to "float" upon the ice, rather than become wetted into it,' explains Hatzikiriakos. 'This research enables the development of new skate bases with smaller friction coefficients, compared with the existing bases. With less friction, they simply go faster.' Unfortunately the lotus-effect skates have not yet been manufactured, but the improved steel alloys and polishing techniques have helped develop low-friction blades.
Another area Hatzikiriakos' group is examining is improving skis by cutting the friction of polymers. Using a plasma treatment, the researchers were able to attach low-friction molecules to the exposed surface of the ski, which renders the material nearly superhydrophobic. 'Technicians and athletes usually have a standard methodology, they apply waxes and other treatments to ski bases,' says Christos Stamboulides, a member of Hatzikiriakos' group. 'We tried to find something more scientific and something that could provide better and long-lasting performance.'
As ski bases are plastic, the UBC researchers experimented with some of the additives typically used in polymer processing that help plastics flow. Stamboulides used many different additive recipes and tested their friction properties. In addition to the plasma treatment, the resulting snowboards and Nordic skis cut friction by up to 25%, compared with conventional polymers.
The equipment they produced has been tailored to conditions in Vancouver and Whistler, where the 2010 Winter Olympics and Paralympic Games are being held. The skis work best in temperatures above -7°C, although athletes will have alternative equipment on hand should temperatures, which have been unseasonably warm, unexpectedly drop.
The UBC research is part of the snow-sport working group from Canada's Top Secret programme, which is part of the Own the Podium (OTP) initiative. Launched in 2005, the goal of OTP 2010 is to help Canada's winter athletes win as many medals at the 2010 Olympic Winter Games as possible and to place Canada in the top-three nations in the gold-medal count at the 2010 Paralympic Winter Games.
Winning is mainly down to the athletes' own excellence and training, but the final 1% of performance may be influenced by scientific improvements, according to Todd Allinger, manager of the CAN$8m (€5.5m) Top Secret programme. 'Top Secret aims to ensure that we have the best equipment, technology and training techniques – we are looking at gaining tenths or hundredths of a second,' he says.
Innovation is our sport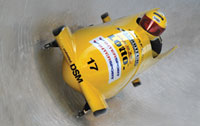 Top Secret's 55 projects include 17 institutions and universities across Canada and 150 researchers. In addition to the snow sport group, further working groups include air suit friction, based at the National Research Council labs in Ottawa, which has a wind tunnel for tests, and the ice-sport working group, mostly working out of the University of Calgary, which is focusing on reducing friction for luge, bobsled, skeleton and speed skating.
DSM has sponsored the Dutch bobsled team TeamNL as part of its 'Innovation is our sport' programme, which aims to develop nutrition products and materials for and with leading athletes.
TeamNL have already taken a bronze medal at the Wold Cup in St Moritz, Switzerland, an impressive feat for a nation with no mountains. TeamNL's brand new bobsled was co-developed by DSM, which supplied composite materials, metals experts Eurotech, engineers from Modesi and three Dutch Universities of Technology: Delft, Eindhoven and Twente . 'In the top league of bobsledding, a few hundredths of a second can make the difference between medal contention and not winning a medal at all,' says TeamNL's pilot Edwin van Calker. 'The material that we have at our disposal is of the utmost importance.'
As well as getting behind the scenes with Olympic athletes' equipment and performance, chemistry has had a major role to play in the infrastructure that makes the games possible.
Scott Young, global director, energy efficient portfolio for the Dow Building Solutions business, explains that the company, which is a sponsor of the games, has worked with Olympic organisers to meet sustainability targets. Dow's insulation materials have found their way not only into buildings designed for the event, but also beneath many of the ice surfaces where the athletes will test their mettle.
The Vancouver Convention Centre has the largest green roof in Canada, featuring Dow's Styrofoam insulation material. Half of the roofs at the new Olympic Village sport gardens too, thanks to Dow Chemical's protective membranes.
As well as offering excellent thermal insulation properties, Dow's Styrofoam extruded polystyrene sheets are extremely tough – they are found beneath airport runways and rail tracks. So they come into their own under Olympic ice rinks, where heavy ice cleaning machines operate between rounds to give the cleanest possible surface.
'To achieve a high R-value [a measure of thermal resistance] in the ice rink applications, contractors use multiple Styrofoam layers,' Young explains. Curlers, for example, are very sensitive to the shifts and swings of the ice, which play an integral part of the game itself. 'The organisers of the Olympics want to see records broken,' says Young. 'Styrofoam insulation helps to optimise that ice surface.'
Laying sheets of foam beneath an ice rink is one thing, but the undulating, twisted curves of the bobsleigh track also require insulation. For this application, the company supplied a Styrofoam sprayed polyurethane foam that sticks tenaciously to the substrate beneath the track.
Dow has also supplied more than 4000L of its propylene glycol Dowfrost HD refrigerant for the Nordic ski jump venue. Tubes under the ramp carry the refrigerant, which freezes the sliding surface, maintaining a constant temperature to within a degree and ensuring the surface's integrity, boosting the chance of record-breaking jumps. The games themselves will all be over in just a few days, but the innovations behind them will ensure athletes continue to wow their audiences by pushing records to their limits.
Helen Carmichael is a freelance science writer, based in Vancouver, Canada.