Energy-saving materials are already making a big contribution to reducing greenhouse gas emissions from the world's buildings, but they could do much more, reports Cath O'Driscoll
When it opens in 2015 or thereabouts, Masdar City will be the world's first carbon neutral, zero-waste city. Built on a 6km2 plot not far from Abu Dhabi, the city will be home to 40,000 people and 1500 businesses – mostly specialising in environmentally products – and more than 50,000 commuters are expected to commute there daily, according to the Masdar website. A car-free zone, its narrow and shaded streets and high perimeter wall will keep out hot desert winds and help to keep pedestrians cool. And as well as several solar power plants, 130 megawatts of solar energy will be delivered directly from modules on the city's rooftops, while wind farms outside the city walls will produce a further 20 megawatts of energy.
But while Masdar City offers a glimpse of a possible sustainable future, its contribution to current global warming efforts is almost negligible. Globally, buildings account for up to 40% of the world's energy consumption and nearly a third of man-made greenhouse gas emissions: a staggering 8.6bn t of CO2/year, according to a recent report by the United Nations Environment Programme (UNEP). And that figure is expected to almost double to 15.6bn t/year by 2030.
Climate change goals,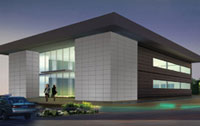 'In countries such as China, where new construction over the next 10 years will equal the size of all existing buildings in the US, realising this potential [to make energy efficiency savings] from the start is imperative for reaching any climate change goals,' warned UNEP's executive director Achim Steiner.
Chemical industry materials and technologies are already making a difference, but they could do much more. The European Chemical Industry Council (Cefic) reports that using insulation foams in buildings saves 2400m t of greenhouse gas emissions globally, and it predicts that this figure could jump to 5600m t by 2030 – or even as high as 6800m t 'if some more effective policies were implemented'.
Energy consumption in both new and existing buildings could be cut by 30-50% by 2020 even with presently available technologies and materials, UNEP says. It points out that roughly 80-90% of greenhouse gas emissions are produced during a building's lifetime, as opposed to during construction.
'The best energy is the energy you don't need,' says Thomas Braig, head of Bayer MaterialScience's EcoCommercial Building (ECB) program in the Europe, Middle East, Africa region. The ECB concept, he explains, is all about minimising a building's energy requirements from the outset, even before it is built starting with the intelligent planning of the structure based on local climate conditions. 'Integrated planning is key to reducing the costs of constructing energy efficient buildings. Just optimising a single wall or window will not bring the required solution. By integrating the benefits of different products, they allow totally new concepts that are more cost competitive.'
Bayer's new office building now under construction near New Delhi, India, exemplifies the ECB concept, Braig says, and is designed to an ideal configuration relying on simulation software that uses climate data to calculate the optimum size and orientation of the windows and the best thickness of insulation in the floors, walls and roofs etc. Polyurethane rigid foam insulation, together with polycarbonate glazing, helps to minimise the building's energy requirements, while photovoltaic modules in the roof supply free and plentiful solar power. According to calculations, the additional investment in materials is expected to pay off in less than 10 years, Braig says.
Bayer CropScience's new €2.5m childcare facility in Monheim, Germany, was also built under the ECB program, Braig points out, and was awarded the 2009 Energy-Optimized Building Award by the German Federal Ministry of Economics and Technology. And in January 2010, Bayer announced plans for a building in Masdar City, to serve as 'an interactive communication, exhibition and training platform' and to house its Middle East ECB program organisation.
However, ECB is not merely about promoting Bayer materials and products, Braig says. It also involves a network of partner companies with expertise in a range of energy-saving technologies, products and processes, tasked with the raising awareness of new building methods and materials, particularly among major investors, involved, for example, in supermarket chains, banks and professional house-builders.
While building firms are becoming more interested in sustainable construction technologies, the industry is nevertheless notoriously conservative. In the world's largest construction sector, the US, progress has long been slowed by low energy prices and cheap raw material prices, according to a report published in October 2009 on Innovating for better buildings. However, all of that is now changing, the report authors say, as energy, raw materials and labour costs are all rising. The costs of construction materials and components have increased 200% since 1983, they note – with half of that increase realised in the past four years. Both steel and concrete now cost twice as much as four years ago, while copper is five times as expensive.
The slowdown in the US housing sector is an added impetus to adopt more innovative materials and technologies, the report authors say – particularly as the long-term economic benefits are becoming clearer.
Chemical giant BASF's portfolio of energy-saving materials is already being showcased in various low and zero energy houses at sites in Germany, Poland, Hungary, Italy, France, UK, US and Korea. One of the 'preferred suppliers' of building materials for Masdar City, its expandable polystyrene (EPS) material Neopor installed in the walls, roofs and floors of buildings could help to save up to 40% of the cooling energy needed in hot climates, says company spokesperson Chris Wilson. An advanced version of its Styropor insulation product, 'Neopor contains special graphite particles that act like mirrors in reflecting back the thermal radiation responsible for heat losses,' Wilson explains. A new wallpaper made with the material – though not used at Masdar – reportedly offers 20% better insulation performance than conventional wallpapers and at just 4mm thick is claimed to have the same insulation effects as an 85mm solid brick wall.
energy-saving products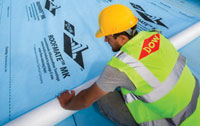 Expandable polyurethane material Elastopor is another energy-saving product from BASF being installed at Masdar. In-built into the sandwich elements that comprise the building framework, Elastopor eliminates the need to add extra insulation and thereby also reduces construction times and costs. Black pigments Paliogen, Lumogen and Sicopal used on the building roofs absorb only about half the near IR of conventional carbon black, so preventing overheating. And phase change materials such as Micronal integrated into plaster or gypsum wall boards offer an alternative to air conditioning by absorbing heat and preventing room temperatures from rising too high during the day while releasing energy to warm the room at night. Based on paraffin wax, Micronal stores and releases heat as the substance melts and solidifies; it is claimed to have 'a cooling effect of 3-4 oC against a similar room without Micronal PCM'.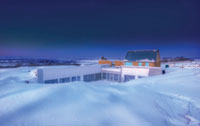 Closer to home in the UK, architect Helen Seymour-Smith and family are getting ready to move into their new home in an area of outstanding natural beauty in the Cotswolds. The house is built into the hill directly underneath and adjacent to a 300-year-old old barn where it is invisible from the surrounding countryside.
Named Underhill House, the building became the first in England to be awarded Passivhaus certification at the end of January 2010, a voluntary but strict standard, which requires that the total supplementary energy to supply hot water and electricity is less than 120kWh/m2/year, resulting in a staggering 90% energy saving compared to that of an average house.
Dow Building Solutions was involved from the outset and not only provided the technical guidance to eliminate 'thermal bridging' – areas prone to energy losses from one part to another – but also performed calculations to ensure that the stringent thermal requirements of Passivhaus were met – 0.10 to 0.15 Wm2/K for each element.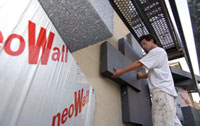 As well as south facing glazing, the building is earth-sheltered and therefore benefits from the natural heat from the ground. It is surrounded by Dow's blue Styrofoam-A extruded polystyrene materials to prevent heat escaping through the basement walls, floor and roof and also to protect against water penetration that could compromise energy efficiency, particularly in exposed conditions.
Floormate 300-A, one of the latest additions to the Styrofoam family, is installed below the floor and is claimed as one of the few insulation products that can be laid beneath the slab because of its load-bearing strength and moisture resistance.
'By 2013, installing insulation below the ground floor slab in residential buildings will become second nature. With new legislation driving improved thermal standards, the need to eliminate the possibility of thermal bridging at an early design stage using the simplest solutions available is imperative,' says Jayne Law, sales and marketing manager for Dow Building Solutions in the UK.
The same low water absorption property of extruded foamed polystyrene also made possible Dow's 'inverted warm flat roof' concept used on new buildings introduced three decades ago, Law explains. 'Heat loss from the flat roofs favoured by public buildings such as hospitals and schools can account for as much as 25% of the total,' she points out.
In conventional flat roof insulation systems, thermal insulation is in direct contact with the roof deck, with a waterproofing layer on top. However, in Dow's inverted roof system the waterproofing is laid directly onto the roof deck, reducing the risk of condensation below the roof and protecting the waterproof membrane. In its latest Roofmate Mink design, Law notes that the system also includes a vapour-permeable separation layer to reduce rainwater cooling of the membrane, which would otherwise necessitate increasing the insulation thickness. The system won the Chemical Industries Association's Innovation Award in 2007.
Across the construction industry as a whole, meanwhile, the momentum to implement new energy-saving building materials and technologies is gathering pace, although nowhere near as quickly as many in the industry would like. BASF's Wilson, points to a recent McKinsey study, Pathways to a low carbon economy, which refers to three key challenges: consumer resistance to payback periods of more than two years; a lack of incentive for building contractors and landlords, who may not benefit from energy efficiency improvements; and poor visibility in terms of the cost savings. 'As with many innovations and new technologies it takes a mental transformation time to adjust,' Wilson says. 'Another obstacle is the reluctance of EU member states to implement new environmental regulations.'
While luxury developments like Masdar City are likely to remain the preserve of the wealthy, pressure to get buildings emissions under control is nevertheless growing even without a binding agreement at Copenhagen. Alongside the report by UNEP's Sustainable Business and Climate Initiative (SBCI), for example, the authors have also set out proposals for a Common Carbon Metric for measuring and comparing the emissions from buildings across globally agreed standards. According to Stephane Pouffary, chair for SBCI's Think Tank on Climate Change: 'This new metric opens up an entirely new arena for climate negotiators to develop international mechanisms to support the building sector [in] realising its full emission reduction potential.'