Carbon fibre reinforced plastic (CFRP) – the material that helps to reduce the weight of aeroplanes, turbine blades and Formula One cars – is on the verge of becoming a mass market technology for cars.
Until now, manufacturers of only the most expensive cars could justify using the material. But changes to how the material is supplied, coupled with advances in production and materials technology, are making it more affordable and available. Some 'supercar' manufacturers, such as McLaren and Lamborghini, for example, have begun to use automated processes to increase production, while German car giant BMW is scheduled, in 2013, to begin making two new mass-production cars that will rely on CFRP – the i3 Megacity electric vehicle, and the i8 hybrid 'supercar'.
'There is an urgency to reduce vehicle weight in order to meet forthcoming emissions standards,' says Joerg Pohlman, joint managing director of SGL-Automotive Carbon Fibers, a joint venture between SGL – Europe's leading carbon fibre producer – and BMW. The new company has built a carbon fibre plant in the US, which has already begun manufacture. From there the fibre will be supplied to the company's plant in Wackersdorf in Germany, which makes flat 'carbon fibre textiles', from which BMW's plant in Landshut will produce shaped CFRP parts. It is in these last two processes that BMW now claims a lead on its competitors. 'We've taken textile production to an industrial scale for the first time,' says Pohlman. Using resin transfer moulding (RTM), the company can reduce the production time for each CFRP part to less than 10 minutes. 'This is much faster than the 20 to 30 minutes that were needed just a few years ago,' he says.
On the production line
The CFRP part in the Megacity car will be the 'passenger cell', which will sit on top of an aluminium chassis. Weight saving is very important in the car because it must offset the 200kg weight of the battery. Pohlman says that CFRP is half the weight of an equivalent steel part. 'Not all the weight saving comes from carbon fibre, but it's the main contributor,' he says.
BMW has considerable experience in making CFRP parts, but Pohlman explains that a new approach was needed to make true series production parts, which he defines as 'tens of thousands of vehicles per year'. 'Our conservative estimate is that we will need 3000t of carbon fibre for the Megacity car – which is about 10% of world production,' he says.
If the Megacity – a niche vehicle that accounts for a tiny portion of BMW's output – can swallow up so much carbon fibre, and BMW has big plans to extend its use of CFRP to other cars, it's no wonder that the company wants to guarantee supply. 'More and more car projects, starting from 2105 and 2016, will use carbon fibre as a structural element to reduce weight,' says Pohlman. Some of these vehicles may still be on the drawing board, but others are likely to be existing BMW marques, he says.
Carbon fibre supply has historically been dominated by its largest user, the aerospace industry. Early supercars that used carbon fibre were plagued by the fluctuating demands of aerospace companies. BMW's joint venture ensures that this will not happen, even if it may need to ramp up production very quickly. 'We can't predict exact demand for electric vehicles, but we must be prepared to double production in a very short time if the demand is there,' says Pohlman.
Lamborghini is another proponent of carbon fibre. The company has recently introduced two new cars that will push carbon fibre further into the mainstream. Its Sesto Elemento, launched last year, is a concept car that uses the company's 'forged composite' material – short carbon fibres that are hot-pressed in a mould, and used for parts such as the underside of the monocoque. In March 2011, Lamborghini unveiled its production car – the Aventador. A production rate of around four monocoques/week, made using liquid resin infusion, will lead to an expected volume of 5000 total cars. 'We've decreased the manufacturing cost of a single monocoque by an order of magnitude – from $150,000 to $15,000,' says Paolo Feraboli, director of the Automobili Lamborghini Advanced Composite Structures Laboratory (ACSL) at the University of Washington, US. According to Feraboli, the specialised nature of carbon fibre makes it different to other materials such as metals. 'When you make a CFRP part, you make the material at the same time,' he says. 'Companies like BMW will need a stable supply of carbon fibre, and that's why they've invested in their plant.'
The ongoing cost reduction could help carbon fibre to compete on price with aluminium, and replace it in higher-end cars such as the Audi A6 or A8, he says, since Audi owns Lamborghini. But even supercars, he adds, must work within a budget and so CFRP components must be made more economically. 'The goal is always to reduce weight, while saving cost by increasing production rate,' he says. 'The time of "performance gain at all costs" is gone: the technology must be cost-effective.'
Other supercar manufacturers are also using automation to extend production. McLaren Automotive in the UK is using these new manufacturing methods to speed up production of carbon fibre components. Its MP4-12C comprises a single-piece carbon fibre monocoque. Originally these were made from prepegs: carbon fibre, impregnated with epoxy resin, was laid up by hand, put in a vacuum bag and cured in an autoclave. Now, Austrian company CarboTech is using resin transfer moulding (RTM), which can be automated, to make McLaren's monocoques. This has had a huge effect: where once McLaren could expect an output of one monocoque/week, it now has its sights set on 20/day. CarboTech has now been in series production since the end of last year and recently built a new plant employing 100 people. Karl Wagner, CarboTech's ceo, says: 'All our customers make sports cars or luxury cars – but the McLaren project is the most demanding: it's a very complex part, made at high volume.'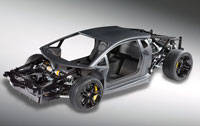 Despite these advances he says that many improvements are still needed, particularly in materials technology, if carbon fibre cars are to take off. Cycle time is one factor. Once resin has been injected over the carbon fibre, it needs to cure. This is usually the rate-limiting factor, though BMW is already talking about cure times of three minutes.
And, despite BMW's best efforts, the price of carbon fibre still needs to come down if it is to be more widely used by the industry. 'If it's 20 times more expensive then steel, it will only ever be used for supercars,' says Wagner. 'But once we're in the right area – maybe twice the cost of aluminium – then it will be used in higher volumes.'
Carbon future
Claudio Santoni, body structures function manager at McLaren Automotive, expects the use of carbon fibre in supercars to explode. But before this can happen, he says that the most important thing needed from the automotive industry is a change of mindset. 'The industry needs to change radically how it conceives and designs car bodies,' he says. 'Designers need to avoid just replacing metal panels with carbon fibre – and instead start from a blank sheet of paper.'
Despite these misgivings, he believes that the benefits of carbon fibre will be accepted and used by designers and car companies – from the top to the bottom of the industry. 'Within our lifetime, we will see the Golfs of this world made from carbon fibre,' he says. 'It will take many years, but it's a serious possibility.'