Smart fabrics or textiles generally sense and respond to some type of stimuli – mechanical, thermal, electrical, magnetic etc – either from the environment or the wearer. By incorporating different substances, they can be used for a variety of applications.
Those that incorporate electronics are often referred to as e-textiles and tend to attract the most attention, but there are many other types of smart fabrics that rely on specialised chemistries. Smart materials have been designed to sense how much light to absorb, measure your pulse and immune systems, determine weight or block or transmit heat/moisture.
Smart textiles are more sophisticated and expensive than ordinary textiles and consequently suffered during the recession, according to market research firm Global Industry Analysts (GIA). If the economic recovery continues, however, GIA predicts these technical textiles will rebound rapidly because the business case extends far beyond the textile industry.
Advances in nanotechnology and in the chemistry of these materials will increase functionality and should attract greater interest from the defence, healthcare and consumer sectors in addition to existing industrial markets – the automobile industry is currently the leading user of smart textiles.
Creating a market for smart textiles has been a challenge since this area is largely driven by advances in technology, rather than any demand from the marketplace. 'We haven't found any one killer application yet. There is a lot of great technology around, and further developments are ongoing in nanotechnology, printed electronics, and many other areas, but there aren't any large business applications at this point,' explains José Luis Agell, entrepreneur and ceo with California-based developer Innovalley.
'Commercialisation of smart textiles can only be successful if there is a benefit for the user,' adds Liesbeth van Pieterson, a senior scientist with Philips Research in The Netherlands. 'This benefit can be wearability and comfort, increased functionality, for example; for continuous monitoring, robustness.'
Philips Research develops light-emitting textiles for health and well-being applications, partly through the European Consortium PLACE-it, an integrated research project involving leading industry experts and academics in lighting and flexible electronics. The consortium aims to accelerate the development of light-emitting flexible surfaces for textiles and exploit new lighting technologies like LEDs and OLEDs (organic LEDs). LEDs are connected to the fabrics using conductive yarns, such as silver-coated fibres, pure metal wires and nanoparticle coated yarns.
The researchers are looking to develop technologies that automatically place electronic components onto fabrics and to optimise coating technologies that are compatible with such systems. More long-term developments will focus on creating stretchable electronics and electronics at the fibre level itself. There is also a need for effective power supplies suitable for use in textiles. 'Building a connection between the two disparate industries continues as well, and investments are also needed to adjust existing textile manufacturing equipment for smart textile production,' van Pieterson says.
Innovalley, meanwhile, is working to match up technologies with textile concepts and brands, and develop products that will find a place in the market. Its focus, according to Agell, is on increasing the utility of smart phones by using smart textiles. GPShoes can, for example, convert GPS (global positioning system) information into vibrations in the left or right shoe to tell motorcyclists when to turn, and it makes laptop bags with textile solar cells that charge electronic devices using sunlight. Its BCN2 smart sweatshirt integrates LEDs into the fabric to display messages from a smart phone.
The company is also involved in research into luminous printed inks that could replace LEDs. 'These inks would avoid the encapsulation and connectivity issues associated with LEDs,' Agell says. However, he notes that there is a gap between what can be achieved in the lab and what is yet possible on a commercial scale.
Professional and industrial applications
Other companies are focusing on professional/industrial applications. Ohmatex in Denmark, for example, has successfully developed products for firefighters, police, the military and medical devices. 'In many cases, the smart textiles improve comfort and safety or make it easier for the wearer to accomplish more, often because with smart textiles it is not necessary to carry or hold the communication, sensing or other device,' explains Cristian Dalsgaard, founder and ceo of Ohmatex.
Ohmatex's products include textile conductors, elastic cables, sensors and connection solutions for use in socks to measure fluid levels in the leg and monitor treatments for oedema; stress indicators for the military; non-invasive sensing devices for the European Space Agency (ESA); and heat-sensing protective equipment for firefighters. 'The key to success with our products is effective system integration, which requires knowledge of microelectronics, textile structures and manufacturing processes,' Dalsgaard states. 'There is still a lot to do,' he adds, 'before smart textiles can make a real impact, especially in the areas of transferring technologies into the garments so that they are lightweight, robust and reasonably priced.'
Other issues facing these companies include obtaining the necessary raw materials and conducting the relevant testing on new products that is required for regulatory compliance. He believes, though, that as more materials suppliers are attracted to the sector, both of these needs should be more easily addressed.
Germany's Interactive Wear makes components such as textile cables, snap-in parts like sensors and LEDs, and systems for communication, heating, solar energy and lighting applications. 'The key, definitely, is that products have excellent usability, and particularly for industrial segments, are robust, lightweight and flexible,' observes ceo Andreas Röpert. He agrees that smart textiles are still in the early phase of development, but the hype stage has passed and real interest is now driving growth. 'In five to 10 years, smart textiles will mature into a real market', he says. The company has a particular interest in printed electronics as a means for obtaining more highly integrated textiles. Röpert also believes that carbon nanotubes could play an important role in smart textiles in the near future. However, the textile and electronic industries are very different and have very different approaches to product development, and these differences must be resolved in order to develop products that meet both the needs in the market place and perform.
Technological developments
Technological development is absolutely critical to the success of smart textiles, according to Peratech ceo Philip Tayson. The UK-based company's novel pressure switching and sensing material technology is based on quantum tunnelling composites (QTCs). These materials are made from conductive filler particles combined with a resin binder. QTCs have the unique ability to change smoothly from an electrical insulator to a metal-like conductor when placed under pressure and can be tailored to suit different force, pressure or touch sensing applications.
The QCT properties are due to the irregular, spiked structure of the metal particles incorporated into the resin. The particles can get close to one another but not touch, and the spikes allow for a very high concentration of electron charge to build up at the tips. Conduction occurs via quantum tunnelling as the material is compressed and the conductive particles are brought closer together. The electrical properties are controllable by varying the unique morphology of the composite. QTCs are offered as elastomeric materials in solvent-based or waterborne ink/coating formulations for textiles, films and printed circuits and in a granular form for fluid sensors.
'As a company, we are not focused on smart textiles, but use our technology in the form of textiles if it is the most appropriate solution for a given application,' Tayson says. The company has developed materials for use in NASA space suits and worked with scientists at the Massachusetts Institute of Technology (MIT) to create pressure sensing clothing for robots so that they can sense the presence of a person when touched.
Pertinent to workers in the chemical industry are smart textiles using Peratech's technology that can detect volatile organic compound (VOC) exposure levels. There are numerous other potential applications in toys, medical sports, apparel and other sectors.
Tayson is most excited about the ability of Peratech to use emulsified resins that can be printed, which can dramatically lower the cost of creating the switching and sensing devices. 'We believe that QTC is a disruptive technology that is radically altering the electronics and mechanical industries though advanced chemistry, nanotechnology and quantum effects,' he says.
Another polymeric material – based on viscoelastic silicones – is of interest as an impact-resistant smart textile. Dow Corning's DEFLEXION has a typical Si–O–Si backbone with pendant organic side chains. The viscous portion dampens the force of an impact while the elastic portion spreads the force outward.
In one version, a three-dimensional spacer textile is coated with the silicone system, with both the textile and the coating critical to the performance of the material.
Dow Corning also offers a thermoplastic version as a sheet material that can be thermoformed, embossed etc. 'DEFLEXION technology offers textiles that are flexible, breathable, washable and durable, and that can be cut and sewn directly into clothing, eliminating the need to insert uncomfortable padding,' comments Liz Mallen, a business development manager with Dow Corning.
'Together these two products offer clothing designers great flexibility in designing comfortable, impact protection systems that meet very specific needs. And because the textile is made of silicones, extreme temperatures and moisture do not affect its performance, and thus it is possible to create systems for applications where traditional protection materials are not suitable,' she adds.
The company is working closely with designers and the products have already been adopted for use in a number of sporting applications, including back protectors for skiers, sailing gear and vests for rodeo professionals.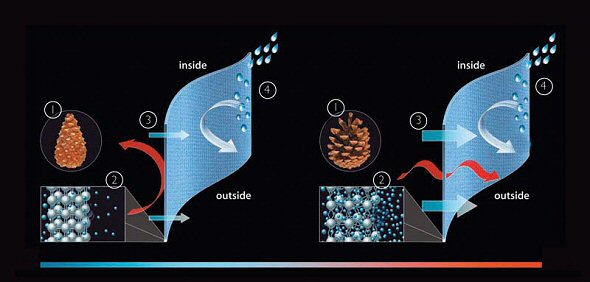 Inspired by nature: c_charge-membrane reacts to changing temperature,
moisture and activities to ensure ideal moisture vapour transport
Medical focus
Schoeller Textil develops and markets several smart fabric and textile technologies that are attracting attention from a wide variety of market segments. 'We particularly see growing interest from the medical community and consumer applications related to health and well being,' notes PR/marketing manager Shannon Walton.
One of its latest products, coldblack, developed in partnership with Clariant, is a special finishing technology that reduces heat build-up and provides reliable protection from UV rays, even for dark-coloured fabrics. Schoeller's c_change-membrane, meanwhile, reacts to changing temperature, moisture and reacts accordingly to ensure ideal moisture vapour transport, thereby maintaining a balanced body temperature and moisture and air flow.
The company's most recently launched technology is energear, a textile treatment containing titanium and other minerals that reflect far infrared rays, and thus returns energy radiated by the body back to it.
According to Walton, this reflection can increase circulation and oxygen levels in the blood, which in turn can result in performance enhancement and the reduction of premature fatigue, improved regeneration, shorter warm-ups, and an increase in concentration and wellbeing. The energear treatment can be integrated into the fabric through membranes, coatings or via textile printing.
Because these various products rely on different chemistries, Walton says that educating consumers about their capabilities, environmental profiles and safety is a big focus for the company. 'We work hard to ensure that our smart textile materials are both consumer and eco friendly. And we confirm that approach with our customers by achieving bluesign certification, which guarantees the highest possible exclusion of substances that are harmful to humans or the environment and promotes the economical use of resources in manufacturing,' stresses Walton.

Cynthia Challener is a freelance science writer based in Calais, Vermont, US.