When fine and speciality chemical suppliers and their customers recently gathered for their annual networking session at Informex, there were mixed feelings about the state of this sector of the chemical industry. Certainly many of the producing companies have experienced a strong recovery from the recession. Albemarle's director of fine chemical services, David DeCuir was bullish, for example, reporting that the company had seen a record high for its profits in 2010. He added that Albemarle is actively looking for acquisitions, 'probably outside the US… contract manufacturers that are commercial scale producers, preferably with developed capability on the same site'. However, the picture may not be quite so bright for the sector's customers, particularly in the pharma sector.
According to Jan Ramakers, from the Fine Chemicals Consulting Group, who has been tracking the fine chemical sector for the last 11 years, there are trends within the pharma industry that are likely to have a major effect on the sector. He said that Big Pharma has finally recognised that the established drug discovery and development model is broken, but has failed to acknowledge that the 'fast and cheap' strategy that many have tended to adopt results in a high attrition rate. What Big Pharma is only just beginning to recognise is that 'succeed fast, reliably and cost effectively' is a much better strategy. Ramakers also said that Big Pharma has adopted a strategy of splitting its pipeline between early drug development, that is pre-Phase IIb, and final product development and manufacture. He expects this will have a major effect on the sector's outsourcing requirements.
Despite these concerns, Andreas Stolle, head of Pharma business at Saltigo, the subsidiary of German speciality producer Lanxess, which specialises in exclusive synthesis, said: 'The last two years have been particularly challenging for our industry, but we will nonetheless continue to expand, make targeted investments, launch new technologies and seek to make continuous improvements in ongoing projects.'
Mark Cassidy, vp, contract manufacturing services at SAFC, also recognised that 'there is an increasing trend in the growth of partnerships and outsourcing in the pharma sector', with many of the pharma majors 'exiting some competencies'. According to Gilles Cottier, ceo of SAFC, 'there are rising pressures on market leaders to compete with less costly service providers. While there is enormous pressure on cost, there is greater pressure in terms of quality and risk management throughout the supply chain.
'Regulatory bodies are demanding increased GMP compliance and there is also increased pressure from consumers, triggered by various high profile industry quality issues over the past few years. The pressure then falls on suppliers and CMOs, such as SAFC, to help meet the increasing quality requirements while keeping costs reasonable for our customers.'
Cassidy summed this up by saying that custom synthesis is not just about products and their delivery but rather about offering a service. 'With the ever increasing number of fine chemical companies entering the market, this means that companies need to focus on these aspects…. It is essential to recognise that every customer is different and "average solutions" satisfy no-one.'
But custom synthesis is not just focused on the pharma sector. Commenting on Saltigo's other major business sector, managing director Wolfgang Schmitz was cautiously optimistic: 'Our agricultural business suffered in the first half of 2010 as a result of the long winter in the northern hemisphere and our customers' high stock levels, but the situation improved significantly afterwards. Demand was particularly high for fungicide active ingredients and their precursors. Overall, we expect the upward trend to continue in 2011, even though it is notoriously difficult to make such predictions for the agricultural industry due to its dependence on the weather.'
Contracting out to India
With India playing a greater role in the global pharmaceutical market, the use of Indian contract manufacturing suppliers is playing an increasing role in outsourcing activities. There is a variety of options available, ranging from the CiVentiChem mode, which operates with a US located headquarters and its production facilities in India, through to full service providers located in India.
India's largest producer of fluorochemicals for pharmaceutical and other applications, Navin Fluorine International (NFIL), for example, is strengthening its cGMP capabilities at its Dewas, Madhyapradah, India, site. A new cGMP pilot facility is scheduled to be completed by the end of February 2010 and a new cGMP full-production facility is scheduled for completion by the end of 2011.
The Dewas site is now completely dedicated to cGMP, laboratory, pilot and production activities; all non-cGMP capabilities having been moved to NFIL's growing Surat, Gujarat, site. In July 2010, a new multipurpose production facility with 12 reactor streams to support additional contract manufacturing and commercial production was formally opened.
In December 2010, NFIL also expanded its contract research laboratory, adding an extra floor with four organic chemistry labs, on the Surat site, which is now the largest integrated fluorochemicals complex in India.
India's Surya Pharmaceutical highlighted its San Diego, California, R&D centre, Surya Bio Pharma, which was opened in October 2010 and is focused on the development of nutraceutical products based on the Ayurvedic system for the potential treatment of neurodegenerative diseases including Alzheimer's, as well as cancer, diabetes and cardiovascular diseases. As the world's third largest producer of menthol, Surya has expanded into the herbal therapeutic market and will use its existing sources for its natural raw materials.
Surya Bio Pharma will also act as a primary contact for Surya Pharmaceutical's contract research and manufacturing services. Despite being a major player in the Indian pharma market with nine manufacturing plants, including cephalosporin production, and establishing a client base in 90 countries, Surya is seeking to broaden its presence as a global player. As part of the process it acquired the leading US over-thecounter (OTC) topical analgesic brand ActivOn, together with the Preferon, First On and Renewin brands, and plans to launch its own OTC products into these brands' established US markets.
Indian pharma company Indoco launched a new analytical services division: AnaCipher, located in Navi Mumbai,which provides analytical services to the global pharma sector. The services available include impurity profile, chromatography, forced degradation studies; method development and validation, polymorphism and lyophilisation studies; trace analysis and carry over studies (organic and inorganic); and reference standards and stability studies focusing on preformulation/ formulated products, degraded products, impurities generated during stability studies and API and drug intermediate products.
Technology developments
UK catalyst specialist Johnson Matthey highlighted the expanded products and service capabilities available from its Catalysis & Chiral Technologies business that have resulted from its acquisition of the German enzyme firm X-Zyme in July 2010
The range of enzymes available now includes oxidoreductases and hydrolases, which are designed using proprietary bio- and reaction engineering technologies to be manufactured and used effectively from lab to commercial scale. These enzymes also provide access to both enantiomers of even difficult– to–synthesise chiral molecules. Johnson Matthey also provides screening of enzyme libraries, combined with the use of protein engineering and directed evolution techniques to identify and produce the most effective solutions for each specific application.
Novasep, a supplier of life science manufacturing solutions, and instrAction, a manufacturer of innovative chromatographic stationary phases for API purification processes, have entered into a strategic alliance to offer the pharmaceutical industry a combination of instrAction's proprietary API-selective stationary phases (Instruction Receptor Phase) and Novasep purification capabilities and high performance chromatography technologies. These will be used to develop and operate or supply optimised large scale chromatography processes for purifying synthetic and semi-synthetic compounds.
For each customer molecule, instrAction will be able to identify the most appropriate API-selective stationary phase from its library of over 3000 phases - constantly expanded by new prototypes - and perform process optimisation services assisted by Novasep with the latter's unique computer simulation software.
Depending on customer requirements, there will be two options after development: either purification and, if required, synthesis by Novasep, or transfer of the process to the customer including the supply of a turnkey chromatography process system with guaranteed performance by Novasep and the supply of the API-selective stationary phase by instrAction. 'Buchwald-Hartwig aminations play an important role in catalysed coupling reactions, but before they meet our expectations in terms of selectivity and yield on an industrial scale, too, they often require optimisation,' said Saltigo's Stolle.
Many catalyst systems – or the ligands used in them – require special handling because of their sensitivity to oxygen. On an industrial scale, that is not exactly a minor point. Saltigo's Redmond site in the US has recently succeeded in scaling up the synthesis process for the latest generation of Buchwald-Hartwig phosphine ligands. This means, for example, that biphenyl monophosphines, such as tert-butyl-XPhos, tetramethyl-t-butyl-XPhos and BrettPhos, can now be produced in the quantities needed for custom synthesis. 'It is usually relatively easy to scale up these kinds of amination reactions once the reaction has reached industrial scale,' explained Björn Schlummer, chemicals process manager.
Swiss biochemical firm Bachem has partnered with another Swiss firm, Atheris Laboratories, which has established a library of venom peptides to offer a new service to help drug developers identify potential target molecules, based on Melusine high-throughput screening kits containing pre-fractionated venoms. Each kit comprises a plate with a series of wells each containing approximately one to10 fractionated peptides. Any one of these peptides has the potential to become a new lead compound in a pharmacological screening model.
If any one peptide fraction provides a positive result, Atheris would be able to isolate and identify the specific peptide in question, while Bachem can offer its custom synthesis capability to produce more material for preclinical studies.
Double protection: sunscreen/insect repellent
Lanxess subsidiary Saltigo has developed a water-resistant insect repellent combined with a sunscreen emulsion. The new preparation contains 15% of the insect repellent ingredient Saltidin and UV-B and UV-A filters. Saltidin is 1-(1-methylpropoxycarbonyl)- 2-(2-hydroxyethyl)piperidine (icaridin). Tests have confirmed a sun protection factor (SPF) of 15 and very low skin penetration. The product has been dermatologically tested and contains no preservatives. Saltigo claims it is proven to have skin-friendly, cosmetic properties and can be both scented and unscented. Customers in the cosmetics and pharmaceuticals industries, for example, can now apply for usage rights for the basic formula from Saltigo and, once registered, can produce the preparation and sell it under their own brand name.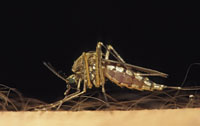 Saltidin is recommended by the World Health Organization (WHO) as the substance of choice for malaria prophylaxis. The latest tests conducted by an independent institute for proof-of-concept studies found that insect repellents containing 20% Saltidin also offered excellent protection against ants and cockroaches.