When Henry Ford rolled out the Model T. in 1908, consumers flocked to the petrol-powered automobile that, at $650, retailed for one-third the price of a comparable electric roadster – thus driving them out of market. Electric cars seemed ready for revival in the 1970s and the 1990s, but both times failed to get it right. By 2003, General Motors ignominiously pulled the plug on its EV1, a designer's delight that unfortunately never managed to make money for its maker.
Optimism reigned again in 2011, as President Obama predicted US electric vehicle sales in the next four years would top 1m. But, as the Detroit News reported, actual purchases by 2015 came in at fewer than 300,000. Global penetration in 2016, says market watcher InsideEVs, was only 0.8% of all new cars.
Recently, however, a raft of rosy forecasts suggest that EVs may be on the rise again. Market researcher EV-volumes predicts that by 2030 electrics will account for half the world's new car registrations. Other forecasters such as Bloomberg New Energy Finance, Credit Suisse, ets Insights, J.D. Power and Navigant Research are not as euphoric, but all expect electrics' stake in major markets to break 10% by 2025. That means a significant presence on the road, and booming growth as well – with even the lowest predictions implying annual volume gains of at least 30%.
Electrics have failed to meet expectations in the past. But, thanks to a combination of technical, economic and political factors, this time around just maybe they could succeed.
Better batteries
Global production of lithium is currently less than 1m t/year, but demand has quintupled over the past two decades as it has become a key battery ingredient. Forecasts for a further doubling to a quadrupling of demand over the coming decade are welcomed by lithium producers Albemarle, FMC, SQM and Talison, and by battery component makers such as Arkema, DuPont, Johnson Matthey, LG Chemical and Umicore.
Nearly all electric cars use some compound of lithium in their cathode and electrolyte chemistry (Figure 1), because 'lithium ion' technology has supercharged battery performance. Battery prices per kWh of capacity have fallen 75% over the past decade, says the International Energy Agency, which expects another 40% decline by the early 2020s. This is due to manufacturing economies of scale and to increased efficiency: energy densities of lithium batteries have climbed more than three-fold since 1990.[1] Now their conversion efficiency is among the highest for transport. Batteries are living long, too. Electric cars now typically sell with battery warranties of eight years or 100,000 miles.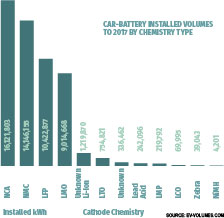 The problem for lithium ion technology is range. Mass-market motorists expect their cars to be refuelled around 200 miles, says David Roberts at Vermont Energy Investment Corporation. Only in the past few years have several electrics been able to top that.
However, another way to extend range, by making the cars only partially electric. So-called 'plug-in hybrids' switch back and forth between a conventional, hydrocarbon-fuelled, internal-combustion engine and an electric motor, which is charged both by the engine and by electricity from the socket. Having two engines adds weight, capital cost and maintenance expense, but it extends range almost infinitely, limited only by the frequency of petrol stations.
Plug-in hybrids currently account for one-third of electrics' sales, with the other two-thirds going to battery-only cars, says Viktor Irle at EV-volumes. He and several other analysts expect future growth of 'battery-onlys' to outstrip that of plug-in hybrids, not least because of booming demand from China. In 2016, China led the world's electric car sales with 300,000 units, split two-to-one between battery-only to plug-in hybrids.
China's preference for pure electric, says Irle, stems from the government's aim to clean urban air. Battery-only cars have no exhaust, a godsend in smog-ridden cities such as Beijing that regularly report pollution levels three or four times above safe-health limits. Another reason is industrial policy. Within the internal-combustion-ruled automotive sector, electric cars are something of a clean slate, so Chinese industrialists see an opportunity to create companies that can compete with traditional players by sidestepping the latter's advantages in technology, management and infrastructure. There's huge enthusiasm: a 2016 survey by Bloomberg Technology identified more than 200 Chinese electric-car makers. Top suppliers include BYD, Beijing Auto, Geely Automobile and Chery Auto.
To date, China's only significant western import is the brand that grew into the poster child of battery electrics worldwide: Tesla Motors. The company has not only led the market but redefined electrics' public image from that of jumped-up golf carts into sexy speed-machines. Its cars are sporty, high-tech, expensive and boosted image-wise by billionaire founder, Elon Musk, who also runs rocket company, SpaceX.
Tesla exemplifies the economics of electrics. The US Department of Energy floated it a $465m loan, just as governments around the world have offered various inducements to make electrics go. These include subsidies not just to sellers but also to buyers, such as the UK's 'Plug-in Car Grant' that pays up to £4500 for a car and £8000 for a van purchase.
Most extreme have been the incentives offered in Norway. By buying electric, motorists avoid €16,000 in purchase taxes and fees, and drive in less congested bus/taxi lanes. Costs of toll roads, ferries, congestion fees, public parking spaces are all waived. And refuelling is free, because gratis charging stations dot the urban landscape. All this bait has drawn out Norwegians in force to buy electric cars: in 2016 they shifted nearly 22,000, or 19% of national car sales.
Such generosity could be dangerous. Firstly, governments count on fuel duties, which come mainly from transport. In the UK, for instance, they raise 5% of government income. Duty waivers were introduced in the mid-2000s to boost biofuels, then rescinded a few years later because EU governments couldn't bear the loss of revenues – whereupon biofuel production promptly collapsed. Secondly, the subsidies might be unjustified. Two Norwegian economists, Bjart Holtsmark and Anders Skonhoft, contend that Norway's electric enticements cost its government just over $8000 per driver per year while delivering a per-driver carbon reduction worth less than $5. 'This subsidization idea 'should be ended as soon as possible, and it certainly should not be implemented by other countries,' they conclude.
Variable performance
In Norway, where 98.5% of electricity comes from hydropower, electric cars are clearly lower-carbon than their fossil-fuelled competitors. But this can be turned on its head in countries where power generation is dirtier. As the report Shades of Green by environmentalist-blogger Lindsay Wilson shows, electric motors will emit - at the power plant - more greenhouse gases than a typical diesel engine in some of the world's most populated countries, including India, Indonesia - and even China.
A 2015 study by Germany's Federal Ministry for Transport comes to similar findings. Under that country's still coal-heavy generation, electrics emit 140-280g of CO2-equivalent per km driven. Given that EU automakers already met a fleet-average requirement of 130 g CO2-e in 2015, this suggests a carbon increase, not decrease, at least in Germany. So clearing the air by converting to electric will – in coal-heavy countries at least – have to wait until next year…or later.
Eric Johnson is managing director of Atlantic Consulting based in Zurich, Switzerland
References
1. R. Van Noorden, Nature, 2014, 507, 26.