Polymer manufacturers argue PVC has suffered an undeserved 'bad press' and is in fact sustainable and recyclable. Neil Eisberg reports.
At a time when the focus on plastics is centred on sustainability and recyclability, the main attention is on post-consumer waste – post-industrial waste is mainly ignored. One polymer that does figure in post-industrial waste, however, stands out due to what many in the industry say is its undeserved poor reputation: polyvinylchloride (PVC). While the polymer has often been criticised, they claim it can fairly be described as one of the more sustainable and recyclable of all the thermoplastic resins.
In construction industry applications such as window profiles, white PVC can have an extended life measured in decades, at the end of which it can be recycled into almost white polymer that can be re-used with no loss of its original properties. When used in pipes, product life can be measured in even more decades.
As Catherine Michel, technical service and product liaison manager at Shin-Etsu, points out, window profiles represent 26% of PVC applications, followed by pipe, 21%; rigid sheet, 8%; flexible flooring, 8%; cable, %; and flexible sheet, 7%. In pipe applications, she says pressure pipes are guaranteed for 50 years, with an expected lifetime of 100 years, while more than 50% of applications have lifetimes in excess of 40 years.
Apart from the recyclability of PVC, Michel also pointed out that PVC can be said to preserve fossil feedstocks since it is 57% salt and 43% oil-based. PVC production also consumes less energy than other polymers.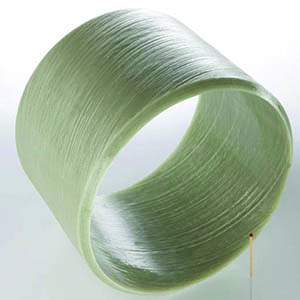 Plasticisers
In total, Michel points out that 37% of PVC is used in flexible plasticised film for applications ranging from tapes to flooring – all of which are recyclable. These films, unlike rigid PVC applications, require the addition of plasticisers. According to Perry Walters, technical manager at Cefic sector group European Plasticisers, approximately 85% of all plasticisers consumed in Europe are used in flexible PVC applications. Globally, around 7.5m t/year of plasticisers are consumed, with European consumption accounting for over 1.3m t/year.
Walters points out, over the last 60 years, more than 30,000 different substances have been evaluated for their plasticising properties. However, only around 50 are in current commercial use having met performance, cost, availability, health and environmental requirements imposed by the market, users and regulators.
According to Walters, the most common plasticisers include esters such as adipates, azelates, benzoates, citrates, cyclohexanoates, orthophthalates, sebacates, terephthalates and trimellitates.
These materials fall into two categories: classified, which are included in the REACH candidate list or are pending authorisation; and non-classified, including naturally-based compounds (Figure 1). They can also be classified into high and low molecular weight materials. For example, orthophthalates, which make up the majority of the plasticisers in the European market, comprise around 49% high molecular weight, and are non-classified; and 11% low MW, which are classified. For flexible PVC applications, di-isononyl phthalate (DINP), DIDHP and DPHP? are considered the safe, durable, cost effective and recyclable options; however, cyclohexanoates, like di-isononyl cyclohexanoate, which can be produced by the hydrogenation of DINP, mellitates such as tris-2-ethylhexyl trimellitate, as well as benzoates are increasing their European market share.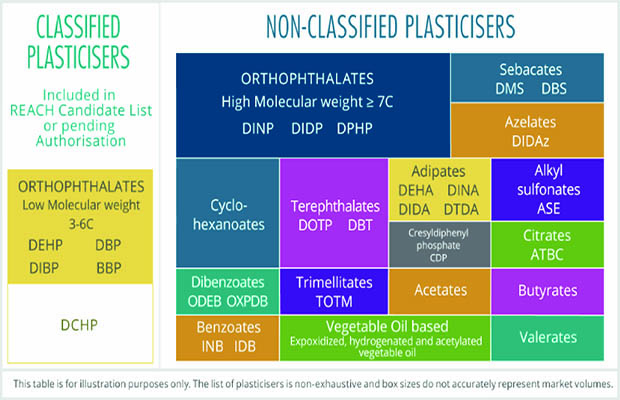 Production and applications
Plasticiser addition to PVC, according to Shin-Etsu's Michel, involves basic dry blending the PVC, plasticiser and other ingredients such as stabilisers, fillers and pigments. This blend can then either be calendered into films, flooring or liners, or extruded onto cables or into gaskets. Shin-Etsu ranks number one globally for PVC production, which in Europe is carried out in Pernis, near Rotterdam, the Netherlands, with a 450,000t/year capacity, using vinyl chloride monomer produced nearby in Botlek. The PVC facility was acquired from Shell in 2000 and has since undergone two expansion projects, with a third under consideration to take total capacity to over 500,000t/year.
One of Shin-Etsu's local customers is Draka, one of the world's leading suppliers of polymer films, located in Enkhuizen, on the Ijsselmeer, north of Amsterdam, also in the Netherlands. The company's main markets are stationery, tapes for the automotive and construction industries, decorative films, both embossed and printed, as well as laminated films for lamination onto panels or textiles, and medical products. Draka is currently introducing 100% recycled products, with eco-labelling.
In terms of post-industrial waste, Draka recycles all its PVC waste through locally-base Kras Recycling, located in nearby Volendam, also on the Ijsselmeer. This facility sorts and prepares the waste for transport to Kras facilities in the Czech Republic and Spain where it is recycled. The company has also opened a facility near Pristina in Kosovo, which will sort and recycle polymer waste into pellets for the production of new plastic products. It believes the biggest challenge for recycled PVC is finding appropriate outlets.
As Kras CEO Ben Kras expresses it: 'PVC is a very good recyclable plastic – a very strongly sustainable material. It has an undeserved bad reputation.'
In addition, ESPA's Life Cycle Assessment (LCA) for liquid mixed-metals stabilisers – used in flexible PVC applications – is ongoing with two additional Life Cycle Analysis (LCA) assessments under development by VITO, the Flemish Institute for Technological Research.
VinylPlus tackles environmental issues
Founded 20 years ago as Vinyl 2010, now known as VinylPlus, this organisation brings together resin producers, additive manufacturers and converters, together with the recyclers that form Recovinyl.
The initiative made an initial commitment in 2001 to recycle 200,000t/year by 2010, which was met.
This was followed in 2011 by a commitment to recycle 800,000t/year by 2020, which Arjen Sevenster, technical manager at the Council of European Vinyl Manufacturers, believes is very likely to be met. In September 2018, VinylPlus backed the European Commission's call for industry pledges to increase the recycling of plastics by committing to recycle at least 900,000t/year of PVC into new products by 2025 and a minimum of 1m t/year by 2030.
But vinyl waste management is not the whole story, according to Sevenster, who points out that since 2010, VinylPlus expanded its remit to cover climate change impact, additives and sustainability. As regards the potential impact on global warming, he notes that for each kg of PVC recycled, 2kg of CO2 are saved, according to a conservative estimate. On this basis, CO2 savings from PVC recycling in Europe is now at around 1.5m t/year. Since 2000, the 5m t of PVC recycled has therefore been estimated to have saved 10m t of CO2.
In terms of additives, the main group comprises the plasticisers used in flexible vinyl products.
The Additives Sustainability Footprint (ASF) methodology, developed by the VinylPlus Additives Committee and the NGO Natural Step, that is used to evaluate the use of additives in PVC products, underwent a critical review in 2018 by the University of Manchester. The main strengths of the method were identified as the life-cycle, multi-stakeholder, forward-looking and innovation-oriented approach and the alignment with the ISO 14040 standard.
In 2018, an ASF assessment on flooring was initiated with ReVinylFloor.