In March 2022, SCI had the pleasure of awarding prizes to not one but three teams in one day when we staged the final of our 2022 annual Bright SCIdea competition. This contest is open to university teams submitting business plans for scientific inventions, which will benefit society. According to SCI Chair of Trustees, Harry Swan, Bright SCIdea embodies the 'very essence of SCI; bringing scientific ideas to commercial reality'.
Once more, the entries were outstanding and we were able to reward the overall winning team, CardiaTec; the Poster competition winners, Vo & Airro; and the 2020 winners Metallogen – Covid-19 had meant there had been no in-person event for the presentation of their award.
A truly international contest
The 2022 event final was held on 15 March in the elegant Council Room at SCI headquarters in Belgrave Square, London – it was really refreshing to return to an in-person event again and welcome 80 delegates – and many more remotely. We were grateful to the event sponsors Synthomer (Platinum sponsor), Johnson Matthey (Gold sponsor), Syngenta, Unilever and EIP (Silver sponsors) for supporting such a diverse event – one which demonstrates how SCI is supporting the next generation of entrepreneurs.
The event presents an excellent networking opportunity. Many corporate partners joined the event to assess the business ideas and support the entrepreneurs, whose ideas sought to address the climate crisis and provide new products for enhancing global health and well-being.
Sarah Skerratt, Senior VP Head of Drug Discovery at CHARM Therapeutics, was a new addition to the judging panel in 2022. She was joined by Robin Harrison, Vice President, Technology Platforms, Synthomer; Lucinda Bruce-Gardyne, Founder, Genius Foods and Chair of Scotland Food and Drink; and Victor Christou, Partner, Head of Growth, YFM Equity Partners.
Now in its fourth year the competition has grown year on year and in 2022 saw applications from Brazil, Peru, Ecuador, the Middle East and Indonesia. Collaboration was very much in evidence too with teams such as Aruna representing not one but four universities, including Gadjah Mada University, Indonesia.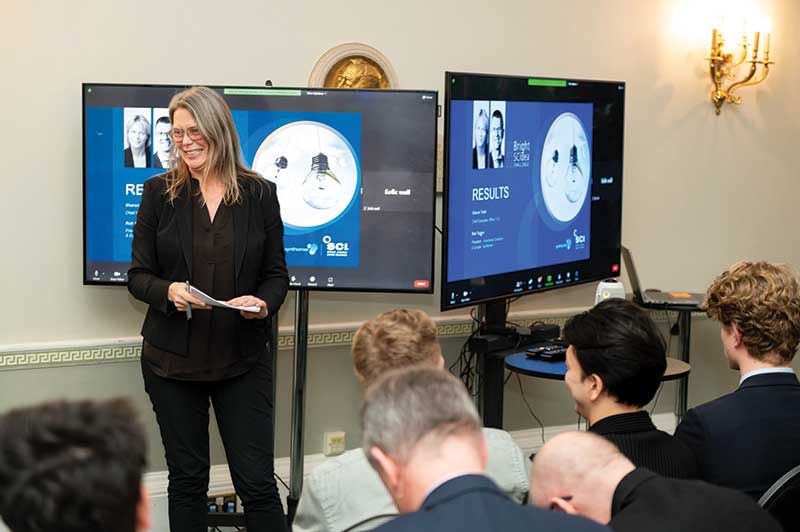 Sharon Todd, SCI CEO
From global health to global warming
Following the Covid-19 Pandemic, it was no surprise that health was a strong theme in 2022, from stress patches that assess cortisol levels and a tool for monitoring wrist strain, to a device for measuring glucose levels and CardiaTec's winning entry to address the cardiovascular health timebomb.
SCI hosted a NextGen debate at COP26 in November 2021, so it was good to also see the climate change theme represented by several teams. A team from Durham University developed a solution for recycling discarded PPE masks to produce insulation. This method of turning waste plastic products into energy saving products would have a positive impact on both the environment and the reduction of rising energy bills.
Winners: CardiaTec (UK)
The winning team CardiaTec (cardiatec.co.uk) walked away with the £5000 first prize. It was also the first to present at the event, showcasing its methodology using AI to develop drugs to treat cardiovascular problems. Co-founders Raphael Peralta from Gibraltar, Thelma Zablocki from France and Namshik Han are all University of Cambridge alumni challenging the current 'one size fits all' approach to cardiovascular disease where every person having an acute heart attack is treated in the same way.
According to Raphael Peralta: 'CardiaTec is working to improve our understanding of the disease, revealing its underpinning biological pathways for novel target discovery. Half of all heart attacks occur in people with normal cholesterol. Much is known about the impact of lipids on the disease but what about inflammation?'
CardiaTec is the first company to specialise in the early stage of drug discovery for cardiovascular disease – in direct response to the NHS call to tackle this killer, thereby reducing the burden on public health. 'Tailoring this platform is what makes us different,' he said. He explained the prize money will help the business enter its next phase of completing the fundraising round and further developing the technology.
During the presentation, team CardiaTec presented a compelling business case for their precision medicine platform – cardio-vascular disease causes around 17.8m deaths globally/year. However, in the UK alone, only £9/person goes towards cardiovascular R&D, one third the investment in oncology. Judge Sarah Skerratt praised the team's precise identification of unmet medical need, describing the next generation winning formula as 'highly innovative'.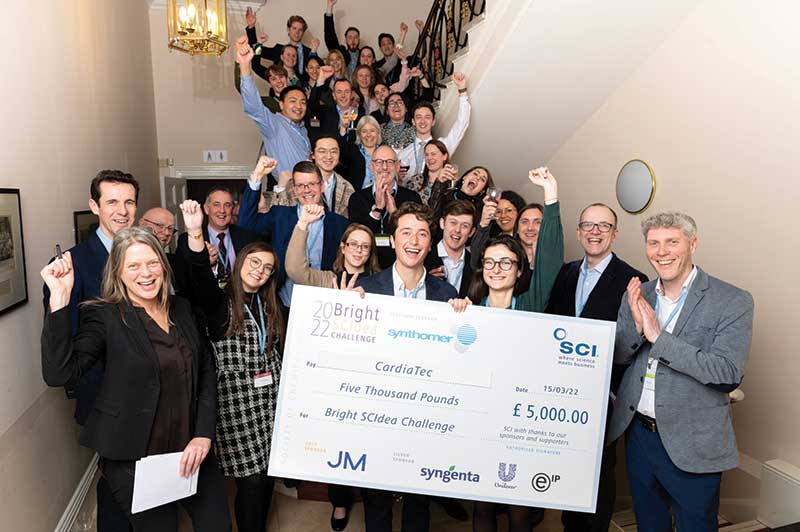 The CardiaTec team brandish their £5000 winners cheque along with the other competing teams
Other winners
In second place were team Happy BioPatch. This team of University of Oxford and University of Manchester students aims to address the explosive issue of depression, especially amongst younger people.
It has produced a discreet wearable device, worn on the ribcage, which can measure the level of cortisol in sweat. The technology incorporated within the patch works via the breakdown of cortisol through an IP-protected enzyme. A mobile app then notifies the user when stress levels become too elevated so the user can choose to do stress reduction activities such as meditation or exercise.
On the day, the judges liked the fact the patch was also a preventive measure, assisting in the early diagnosis of depression. Before depression takes hold in the body, cortisol levels become raised – this tool can act as a biomarker at this point to trigger early intervention.
Third place was awarded to team Unmasked from Durham University for developing a solution for recycling used PPE by using it to produce insulation. The solution lies in taking non-woven polypropylene fabric and similar textiles, sterilising the waste material and then shredding it to make a layer of material that could be sandwiched between foam boards, which are then used for insulation. The team said there is a great opportunity to partner with both private and public sector construction organisations to collaborate on joint bids.
The judges appreciated the very 'local' nature of the pilot activity, focusing on a distinct area round Durham University in which to set up collection schemes and mobilise local community groups.
For 2022, the live audience was also able to vote. In its eyes, the award was jointly won by Happy BioPatch and Unmasked and Eolic Wall featuring a team from National University of Engineering, Peru, and Unesp – University Estadual Paulista, Brazil.
These teams were not the only victors on the day. The Poster Competition also attracted impressive talent and the winning teams were Vo & Airro, representing students from Imperial College, London and the Royal College of Art, and GenomAbs from University College Dublin, Copenhagen Business School, the Open University of Catalunya and the University of Barcelona. Team Aruna won third place and comprised members from Justus-Liebig-University Giessen, Leibniz University Hannover, The Technical University of Central Hesse Friedberg, and Gadjah Mada University, Indonesia.
Thank you to all our other pitching finalists who made it through to this year's Bright SCIdea final: Hatton Cross, University of Warwick, QMUL and Imperial College London, BioTech Inov., University of Coimbra, and our Poster finalists, Rest Assured, Cardiff University and SOFTY, Escuela Superior Politécnica del Litoral (ESPOL).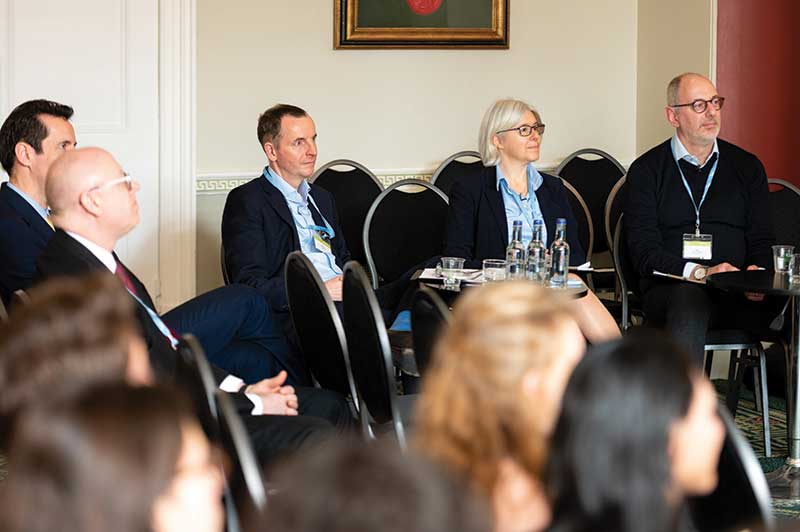 The judges listening to the presentations – Robin Harrison, Lucinda Bruce-Gardyne and Victor Christou
Final Words
Once again, the applicants showcased inventive ideas and a passion for using science to solve a real-world issue. The ability to work together across borders to generate the business plans during Covid was very challenging and so all of the teams should be congratulated for their inventiveness and resilience. As always, it is extremely difficult to pick winners across very diverse technologies and the judges considered all of the finalists to be credible businesses.
The competition is also about providing training and support for these entrepreneurs, with SCI providing business training for all applicants. Lucinda Bruce Gardyne, founder of Genuis Foods, and previous winner Natasha Boulding, CEO of Sphera, outlined their business journeys, providing insights into the real life of an entrepreneur. After remembering how she had resorted to making concrete at home during lockdown, Boulding advised the applicants to 'find an innovative champion, talk to as many people as possible and be strategic about who you talk to'. I couldn't agree more.