Lucy Wright
The European Commission has welcomed calls for legislation to phase out synthetic pesticides by 2035, restore biodiversity, and support farmers in a transition to more sustainable agricultural practices.
Responding to the European Citizens' Initiative (ECI), 'Save bees and farmers! Towards a bee-friendly agriculture for a healthy environment', the Commission noted it was a 'clear sign of the large public support for action in favour of pollinators, biodiversity and sustainable farming', after the initiative was backed by over a million EU citizens.
The EC response noted that, 'in the EU, one in three bee, butterfly and hoverfly species is in decline, whereas 80% of crop and wild flowering plant species depend on animal pollination'. The Commission has called upon the European Parliament and Council to find 'swift and ambitious agreements on the already submitted legislative proposals, that will help protect and restore European pollinators and translate the citizens' ambition into law'.
The EC's response cites the European Green Deal actions as comprehensive responses to the requests made in the ECI – these include the revised EU Pollinators' Initiative and the EU Common Agricultural Policy (CAP) 2023-2027, which promises €100 billion to farmers in support of green transition.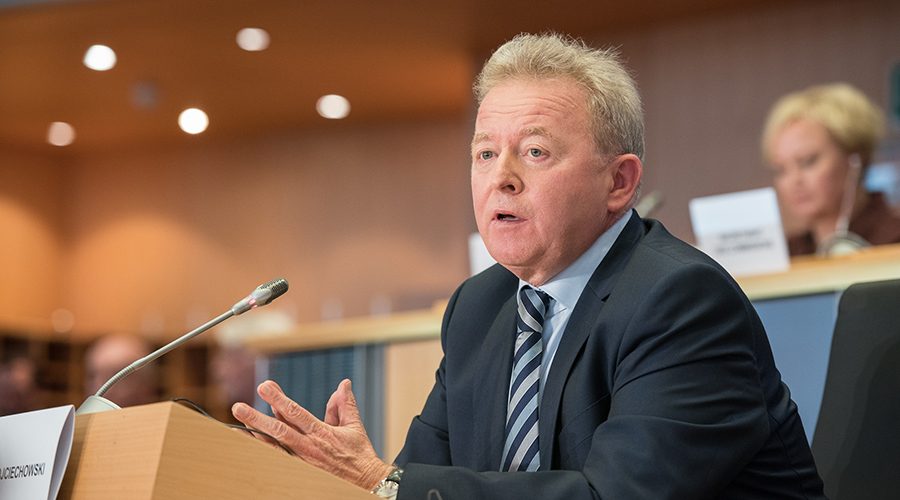 Janusz Wojciechowski, Commissioner for Agriculture. CC-BY-4.0: © European Union 2019 – Source: EP
Janusz Wojciechowski, Commissioner for Agriculture, noted, 'The CAP is helping farmers to strengthen the protection of pollinators, for instance by supporting the conservation of habitats, organic farming, agroecology, and sustainable apiculture programmes'.
In addition, the EC said proposals for a Nature Restoration Law and Regulation on the Sustainable use of Pesticides, which aims to reduce the risk and use of chemical pesticides in EU agriculture by 50% by 2030, 'have the potential to be a game changer for pollinator conservation'.
Bringing back #EUPollinators 🦋🐝 is key for our wellbeing & #ForOurPlanet

That is why we welcome the 🇪🇺 European Citizens' Initiative "Save bees and farmers! Towards a bee-friendly agriculture for a healthy environment" - supported by over 1 million citizens across the EU 👇

— EU Environment (@EU_ENV) April 5, 2023
However, Madeleine Coste, Advocacy Director at Slow Food, believes that the response does not go far enough. Speaking to C&I, she said, 'Citizens asked for real, ambitious measures to halt the use of pesticides – for their health and farmers', their food and their future. The response from the Commission is not enough. Thus, Slow Food insists: Europe needs a pesticide phase-out plan, without new GMOs, to achieve pesticide-free, GMO-free food systems.'
Dr Stephen O Duke and Professor Yidong Wu, Editors-in-Chief of the SCI journal Pest Management Science believe that strong efforts should be made to reduce environmental hazards of pest management, while maintaining the global agricultural productivity needed for present and future human populations. Speaking to C&I, they noted that 'changes in pest management and other agricultural practices should be supported by high-quality, peer-reviewed data'.
The proposed changes could have a significant effect on new pest management strategies. In a paper published in Frontiers in Microbiology in April, researchers discovered that the invasive alnus ambrosia beetle communicates via the volatile compounds that are produced by fungi it 'sows' inside host trees. The researchers claim this could open a promising avenue for targeted biological control – developing new trapping lures to reduce harm to non-target species.