Members of SCI's Early Careers Group, along with scientists and students from a range of backgrounds, put their questions to some of the UK Government's leading advisors and politicians at the 2021 Voice of the Future event, which was held online.
Across the one day event held on 10 March, members of the scientific community had their questions answered by: Amanda Solloway MP, Minister for Science, Research and Innovation, Chi Onwurah MP, Shadow Minister for Science, Research and Digital, Sir Patrick Vallance, Government Chief Scientific Advisor, and Members of the Science and Technology Select Committee.
SCI was represented by Rory Barker (Scott Bader), Ana Morales Garcia (P&G), Elin Barrett (Unilever), Joseph Anderson (GSK), Charlene Fallan (Astra Zeneca), Beth Moore (Synthomer), Tom Holloway (Syngenta), Bethan Warren (Croda) and Adam Smalley (UCB).
Picking up on one of the themes important to many attending the event; Rory Barker and Charlene Fallan posed the question: 'At the moment, recyclable or biodegradable properties are seen as "nice-to-haves" for a large number of consumers who often turn these down due to the increased cost they incur. How can this be changed? Is this something that should be legislation driven or incentivised to encourage development?'
Responding, Chi Onwurah said she believed that a mix of science and legislation were needed. 'We have seen the tremendous impact from the legislation around plastic bags and many people support this change. But we also see the huge role material science has to play developing the sustainable alternatives. There is also no doubt that education has a part to play as well,' Chi commented.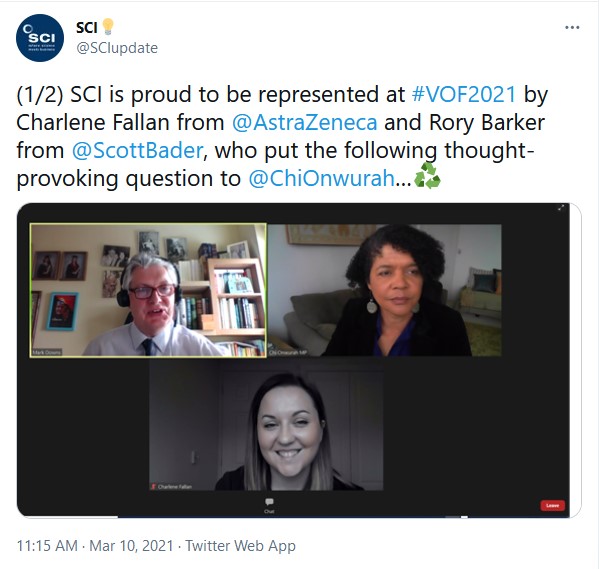 Tweet of online event: Charlene Fallan and Chi Onwurah
Sir Patrick Vallance fielded questions on a wide range of subjects. Starting with lessons learned about the impact of public-private partnerships, regulation and overall cooperation in allowing a covid-19 vaccine to be developed in record time. Could the approach used to develop the Covid-19 vaccines in 300 days, be used for other infectious diseases? He also commented on the importance of having scientific experts within Government as their input was essential in policy making. 'We need more science, engineering, technical expertise, right the way across government, because almost every decision has some scientific element to it,' Sir Patrick said. He also commented on the importance, and the challenges, of reaching net-zero by 2050, and the value of critical thinking in all decision making.
Commenting on the overall day Charlene Fallan said; 'The MP's answered questions insightfully, and I could feel that they were passionate about the issues discussed.' Joseph Anderson from GSK added 'I found it particularly interesting to learn more about the interface between science, policy and the public, which often seems out of reach or significantly detached from the "boots-on-the-ground" researchers focusing on their own niche area.'
Remarking on comments made by Sir Patrick on the impact of electric vehicles on net-zero, Beth Moore from Synthomer said that it was interesting to hear Sir Patrick say that while there were positive developments in the EV area, it was also important for people to begin to pay attention to issues such as household heating, and how things like domestic gas boilers were impacting the move to net-zero.
Voice of the Future is organised by the Royal Society of Biology on behalf of learned societies.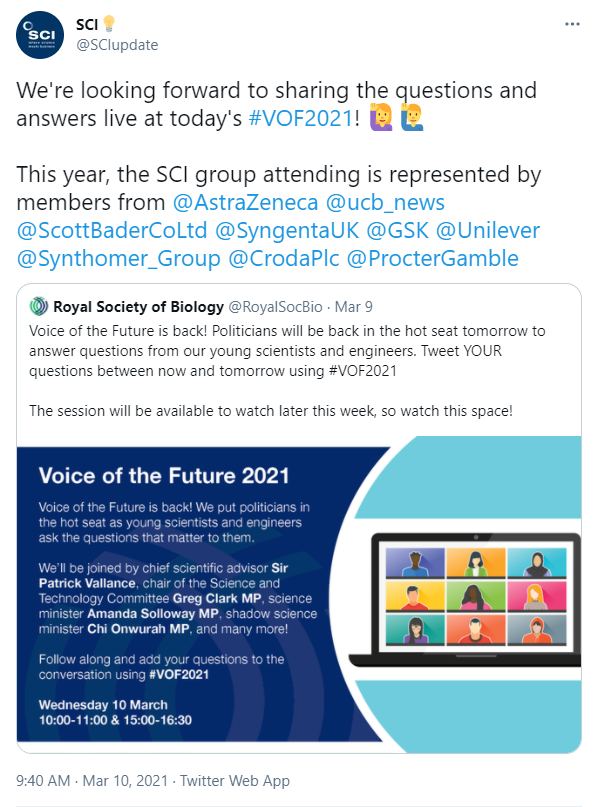 Related Links: