'The Breakthrough Agenda is galvanizing action in this decisive decade across the world's most important economic sectors to decarbonise…' says John Kerry
With the impacts of climate change becoming ever more apparent, the first week of COP27 can be described as a week of actions. Opening up COP27 in Sharm El-Sheik, Egypt, Simon Stiell, the new Executive Secretary of the United Nations Framework Convention on Climate Convention (UNFCCC) kicked off the two-week meeting reminding delegates of the need to move to action and implementation.
'Today a new era begins – and we begin to do things differently. Paris gave us an agreement, Katowice and Glasgow gave us the plan. Sharm El-Sheik shifts us to implementation,' Stiell said. 'Our businesses, our infrastructure, our actions, be they personal or public, must be aligned with the Paris Agreement and the [UN Climate] Convention.'
Making good on the Paris Agreement requires a move to renewable and cleaner energy, and the first week of COP27 saw the European Union conclude agreements with Egypt, Namibia and Kazakhstan on a number of areas including green hydrogen. In addition, global oil company BP announced that it had signed a Memorandum of Understanding with the Government of Mauritania under which it will deliver an 'innovative programme exploring the potential for large-scale production of hydrogen in the country.' Under the agreement BP said that it will carry out a number of studies to evaluate the technical and commercial feasibility of producing green hydrogen in Mauritania.
Also committing to green hydrogen, Egypt's government announced that it would partner with Norway to establish a 100MW green hydrogen facility on the Red Sea. The first phase of the project was launched by Egypt's President El-Sisi and Norway's Prime Minister Jonas Gahr Støre.
The project will be implemented in cooperation with the Norwegian energy company Scatec. Egypt's President said the agreement was 'a practical model of investment partnership that stimulates sustainable economic development with a focus on the role of national and foreign private sector besides the Government's role, working side by side in this fruitful sector.' The planned project is part of Egypt's wider strategy, which has a goal of producing green hydrogen at the cheapest price worldwide.
Developments in renewable hydrogen have dominated technological discussion in week one of COP27.
Capping the green hydrogen news at COP27, President El-Sisi and Belgium's Prime Minister, Alexander De Croo, announced the launch of a Global Renewable Hydrogen Forum. The multi-stakeholder, public-private platform has been set up to facilitate large-scale deployment of renewable hydrogen to foster decarbonisation of local industries and accelerate transition and unlock the environmental and socio-economic benefits of the global hydrogen economy.
The overriding message was clear – making clean technologies cheaper and accessible to all is critical in the race to reach net zero. The first week of COP27 concluded with news that countries representing more than 50% of global GDP had set out sector specific 'Priority Actions', under the so called Breakthrough Agenda, to decarbonise power, transport and steel, and scale up low-emission hydrogen production and accelerate the shift to sustainable agriculture by COP28. These measures are designed to cut energy costs, rapidly reduce emissions and boost food security for billions of people around the world.
The Agricultural Breakthrough, led by the UK and Egypt, has been endorsed by 13 countries, and aims to make climate-resilient, sustainable agriculture the most widely adopted option by 2030. France and Morocco are set to launch a Buildings Breakthrough and Canada is planning to launch a Cement Breakthrough during 2023. These Breakthrough Agenda developments build on leadership-level commitments from COP26 by 45 countries to work together to make clean technologies sustainable and affordable in the emissions intensive sectors of the global economy.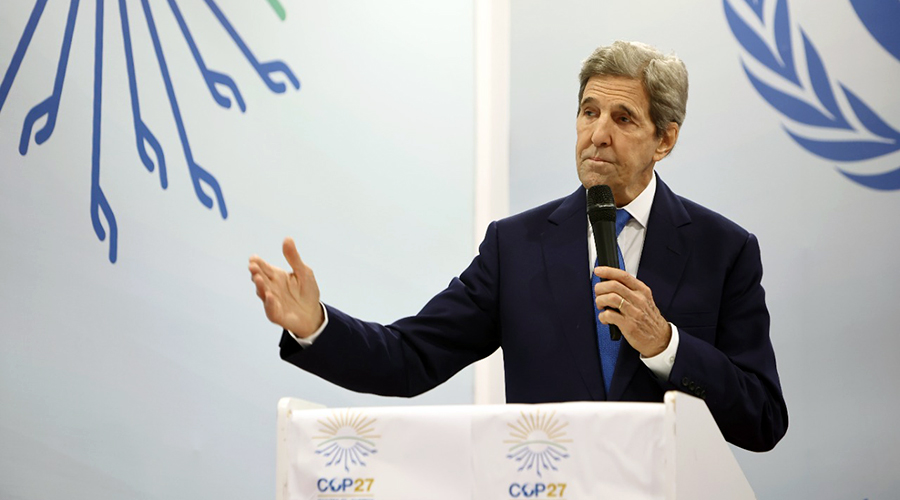 John Kerry speaks at COP27.
John Kerry, United States Special Presidential Envoy for Climate said: 'The Breakthrough Agenda is galvanizing action in this decisive decade across the world's most important economic sectors to decarbonise. Government cooperation, in collaboration with the private sector through the First Mover Coalition, can scale critical technologies and create new markets. I congratulate our close partners and the United Kingdom on the continued success of the Breakthrough Agenda.'
Delivering on much of what is being discussed at COP27 relies on scientific endeavour, and the Science Day, one of several thematic days, concluded that there was a need for scientists to do more to make their data available and understandable to help policy makers plan and tackle climate change. The Science Day was also used to launch the One Health Initiative, which sets out an ambition to improve the health of humans and animals alike in the face of climate change.