Support for innovation in the agriculture and livestock sectors continues with UK and Australian government bodies delivering on funding and research.
The UK government is providing £11 million in funding to the winners of two competitions focused on food production; the Small R&D Partnerships competition, which is managed by the UK Research and Innovation's (UKRI) Transforming Food Production challenge; and the Research Starter Pilot competition.
The Small R&D Partnership focuses on developing new solutions addressing on-farm or post farm gate challenges and opportunities. Nine projects will receive funding in this competition. The winners include the Sentinel Crop Disease Surveillance Network, which uses sensing devices in fields to provide early warning of pathogens that would damage a crop, and then recommend a management plan for the grower. The project received £746,271 in funding.
Funding recipients under the Research Starter Pilot competition include Grow Graphene, a project that aims to produce graphene from renewable sources. The project could lead to a carbon capture bioeconomy opportunity for English farmers as they could grow crops such as flax as a production feedstock and capture carbon at the same time. Grow Graphene received £48,166 in funding.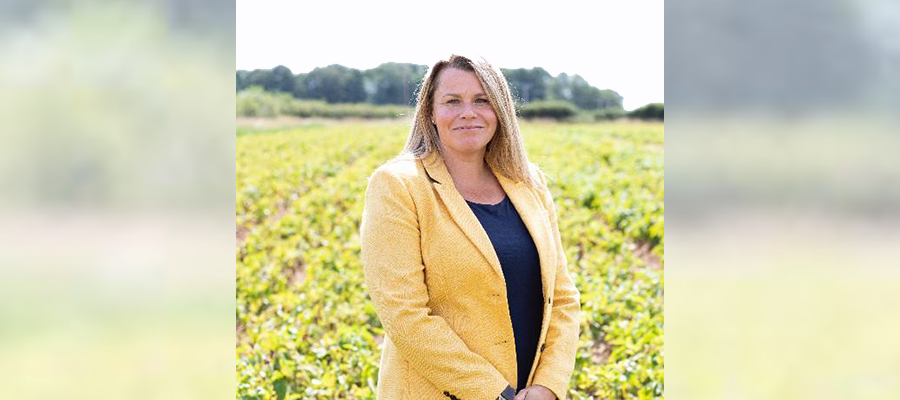 Katrina Hayter, Director of UKRI's Transforming Food Production challenge.
Further funding opportunities have also been announced with £16.5 million being made available under the Farm Innovation Programme. You can keep up to date with the latest UK government calls for evidence and funding competitions in our weekly PoliSCI roundup.
Katrina Hayter, Director, Transforming Food Production challenge commented: 'From animal health to crop productivity, the introduction of strategic support technology and the precise application of chemicals, it's exciting to see so many concepts beginning to come to life […] We are keen to ensure farmers and growers remain at the heart of projects.'
In a separate development, the UK government has also launched a call for evidence asking the agriculture sector, scientists and the wider public for information on animal feed products that can reduce methane emissions from livestock. The aim is to find out how farmers and agribusinesses can increase adoption of this technology to support more sustainable protein production. In 2019, agriculture accounted for 10% of total UK greenhouse gas emissions.
---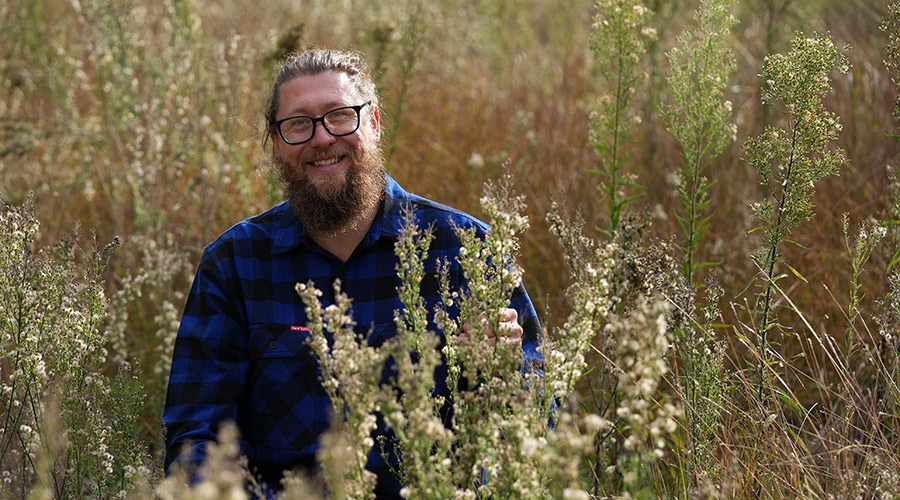 Dr Ben Gooden, CSIRO research scientist, surrounded by fleabane weed. Image: GRDC
Meanwhile, researchers at Australia's national science agency, CSIRO, are piloting the release of a fungus, which originates in Columbia, to help farmers tackle the weed flaxleaf fleabane. The weed impacts grain crops and is said to lead to losses valued at more than A$43 million each year. Flaxleaf fleabane is a fast spreading weed from South America, damaging crops and grazing areas. The weed is said to be one of the most difficult to control and is estimated to have impacted three million hectares of land in Australia.
The fungus, Puccinia cnici-oleracei, was imported into CSIRO's high-security quarantine facility in Canberra, where it was studied to determine if it was safe to introduce in Australia as a bio-control agent.
CSIRO weed ecologist Dr Ben Gooden said: 'Our research found the fungus can only infect flaxleaf fleabane, while all non-target plant species tested were resistant to it. Based on this research, the fungus is deemed to be safe and has been approved by the Department of Agriculture, Fisheries and Forestry for introduction to Australia.'
The research is supported through funding from the Australian Government and farmers wishing to participate in the biocontrol release programme should register their interest with the CSIRO at fleabanebiocontrol@csiro.au. Land owners will monitor the fungus and how it establishes and will report back to CSIRO on the impact it has on flaxleaf fleabane.