With data and its use across science a growing topic, the ACS Fall 2023: Harnessing the Power of Data meeting, held in San Francisco, US this week, used its plenary session to look at the opportunities and challenges around AI and machine learning in the field of chemistry.
These techniques mean that many conventional experiments or computational chemistry calculations that would have taken weeks can now be achieved in hours or seconds. However, as Heather Kulik, Associate Professor Chemical Engineering Massachusetts Institute of Technology explained; challenges remain, from how we trust the underlying theory/experiment on which a model is trained, to where the experts fall in the process to ensure that AI models can act synergistically. These questions, and more, will be addressed at SCI's forthcoming event, Data Digitalisation and AI - what can digital do for me?
3D printed vegan calamari is on the menu
Chemistry and its use in developing innovative products were evident across the event, not least in work presented by researchers from National University of Singapore, who proposed 3D printed vegan seafood that 'tastes good while maintaining the health benefits of real fish'.
Looking at the problem of limited seafood resources, along with heavy metal and microplastic contamination, efforts to develop plant-derived seafoods have been pursued for some time. However these products, the researchers say, do not have the nutritional content or indeed the flavours associated with seafood.
The researchers used legume protein to develop improved seafood alternatives and then replicated the flakiness associated with real fish by 3D printing a protein-based ink with a food-grade 3D printer. Depositing the edible ink layer-by-layer created different textures, some fatty and smooth, and others chewy and fibrous, in a single product.
'We printed salmon fillets with protein from red lentils because of the protein's colour, and we've printed shrimp,' said Professor Dejian Huang, lead researcher on the project. 'Now we want to print something else interesting with the potential for commercialisation – calamari rings.'
The team has extracted microalgae and legume proteins in the lab and combined them with plant-based oils containing omega-3 fatty acids. The nutritional profile of the high-protein vegan paste was similar to that of calamari rings. The team is optimising their product before consumer testing.
Ain't no flies on this plastic bag
Looking for alternative feedstock to create biodegradable plastics, a team led by Karen Wooley, Distinguished Professor Texas A&M University is using the carcases of black soldier flies, farmed for their high protein larvae, as a starting point for new material.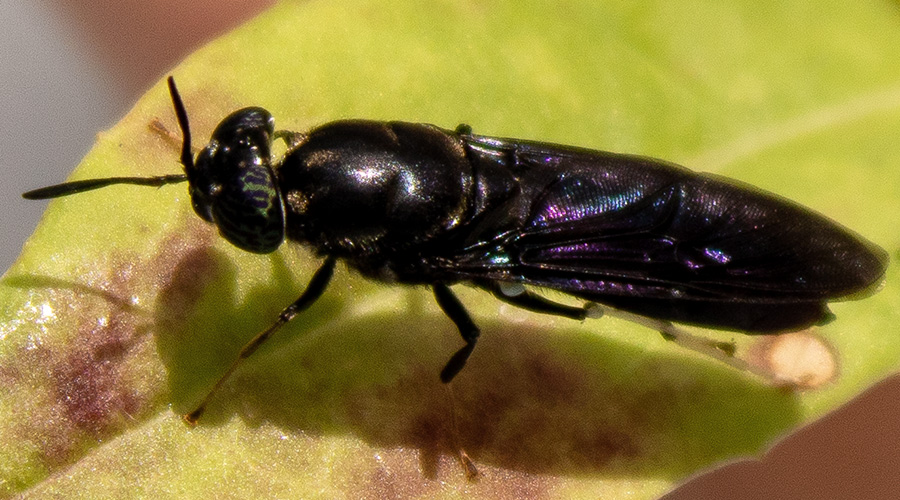 Black soldier flies are a good source of chemicals to make bioplastics. Credit: Cassidy Tibbetts
Using a range of techniques the researchers have extracted and purified the natural polymer that gives strength to the exoskeletons of insects – chitin – from the flies. The powder derived from the flies also has the possibility of avoiding concerns linked with allergies related to chitin derived from sea food sources, the researchers added.
Further research has led to the development of a hydrogel, derived from chitin, which can absorb 47 times its weight in water in just one minute. This could have application in cropland soils to capture flood water then slowly release moisture during subsequent droughts.
'Ultimately we'd like the insects to eat the waste plastics as their food source, and then we would harvest them again and collect their components to make new plastics,' said Professor Wooley.
The team is now looking at breaking down the chitin into monomeric glucosamines, which will be used to make bioplastics such as polycarbonates or polyurethanes. Black soldier flies also contain other useful compounds that the researchers plan to use as feedstock including DNA and fatty acids.
In the forthcoming issue of C&I, we'll be looking in depth at more of the key developments presented at the landmark meeting, including an exclusive article from keynote speaker Jeremy Frey, who will be speaking at SCI's forthcoming event, Data Digitalisation and AI - what can digital do for me?
SCI members get full access to our magazine, alongside a raft of other benefits.