15 Jul 2019
Juniper Boroka Kiss was awarded one of the 2019 David Miller Travel Bursaries to attend the 8th International Banana Congress held in Miami, US at the end of May 2019. Here, Juniper writes about her experience attending the international congress and the opportunities her trip provided.
'I am starting the SWBio Doctoral Training Programme at the University of Exeter in September 2019 on banana Fusarium wilt (Panama disease) in Latin America. I am thrilled to have received the David Miller Award to attend the CORBANA International Banana Congress in Miami, Florida. This event is held every two years and this year's conference was titled 'Mega Trends of the banana trends: Is your business ready to cope with the changes as of 2020?'. I flew over to America one day after finishing my undergraduate exams and met with my PhD supervisor in Miami, who was an invited speaker.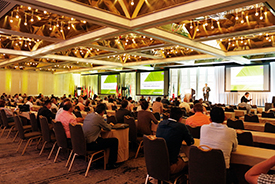 'In the 1950's, the Panama disease quickly spread around the world and led to a US$2 billion loss in banana production. A new strain of this disease emerged in South East Asia which once again threatens global banana production relying on the Cavendish banana cultivars. My PhD project will approach the banana production system from an ecological point of view, focusing on soil organic matter amendments and the use of biological controls against this fungus.
'In 2011, global banana production reached 145 million tons, with the value of US$44 billion but only 15% of production enters the international market. Thus, while it is a multi‐billion‐dollar industry, millions of people's livelihoods depend upon bananas. The industry is the ultimate driving force for making it a more sustainable food production system. This was a truly exceptional opportunity to network with scientists and meet representatives from Chiquita, Del Monte and Fyffes, the largest banana producing companies. I have been offered a visit to the Chiquita banana fields in Costa Rica and potentially receive data from banana growers in Ecuador via Bayer.
'The opening ceremony on 29 May was followed by presentations and panel sessions on Panama disease. I have discussed my potential PhD project with world experts and my supervisor introduced me to our future colleagues in Costa Rica. It was fantastic to meet scientists in person from Wageningen University, Brazil and Australia, whose publications I have been reading as preparation for my PhD. The second day of the conference focused on sustainability, biopesticides, the future impact of Brexit and Black Sigatoka on the banana industry.
'My supervisor gave a fantastic presentation on his recent publication on modelling infection risk of Black Sigatoka in Latin America. It was great to get to know him before starting my PhD and discuss potential research questions and experiments which I will refine during the summer. I also discussed a potential internship during my PhD at FAO's World Banana Forum which would be another amazing experience to work with global banana stakeholders. The last day of the conference consisted of presentations on biocontrol experiments, the future of banana marketing and using remote sensing to quantify and predict yields around the world.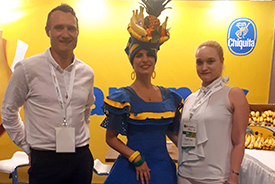 'Over 650 people attended this bilingual congress from 20 countries and the commercial exhibit included 35 companies and organisations. The biocontrol products were of special interest to me. While the successful disease suppression of Fusarium wilt with biocontrols have been published, they are not reliable in the field and hence why the industry has not fully adopted them yet. The growers told me that they welcome any idea to combat the Panama disease and there is a great need for an Integrated Crop Management system for bananas while people from the industry told me that their 'dream banana variety' must have a long shelf‐life.
'The CORBANA International Banana Congress was 'where science met business', following SCI's slogan. This trip has given me a head start with my PhD while also realising the importance and complexity of my research topic.
'So, no pressure. I greatly encourage scientists from any research field to work with the industry to ensure that published research findings are put into practice. The two worlds may not be that far afar from each other!'
Juniper Boroka Kiss
PhD student
University of Exeter
Related links