27 Jun 2018
For over thirty years, SCI has supported and recognised the excellence of early career people, by aiding their studies in the form of an SCI Scholarship.
Since 1985 around 74 scholarships have been awarded which have not only given the recipients financial assistance, but have enabled them to broaden their network, and strengthen their skills and knowledge. SCI Scholars receive access to publishing and mentoring opportunities and are given a platform to present their work amongst esteemed scientists and industrialists, thus raising their profile within the scientific community.
In the past ten years alone, SCI has generously bequeathed over £115,000 of its charitable funds to SCI Scholars and the scientists of the future.
Jona Ramadani was awarded an SCI Scholarship in 2018. Here, she tells us about herself and her research project.
My keen interest in sciences ensued from a fascinating school presentation by a forensic expert from the Metropolitan Police when I was 15 years old. It appealed to me that Forensic Science encompasses every branch of science and wider areas. The range of possible careers and future research excited me, so I chose to study Forensic Science at the University of Kent in Canterbury.

During my undergraduate degree I was one of a dozen students to be awarded a place on Pfizer's industrial training experience programme. My degree fostered in me an interest in analytical chemistry and led me to study for an MSc in Analytical Sciences for Industry at King's College London. During my MSc studies I conducted research establishing an effective method for identifying metabolites of new psychoactive substance without the need for human administration.
After graduating with a first-class degree, I started work as a higher scientific officer at the Home Office Centre for Applied Science and Technology (CAST). My role at CAST included scientific research, evaluation of technologies, project and people management, laboratory management, mentoring and engagement with both technical and non-technical stakeholders. To further develop my knowledge and expertise I decided to take a career break to study for a PhD. I moved to Imperial College to begin a PhD funded by EPSRC and Procter & Gamble, under the supervision of Professor Daryl Williams in the Department of Chemical Engineering.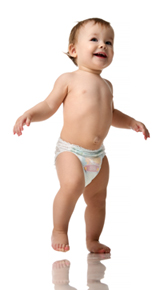 ← Surfactants are used across industry to modify the chemistry of many materials for application in everything from nappies to sanitary products.

For my PhD I am studying surfactant migration on polymeric substrates. Surfactants are commonly used to modify the surface chemistry of many materials including polymers. In the manufacture of non-woven fabrics formed from polyethylene and polypropylene blends, which are used extensively in the personal care industry, non-ionic and cationic surfactants are commonly used to improve surface hydrophilicity via simple coating processes.
Common industrial uses include sanitary products, medical sorbent-based products, disposable nappies and de-misting filters amongst many others. The surface hydrophilicity of these materials is typically time-dependent, due to significant losses of surfactants. The fate and mechanisms by which surfactants are lost are not currently known. This surfactant loss process will be investigated by measuring key physicochemical properties of substrates treated with surfactants under different environmental conditions and as a function of time. The two primary objectives for the project are to confirm, quantify and visualise surfactant distributions on the surface of non-woven fabrics, and to develop a fundamental understanding of the surfactant loss process(es).
The SCI scholarship will afford me great networking opportunities. In addition, it will help fund travel to relevant conferences such as the 8th Pacific Basin Conference on Adsorption Science and Technology to be held in September 2018 in Japan, to which I have been invited to present my work.
Jona Ramadani
PhD Student
Imperial College of Science, Technology and Medicine
The 2018 cohort of SCI Scholars will be recognised at our AGM on Wednesday 4 July 2018. Click here to find out more and register your attendance!
Related Links