14 Aug 2015
Ellen Bornhorst was awarded a Seligman APV Travel Bursary in 2015. Below, she reports on her participation in the 12th International Congress on Engineering and Food (ICEF12), which took place between 14 - 18 June in Québec, Canada. She tells us how ICEF12 was a great platform for her to strengthen and broaden her professional network and how the event facilitated her long term career goals in academia.
'I had a great experience attending the 12th International Congress on Engineering and Food (ICEF12) in Québec City, Canada. I was honored to have been awarded a Seligman APV Travel Grant during the closing ceremony. This travel grant facilitated my attendance to the conference and gave me the unique opportunity to share my research work with an international audience and network with food scientists and engineers from around the world. Thank you for your support to make these important travel grants possible.
'I attended the opening networking session and enjoyed engaging in discussions with several European PhD students, post-doctoral fellows, and professors doing cutting-edge food science and engineering research, such as using x-ray phase-contrast tomography to study the microstructure of emulsions. ICEF12 was a great platform for me to strengthen and broaden my professional network, which will likely help facilitate my long term professional goal of becoming a professor. I also established connections with several food engineering professors in Ireland and the United Kingdom and I was excited to learn about the possible job opportunities in their research groups, including post-doctoral fellowships. Before attending this conference, I hadn't given serious thought to the possibility of obtaining employment abroad, after speaking with some innovative researchers, I became excited about this prospect.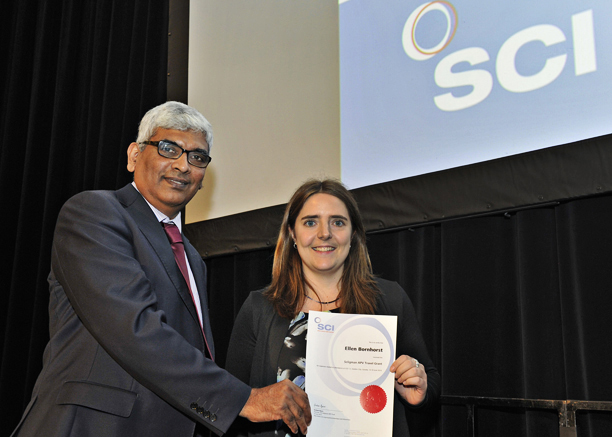 'The International Congress on Engineering and Food is a unique conference that brings together a diverse group of food engineers to present the most recent research findings and promote and enhance scientific collaborations around the world. By presenting my PhD research work I was able to advance knowledge of novel model food systems to predict the quality of thermally processed foods. During my poster session I engaged in discussions with food engineering industry professionals and academic researchers. I was able to broaden my vision of this research and future applications of novel thermal processing on an international level. It was motivational to meet people who were also passionate about this research area and excited about my work. I became inspired and generated new ideas to take back to my university and enhance my research work.
'I also had the chance to further my scientific knowledge by attending other events and sessions in the scientific program. I was inspired to take my teaching to the next level and driven to innovate by the plenary speakers, Dr Paul Singh, UC Davis, USA and Valerio Nannini, Nestlé, Switzerland. I particularly enjoyed the comments from Dr Singh on the need to cater our teaching for different learning styles, rather than using a one-size-fits-all approach. I learned several ideas of how to use educational video games and on-line lectures as supplementary teaching material in the classroom. During the conference, I attended many other interesting talks, including one on food physics opportunities in modeling from Dr A Datta, Cornell University, USA; food structure, oral behavior and texture perception from Dr M Stieger, Wageningen University, Netherlands; evaluating food quality changes: from fingerprinting to kinetics from Dr T Grauwet KU Leuven, Belgium; continuous flow microwave processing of particulate foods from Dr K Sandeep, NC State, USA; and carbon and water footprints: facts, myths, and reality from Dr D J Cleland, Massey University, New Zealand. It was interesting to learn new perspectives on research in my area, as well as learn about other research areas I am unfamiliar with, such as hyperspectral imaging and how to do a carbon and water footprint for a food product.
'I benefited from attending ICEF12 by having the chance to network with international researchers and industry professionals, present my research work, and learn about new technologies and research areas by attending poster sessions and talks in the scientific program. Thank you again SCI and Seligman APV Travel Grant for your generosity, which facilitated this great experience for young food engineering professionals.'
Ellen Bornhorst, PhD student, Washington State University, USA
Related Links