Polymer International, one of SCI's seven peer-reviewed journals, is now in its fiftieth year of publication.
Rebecca Aris
The first issue of the journal was published back in January 1969, when the journal title was British Polymer Journal and it has since published work by prestigious scientists, such as Nobel prize winner Jean-Marie Lehn. The name of the journal was changed in 1991, to reflect the international outlook of the journal.
Polymer International, published by Wiley on behalf of SCI,publishes on new developments in all branches of macromolecular science and technology. Even from its inception, the focus on innovation in the polymer field has been clear, an ongoing goal that links clearly with the mission of SCI.
In the inaugural issue, the message from the SCI president at the time, Neil Atkinson Iliff, CBE, stated, 'The time now seems ready for the publication of our own journal on the science and technology of plastics and polymers and it is a great pleasure for me to welcome the first issue'.
'A high standard of paper will be required.' He continued, 'The journal will cover the whole field of pure and applied Polymer Science, but there will be particular emphasis, at the present stage, on applied polymer and resin chemistry of special interest to industrial chemists and technologist.'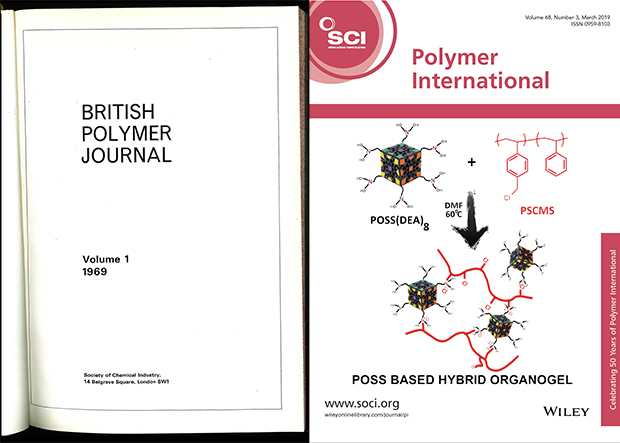 Polymer science has changed in the last fifty years - and so has the cover!
Since the first issue, the journal has been guided by four Editors-in-Chief:
John Kennedy
François Schué
Kurt Geckeler
Tim Long
In the most recent issue of Polymer International, which marks the fiftieth year of publication, the current Editor-in-Chief, Tim Long writes 'Polymer International strives to provide a unique literature presence; the journal remains committed to sustaining a critical synergy of interdisciplinary, international, and industry‐inspired fundamental research in polymer science and engineering.'
To mark the 50th year of publication of Polymer International in 2019, a selection of the most influential papers published in the journal over the last 50 years have been compiled. These articles will be free to read during the anniversary year and you can find them below.

Discover the latest advances for free in the first issue of this anniversary year.
Related Links: