The Horticulture Group, in conjunction with young postgraduate students from the Plant Science Laboratory at Cranfield University, ran 'From Field to Fork: How to improve the quality of fruits and vegetables'. The Plant Science Laboratory at Cranfield, led by Dr Leon A Terry, is home to the only UK university-based group solely dedicated to research, consultancy and education in postharvest technology and is one of the leading centres for fresh produce research in Europe.
From Field to Fork aimed to bring together young scientists and industry representatives to present and discuss new technologies that could lead to fruits and vegetables with higher quality and nutritional properties. The event, held on 17 November 2009 at Cranfield University, will included a wide range of topics in the form of oral and poster presentations, from national and international (including Portugal, Spain, Switzerland) representatives and bridged the gap in communication between industry and young scientists.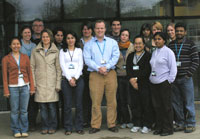 Subjects covered in talks included innovative pre-harvest techniques as well as post-harvest and processing treatments all aimed at improving the quality and nutritional value of both UK and tropical fruit and vegetables when they reach the consumer. The poster displays added to these topics and will also cover flower storage. The event concluded with workshops to enable the participants to delve deeper into specific areas identified from the talks and posters.
Growing consumer awareness and demand for food quality, nutrition and safety has created a competitive environment in the food sector in which the producer is encouraged to supply fruits and vegetables with enhanced flavor or added nutritional value. Fruit and vegetables are complex and their composition may be affected by many external and internal factors the extent of which is not fully understood. These included learning of the impact of peeling an apple on its nutritional value, how to enhance the quality of strawberry and other berries with the right amounts of water, N or Ca2+, the impact of storage conditions on UK-grown onions and potatoes, or the effect of emergent postharvest treatments on the quality of tropical fruits and flowers.
Raising the quality of produce can be achieved by improvements at any point throughout the food chain: From Field to Fork.

Related Links