Last month the group visited the Exmoor area for a weekend of talks and visits to nurseries and gardens. Based in the picturesque village of Dunster we visited Greencombe and Dunster Castle Gardens, heard talks on the Exmoor National Park and European Orchids as well as learning about the propagation of young trees one thousand feet up on the edge of the moor at Exmoor Trees. A report of some of this appears below under the enigmatic title, The answer is three.
On 22 April The Agrisciences group are organising a meeting on Agri Innovation 2015: Emerging Science and Technologies in Crop Research.
On 28 April we will be joining the Professional Horticulture Group South West for a visit to the Whitchurch area to visit Hardy's Cottage garden plants and study the production of Bombay Sapphire Gin at Laverstock Mill.
Please remember that April 13 also sees the closing date for entries to this year's David Miller Travel Bursary Award. Please get your entry in or encourage a student you know to enter.
Peter Grimbly
Contents
The answer is three
Plant of the Month
News from our Associates
Horticulture Industry News
Events Calendar
Horticulture Group contact details
Related Links
The answer is three
Formed in 1954 Exmoor National Park covers around 70 square miles of moorland, river valleys and coastline in north Somerset and Devon. Sitting on a ridge of Devonian sedimentary rocks laid down over 350 million years ago, it is not as wild as its near neighbour Dartmoor. However, Exmoor is sufficiently far from towns to have been created as the first dark sky reserve from which to observe the night sky with a minimum of light pollution.
The answer is three was the title Ione Willcock, one of four Exmoor rangers, gave to her talk on the second day of the groups visit to Exmoor. She explained that on Exmoor everything came in threes. There were three purposes for the national park: to conserve and enhance the landscape and wildlife; to help people enjoy the park and to work with the local communities who lived with or adjacent to the park.
There were three iconic animals: the Exmoor ponies, a hardy breed with a thick coat and mane enabling them to withstand all weathers; the buzzard and the red deer.

One of the main features of Exmoor is its moorland which is home to the three main species of heather relatively common, although declining, in the UK but rare through the rest of the world – Erica carnea, winter heath, Erica tetralix, cross leaved heath and Calluna vulgaris, ling (Pictured right). The relatively low altitude of Exmoor means that the natural climax vegetation would be woodland so the moorland can only be maintained by three means of human intervention - grazing, burning and cutting. The recent spell of warmer wetter winters has encouraged the spread of the heather beetle Lochmaea suturalis. This causes considerable damage to the heather and can only currently be controlled by burning. To be effective however it must be a controlled back-burn against the wind to ensure a high temperature close to ground level. Unfortunately this can only be carried out every seven years on any given area.
Although woodland is not allowed to encroach on the moorland there is plenty of old woodland in the steep sided valleys that have been formed by the action of the rivers draining the moors. Here the clean air allows a profusion of plant life and in particular a wide range of foliose lichens such as the string of sausage lichen, Usnea articulata, and british soldiers Cladonia cristatella.
During our visit to this region we also visited the semi-wild Greencombe Gardens where the owner, Joan Lorraine, has built up a national collection of dogs tooth violet (Erythronium sp.) in the natural, north facing woodland near Porlock. This cool aspect is also ideal for many fern species and has enabled the establishment of a national collection of varieties of the soft shield fern Polystichum setiferum.
By contrast the National Trust owned gardens of Dunster Castle offer a surprisingly varied range of microclimates from the cool slopes to areas suited to Mediterranean and near sub-tropical planting. The steep slopes of the mound on which the castle stands are a particular challenge for the garden staff. Allowed in the past to become overgrown with bramble, Leycesteria and Buddleja, they are gradually taming these slopes and planting them with more manageable species to create a patchwork of colour.
While most businesses within and around Exmoor are devoted to tourism in its many forms one business that does take advantage of the local climate is tree producer Exmoor Trees. Our visit there will be reported in more detail in a future Newsletter.
Pictures
Upper: Erica carnea, winter heath by Fabelfroh
Middle: Erica tetralix, cross-leaved heath by Aroche
Lower: Calluna vulgaris, ling by www.biolib.de
Plant of the Month
Calycanthus floridus, Calycanthaceae
Carolina allspice, spice bush, sweet bubby, sweet Betsy, strawberry bush
Calycanthus floridus is a deciduous shrub with an assortment of common names, all indicating that this is a fragrant and aromatic plant. This plant is native to the South-Eastern part of the USA including Florida, although the specific epithet means free-flowering rather than indicating provenance. A shrub of the forest understorey, this plant spreads by suckering, but not sufficiently vigorously to have become a problem. One of the common names, Carolina allspice, indicates the northern reaches of its range.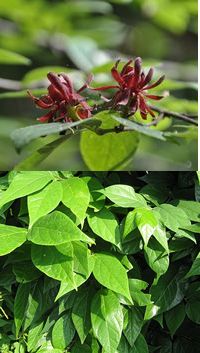 On the basis of a recommendation to the Royal Society by William Sherard, a patron of naturalists and whose legacy endowed the Chair of Botany in Oxford creating the title of Sherardian Professor of Botany, Mark Catesby undertook a plant collecting expedition to Carolina from 1722 until 1726. He subsequently published Natural History of Carolina, Florida and the Bahama Islands. His legacy includes many depictions of birds from these regions, illustrated together with the native plants. This is thought to be an early study on migratory birds. Calycanthus (although not yet named this) was noted in the woodlands of piedmont Carolina as being as odoriferous as cinnamon. Indeed, the flowers, leaves and bark are all aromatic.
The flowers, typically a dark burnished red colour (picture top right by Greg Challis) are reasonably showy and scented, but sometimes hard to see against the dark green leaves (lower right). One selection from the University of Georgia Botanic Garden with yellow-green flowers led to the cultivar Athens.
The leaves are aromatic when bruised. An oil distilled from this plant is used in perfumery, there also being a perfume named Calycanthus, which includes this essential oil. But all is not as sweet as it first seems. This plant is also the source of the alkaloid, calycanthine, similar in structure to strychnine. Carolina allspice is noted to be good for planting in gardens where deer can be a problem. Indeed, it is reported to have been the source of sheep and cattle deaths, due to the toxicity of the alkaloids contained within. Calycanthine is a convulsant, acting by inhibiting the release of the inhibitory neurotransmitter GABA (gamma-aminobutyric acid). Calycanthine was first isolated in 1888, but it was not until the mid-20th century that the chemical structure was determined. Sir Robert Robinson, Nobel Laureate and Professor of Chemistry at the University of Oxford, is co-credited with the structure elucidation and also with the initial proposal outlining the biological synthesis of this molecule in the plant.
Alison Foster
News from our Associates
Commercial Horticultural Association
Following a successful spring taking groups to IPM Essen and Fruit Logistica the CHA is now preparing for a busy Autumn. They will be taking groups to three shows; the Naivasha Horticultural Fair in Kenya between 18-19 September 2015; The International Horticultural Trade Fair at Vijfhuizen, Holland between 4-6 November 2015; Growtech Eurasia in Antalya, Turkey between 2-5 December 2015. Grants will be available for eligible UK companies wishing to partcipate and anyone interested should contact CHA.
Society of Biology


The Society responded to Dame Ann Dowling DBE FREng FRS, who was asked by the Minister for Universities, Science and Cities, Rt Hon Greg Clark MP, to lead a review examining how government can support the development of more effective collaborations between businesses and university researchers in the UK. SCI Horticulture Group Member, Prof Leon Terry provided a case study on 'Reducing fresh produce waste' which formed part of the final response.
UK Plant Science Federation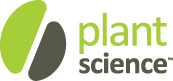 The Federation is organising two major events this year. The first, its now traditional Plant Science conference, UK PlantSci, will be held at Harper Adams University on 14-15 April 2015. The second will be the third Fascination of Plants Day, a nationwide celebration of plants, to be held at many locations on or around 18 May. Fascination of Plants Day is organised under the umbrella of the European Plant Science Organisation (EPSO) to encourage people around the world to celebrate the importance of plant science.
Horticulture Industry News
For the very latest horticultural news follow us on

Facebook,

Twitter, or

LinkedIn
EU GMO Rules: Not fit for purpose
Just days before the European Council formally adopted its new rules allowing Member States to decide whether to ban or allow 'GMO' cultivation on their territories, the UK's Science and Technology Committee (SCT) released a scathing report on the state of the EU GMO regulatory regime. The SCT's report also cites evidence supporting a need to reframe the debate to a much broader discussion of advanced genetic technologies for example in animal and plant health, and also food production and security. The calibre and strength of the report suggests that technological and scientific developments are beginning to pull us out of the stagnancy of a debate that has lasted decades, or at least take us to a point where mature reflection has entered into the wider advanced crop engineering debate.
Scientists discover the cause of heat tolerance in peas
Scientists selected two pea varieties and subjected them to heat stress. They then used infrared spectroscopy to track changes in the pea pollen coat and compared that to the reduction in germination in each cultivar. The results revealed biochemical changes in the plant that explained why one cultivar is more heat resistant than the other. More
UK grown lupins can replace soya protein
Scientists have shown that growing lupins provides a viable alternative source of soya-grade protein for animal and fish feeds in the UK. The potential for home-grown lupins to replace imported soya in livestock, poultry and aquaculture concentrate feeds has been made clear through a three year project which has revealed that livestock, poultry and fish given rations containing lupins perform equally well, and in some cases better, than those fed rations of comparable quality containing soya. More
Seed-drying beads can empower farmers in the tropics
In many developing countries, seeds are still dried under the sun and are not stored properly. Hot and humid climates make seeds deteriorate rapidly, resulting in lower germination rate and lower yields. A research firm in Thailand, has developed a fast and easy method for drying seeds and prolonging their shelf life in an efficient and cost-effective way. The technology uses drying beads made of a zeolite-based desiccant that absorb moisture from the air to dry seeds and other horticultural commodities. When sealed with seeds in an airtight container, the beads lower the moisture content and maintain seed quality during storage.

New wonder material made from sugar beet
A Scottish start-up has developed a material made from carrots and sugar beet that it claims is twice as strong as carbon fibre. The company has been working on a cellulose nano-fibre, which is extracted from root vegetables, for more than a decade. Curran, which is the Gaelic word for carrot, is an eco-friendly alternative to man-made variants that can release harmful chemicals into the atmosphere. The innovative material can be used for hundreds of applications, from food to cosmetics and even concrete. They are currently focusing on commercialising a product for the paints and coatings industry. When added to water-based paints, Curran thickens and strengthens the product, preventing cracking and 'sagging'. More
Greenhouse grown tea tastes different
Growing tea plants (Camellia sinensis L.) in a greenhouse is a new method to avoid low temperature stress in early-Spring in Central and Northern China. Tea plants can then avoid frost injury and new bud leaves are protected from lower temperatures. This also results in earlier tea harvests than in the open field. Catechins are the main astringent compounds in tea. Scientists studying the patterns of gene expression found that the concentrations of all catechins increased in response to greenhouse conditions. Their study has revealed the molecular mechanisms for, and biochemical changes in catechin concentrations in tea plants under greenhouse cultivation.

New rural development funding announced
A new rural development grant scheme is now open for projects including LED lighting and controlled atmosphere storage. Growers can apply for grants from the £5 million Defra pot to help fund technology projects. The first phase allows growers and farmers to apply for grants of up to £35,000 per business, or large grants worth between £35,000 and £1m. Funding is available to horticultural producers for projects on LED lights with wavelength control, controlled atmosphere storage, remote crop sensors and crop robotics. Applicants can apply for 40 per cent of the total cost of the project, and must pay for the remaining 60 per cent themselves.

New education partnership with Kew
From September 2015 Queen Mary College (QMUL) will be offering a new MSc Plant and Fungal Taxonomy, Diversity and Conservation in collaboration with the Royal Botanic Gardens at Kew. QMUL will help develop a new generation of taxonomists who will be provided with the skills needed to identify the many species of plants and fungi as yet not formally described by science, and tackle the world's major conservation challenges. The new MSc has been developed in collaboration with Kew and will address the extensive skills gap identified in the fields of taxonomy and systematics identified by the Natural Environmental Research Council, the Biotechnology and Biological Sciences Research Council and Living with Environmental Change.
Tilting trees produce better biofuel
Researchers have used medical imaging techniques to explore why making willow trees grow at an angle can vastly improve their biofuel yields. Using micro-CT scans, the team showed that the trees respond to being tilted by producing a sugar-rich, gelatinous fibre, which helps them stay upright. Willows are suitable for widespread cultivation as biofuels because they produce large quantities of accessible sugar, are fast-growing and can tolerate harsh environmental conditions. In fact, trees grown in harsher conditions or polluted soil can even produce better biofuel because the sugar they produce is more accessible, requiring less energy to harvest it. Growing the willow trees at a 45-degree angle simulates this natural stress, encouraging the trees to produce up to five times more sugar than plants grown normally. But exactly why and how this happens has not been clear until now. They found that tilted willows prolonged the life of certain cells in order to produce a sugar-rich, or gelatinous, fibre, to help them stay upright. The team were able to measure how much longer the cells needed to stay alive to produce the special fibre.
Post-harvest control of grey mould in table grapes using volatile sulphur compounds from Allium sativum
A new study proposes the use of volatile sulphur compounds derived from garlic (Allium sativum) extracts for the control of Botrytis cinerea in table grapes. The effects of the volatile compounds emitted by garlic extract on conidia germination of B. cinerea were compared with sodium metabisulphite. They were evaluated in vitro to assess their effectiveness at controlling grey mould on grapes stored at different temperatures. The volatile compounds inhibited conidia germination of B. cinerea in vitro and significantly reduced the lesion diameters on stored grapes, which were similar to the effects of sodium metabisulphite. The antifungal activity that allicin and diallyl trisulphide, which are the volatile compounds, emitted by a garlic extract, exerted on conidia germination of B. cinerea may be considered as an alternative for the control of grey mould in table grapes after harvest. More
Events Calendar
Other Events of Interest:
Tropical Fruit (Guava, Wax Apple, Pineapple and Sugar Apple)
7 - 12 Apr 2015, International Society for Horticultural Science
Kaohsiung County, Chinese Taipei
Molecular Biology of Plant Pathogens
8 - 9 Apr 2015, University of the West of England
Bristol, UK
Intellectual Property in Agriculture and Plant Science
14 Apr 2015, University of Leeds
Norwich, UK
Production and Establishment of Micropropagated Plants
18 - 24 Apr 2015, International Society for Horticultural Science
San Remo, Italy
Organic Matter Management and Compost Use in Horticulture
20 - 24 Apr 2015, International Society for Horticultural Science
Murcia, Spain
Bacterial Diseases of Stone Fruits and Nuts
21 - 25 Apr 2015, International Society for Horticultural Science
Izmir, Turkey
Getting value from plants: extracting and purifying high value chemicals
28 - 29 Apr 2015, University of York
York, UK
Feeding the Earth: the soil science underlying food production
30 Apr 2015, East Malling Research
East Malling, UK
Quality Management in Supply Chains of Ornamentals
1 - 4 May 2015, International Society for Horticultural Science
Kermanshah, Iran
Environmental protection in a multi-stressed world: challenges for science, industry and regulators
3 - 10 May 2015, Society of Environmental Toxicology and Chemistry
Barcelona, Spain
New strategies to grow consumption of fresh vegetables in Europe
6 - 7 May 2015, Eurofruit & FPJ & Fruchthandel
Brussels, Belgium
Ecologically Sound Fertilization Strategies for Field Vegetable Production
18 - 22 May 2015, International Society for Horticultural Science
Beijing, China
Edible Alliaceae
21 - 25 May 2015, International Society for Horticultural Science
Nigde, Turkey
Valuing long-term sites and experiments for agriculture and ecology
27 - 28 May 2015, Association of Applied Biologists
Newcastle, UK
Horticultural Economics and Management
31 May 2015 - 3 Jun 2015, International Society for Horticultural Science
Alnarp, Sweden
Ephemeroptera and Plecoptera
31 May 2015 - 5 Jun 2015, James Hutton Intitute
Aberdeen, UK
Durian and Other Humid Tropical Fruits
2 - 4 Jun 2015, International Society for Horticultural Science
Chantaburi, Thailand
Modelling in Fruit Research and Orchard Management
2 - 5 Jun 2015, International Society for Horticultural Science
Montpellier, France
Postharvest Pathology: Using Science to Increase Food Availability
7 - 11 Jun 2015, International Society for Horticultural Science
Bari, Italy
Irrigation of Horticultural Crops
8 - 11 Jun 2015, International Society for Horticultural Science
Lleida, Spain
Innovation in Integrated and Organic Horticulture
8 - 12 Jun 2015, International Society for Horticultural Science
Avignon, France
Bacterial Canker of Kiwifruit
10 - 13 Jun 2013, International Society for Horticultural Science
Bologna, Italy
Fruit Breeding and Genetics
14 - 18 Jun 2015, International Society for Horticultural Science
Bologna, Italy
Plant Biotechnology: Green for Good III
15 - 18 Jun 2015, The European Federation of Biotechnology
Olomouc, Czech Republic
The genomes of forest trees: new frontiers of forest biology
16 - 17 Jun 2015, New Phytologist Trust
Boston, USA
Rubus and Ribes
21 - 24 Jun 2015, International Society for Horticultural Science
Asheville, USA
The quest for tolerant varieties - Phenotyping at plant and cellular level
22 - 24 Jun 2015, European Cooperation in Science and Technology
Gatersleben, Germany
Cucurbits
22 - 26 Jun 2015, International Society for Horticultural Science
Cartagena, Spain
Ornamentals
28 Jun 2015 - 2 Jul 2015, International Society for Horticultural Science
Melle, Belgium
Apricot Breeding and Culture
29 Jun 2015 - 3 Jul 2015, International Society for Horticultural Science
Shenyang City, China
If you would like to advertise a forthcoming event please contact. ester.monfort@soci.org
Horticulture Group Contact Details
For submitting ideas or to volunteer to be part of a committee or a group, please contact:
Chairman - Peter Grimbly
Meetings Secretary - Alison Foster
Minutes Secretary - Margaret Waddy
Newsletter co-ordinator - Sue Grimbly scihortigroup@btinternet.com
Group Contact - Ester Monfort Martinez, E: ester.monfort@soci.org T: +44(0)20 7598 1584
Related Links