On 2 December we joined the Professional Horticulture Group South West for their annual Christmas lunch at Lackham College. Before the lunch cider specialist Liz Copas, Cider Pomologist at Long Ashton Research Station and Orcharding Advisor for the National Association of Cider Makers for many years, gave a talk on the history and latest developments in the cider industry. A full report will be in next month's newsletter
We are also considering events for 2017 and beyond. Already in the pipeline is a visit to the Royal Botanic Gardens Kew to see their science programme and hopefully a preview of the renovated Temperate House. A tour of Cambridge College gardens is being planned by our own Margaret Waddy who is now a qualified Cambridge tour guide (congratulations Margaret). Other trips in the pipeline are visits to the jam and preserve production of Wilkin and Sons at Tiptree in Essex and a Sussex vineyard.
In the meantime may we wish all our readers a Happy Christmas and prosperous 2017.
Peter Grimbly
Contents
European Nematologists meet in Portugal
The Gardens of Belgrave Square
Plant of the Month
News from our Associates
Horticulture Industry News
Events Calendar
Horticulture Group contact details
Related Links
European Nematologists meet in Portugal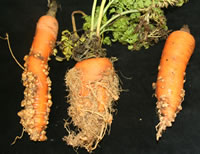 In late August/early September SCI sponsored the invitation of a distinguished speaker at the 'genomics and transcriptomics' session of the 32nd symposium of the European Society of Nematologists. This session, co-organised by previous David Miller awardee Dr Sebastian Eves-van den Akker of the John Innes Centre and the University of Dundee (UK), and Dr Etienne Danchin of INRA Sophia Antipolis (France), included a stimulating update on the most recent advances in the field of nematode genomics, including major pathogens of horticultural species, the plant-parasitic nematodes.

The invited speaker, Prof Ralf Sommer, opened the session with an inspiring presentation of an exceptional body of work on the model nematode Pristionchus pacificus. Following this, the session included talks from researchers from 8 countries covering a range of topics of nematode genomics and transcriptomics from foundational to applied research. The session was a great success and a highlight of the meeting as a whole.
Picture: Root Knot Nematode on carrot by Claudia Nischwitz
Sebastian Eves-van den Akker
The Gardens of Belgrave Square
Any member who has attended an event involving the Garden Room and Conservatory at 14 Belgrave Square will be familiar with the small garden that surrounds the conservatory. Largely paved and with a small pond it has been functional rather than decorative. For the past year or so it has also been made even smaller as part has been leased to the builders renovating the mews property behind. A few members may have wandered through the arch that leads into the larger garden of no 15. Although more extensively planted it is little more decorative and until the recent removal of a large cypress tree partly inaccessible.
Now that the builders have vacated the garden of No 14, the Society has the opportunity to develop these two gardens into an additional feature of the property and inevitably the Horticulture Group has been asked to get involved. The idea we are working on at present is to create a 'science' garden that is both aesthetically pleasing but also informative. Thus, in addition to plants used purely for decoration, plants will be included because of their use in medicine, colouring, dying, manufacturing etc. Alison Foster, former Acting Curator of the Oxford Botanic Garden and currently working at Kew, has agreed to take the lead in assembling this plant collection and ideas are welcome from all areas of the Society.
We are hoping to have the foundation of the garden in place next spring and add further items of interest as the year progresses.
One of the more surprising features of No15 is the large 'garden shed'. It was suggested that we extend the garden over this shed so the first step was to check on the strength of the roof - would it hold plants? Expecting a timber frame of uncertain dimension and possibly well devoured by woodworm etc. we were astonished to find a thick concrete roof. Having satisfied ourselves the the roof would support plants we were left wondering why such a strong roof. A bomb shelter perhaps? If so the large hole in the roof letting in light rather defeats the objective. The mystery is deepened by the fact the interior is covered in white glazed tiles. More likely perhaps that some intrepid chemist in times gone by wanted to experiment in the rear garden and designed his laboratory to minimise damage to surrounding properties should an explosive accident occur.
Peter Grimbly
Plant of the Month - The Holly and the Ivy
Ilex species Aquifoliaceae and Hedera Helix, Araliaceae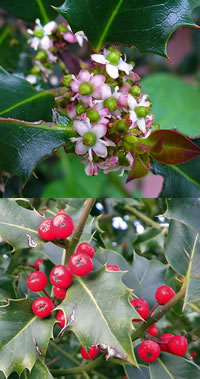 Hedera, the genus to which English ivy (Hedera helix) belongs, is one of 43 genera in the family Araliaceae. The genus itself is quite a small one, with just a handful of species. These are native to central, southern and western Europe, Macaronesia, north-west Africa and across central and southern Asia to Japan and Taiwan. Other family genera include Aralia, Fatsia, Kalopanax and Pseudopanax. Although not the most flamboyant plant, its evergreen leaves (picture right by Muriel Bendel) and distinctive umbels of pale green flowers (picture right by Albert Bridge), followed by abundant black berries, make it a very useful plant to cover north-facing walls. Ivy has adhesive, aerial roots that are only found on the juvenile form, which also differs from the mature form in leaf shape. The flowers of the mature ivy provide a fantastic nectar supply for insects, particularly in months when there are few alternatives. The berries also have great wildlife value, as a source of winter food for birds.
Ilex, commonly called holly, is the only living genus of the family Aquifoliaceae. There are 405 species in the genus, more than half of which originate from Tropical America and only three from Europe. The common holly of the United Kingdom is Ilex aquifolium. There are many horticulturally important cultivars. The majority derive from common holly, but the hybrid Ilex x altaclerensis, which is derived from I. aquifolium and I. perado – from Tenerife and La Gomera – is another major source. While most Ilex species are evergreen, some are deciduous. The flowers are unisexual, with male and female flowers (picture lower right by H Zell) appearing on separate plants (dioecious). You should grow mainly female plants for a good display of fruits in the winter (picture lower right by AnemoneProjectors), but will need to make sure there is at least one male to provide the pollen. Some cultivars have confusing names: 'Golden King' is female and 'Golden Queen' is male, so do check when choosing plants.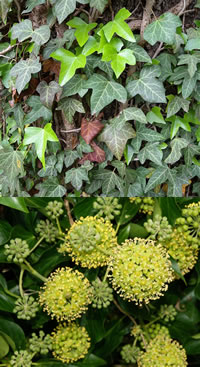 Both english holly and english ivy have become invaders in parts of the world where they are nonnative. Holly is outcompeting native species on the west coast of North America, and ivy is strangling the ground cover plants in forests on its east coast. In parts of Australia, information sheets are provided to help people remove holly where it has escaped from gardens into the bush.
Both holly and ivy are traditionally associated with Christmas, and are frequently brought into homes to help decorate them for the festive season. For Christians, holly represents the crown of thorns Jesus wore when he was crucified, and the clinging ivy reminds people to cleave to God for support throughout the year. A pagan tradition from the Midlands says that if ivy was brought into a couple's house first on New Year's Eve, the woman would be in charge for the coming year. And if holly was first, it would be the man.
Holly drinks:
Caffeine is the most widely used legal stimulant in the World. The plants that most people normally associate with caffeine are tea (Camellia sinensis) and coffee (Coffea arabica) but caffeine can also be found in many holly species.
Yerba mate is a tea made from the leaves of Ilex paraguariensis, a South American species containing caffeine. The drink is an important part of the culture in parts of Brazil, Argentina, Paraguay and Uruguay and is traditionally served in a hollowed out gourd and drunk via a straw called a bomba. I. vomitoria, a species native to south-eastern North America, also contains caffeine and was used by Native Americans to make 'black tea' – drunk as part of male-only purification and unity ritual ceremonies. It became more popular during the American Civil War, when imports of coffee and tea were scarce.
Caffeine, the active component, is a purine derivative that is very close in structure to theobromine (the psychoactive component of chocolate) and theophylline. Caffeine is actually used medicinally as an adjunct treatment for neonatal apnoea (breathing difficulties common in premature babies and caused by an under-developed Central Nervous System).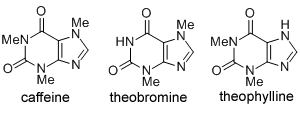 Alison Foster
Royal Botanic Gardens Kew
News from our Associates
Commercial Horticultural Association
CHA is organising a second UK stand at IPM Essen, 24 - 27 Jan 2017. This will be followed by Fruit Logistica, 8-10 Feb 2017. For details of exhibiting at any of these show and grants available visit the CHA website.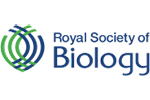 Royal Society of Biology
The Royal Society of Biology has submitted evidence to the Education Select Committee on the impact of Brexit on higher education. The full submission can be read here. The Learned Societies' Group of which the Royal Society of Biology is a member has responded to the Scottish Government's draft Science Benchmarks for Assessments in further detail.
Horticulture Industry News
Chemical origami yields new plant compounds
Researchers report that changing the genetic code for one amino acid in a plant begins a process that alters the shape and function of an enzyme changing in its turn the folding of the chemical precursor, a technique that could be considered chemical origami, producing a new natural product with a variety of potential uses. Specifically, they changed an amino acid in the first enzyme in a pathway that produces a natural product that protects an oat plant from fungal pathogens, thus endowing disease resistance. In addition to the many varieties of oat plants, the knowledge they acquired is relevant to other crops. More
Bacterium could control lesion nematode
Wolbachia is one of the worlds most widespread endosymbiotc bacteria and is present in roughly 60 percent of the globe's arthropods, among them insects, spiders and crustaceans, and also lives in nematodes that cause illness in humans. A new strain has been discovered that lives in the nematode Pratylenchus penetrans, which extract nutrients from the roots of plants, damaging them in the process. Although Wolbachia can be an obligate mutualist in many of its hosts that does not seem to be the case with its relationship with Pratylenchus opening up the possibility of a new, environmentally friendly way of controlling the crop-damaging pest. Strains of Wolbachia are already being used to control mosquitos carrying the Zika virus.
A quicker response to low light gives bigger crops
Many plant biologists are seeking ways to improve photosynthesis. Some have contemplated streamlining an aspect of photosynthesis called photoprotection. To guard themselves from bright light plants rely on a mechanism called nonphotochemical quenching (NPQ), in which chloroplasts divert photons from their light-harvesting molecules and simply waste them as heat. In dim conditions, plants can turn off NPQ to boost photosynthetic efficiency. But although they can raise the shield in a few minutes, lowering the defenses can take hours, which limits photosynthesis in the shade. Now scientists have manipulated plants to adjust more quickly to shade. Genetically engineered into tobacco plants, the faster response yielded up to a 20% increase in biomass. More
'Sweet' solution to kill E. coli in drinking water
Paper strips laced with sugar could be the sweetest solution so far to kill E. coli in contaminated water. While using porous paper strips to trap the bacterial cells, for killing, the researchers used an antimicrobial agent extracted from the seeds of Moringa oleifera - commonly known as drumstick or horseradish tree. As a result, their 'DipTreat' solution for water treatment uses only naturally available antimicrobial substances and sugar, with minimal environmental and health impact. Currently, popular water treatment systems use silver nanoparticles and clays, whose long term impact on human health is yet to be fully understood. So far, DipTreat is effective for small quantities of water. For example, someone who is hiking can collect a glass of water and then dip the paper strips to purify it before drinking. More
Blood orange and pomegranate could aid weight reduction
Scientists are looking for compounds in fruits and vegetables which may inhibit pancreatic lipase enzyme and reduce fat digestion. In a new study researchers examined the chemical composition and in vitro pancreatic lipase inhibitory activity of anthocyanin-containing extracts of different Mediterranean plants: fruits (blood orange, pomegranate, blackberry, mulberry and sumac), citrus by-products (blood orange peel), citrus vegetative tissues (young lemon shoots); vegetables (red cabbage and violet cauliflower), legume seeds (black bean), cereals (black rice), and cereal processing by-products (black rice hull). Results revealed a wide variation in the distribution of anthocyanin compounds. Blood orange and pomegranate juice extracts had the highest total anthocyanin content and exhibited the strongest inhibition of pancreatic lipase in vitro. More
Spinach detects explosives
A group of MIT researchers has converted ordinary spinach plants into biological bomb detectors. They implanted customised carbon nanotubes into the leaves of living plants to turn them into a real-time monitoring system for explosive molecules.
When the plants suck water from the ground into the leaves, the carbon nanotubes can detect the presence of any nitroaromatics – chemical compounds often found in explosives such as landmines. When a laser is shone on the nanotubes, they emit a fluorescent signal if they pick up nitroaromatics. This signal can be detected by an infrared camera up to a metre away or even a mobile phone with its infra-red filter removed. More
For the very latest horticultural news follow us on

Facebook,

Twitter, or

LinkedIn
Events Calendar
Natural Variation as a Tool for Gene Discovery and Crop Improvement
12 - 13 Dec 2016, Garnet
Cambridge, UK
Advances in nematology
13 Dec 2016, Association of Applied Biologists
London, UK
Plant Synthetic Biology and Bioengineering
16 - 18 Dec 2016, Society for Biologial Engineering
Miami Beech, USA
Chloroplast Biotechnology
8 - 13 Jan 2017, Gordon Research Conferences
Ventura, USA
Frontiers of Potassium
25 - 27 Jan 2017, International Plant Nutrition Institute
Rome, Italy
British Herbs
2 Feb 2017, British Herb Association
Kenilworth, UK
Phenome
10 - 13 Feb 2017, US National Plant Science Council
Tucson, USA
Crop Production in Southern Britain
15 - 16 Feb 2017, Association of Applied Biologists
Peterborough, UK
InterDrought
21 - 25 Feb 2017, Icrisat
Hyderabad, India
Plant Molecular Physiology
23 - 24 Feb 2017, Viscea
Vienna, Austria
If you would like to advertise a forthcoming event please contact. communications@soci.org
Horticulture Group Contact Details
For submitting ideas or to volunteer to be part of a committee or a group, please contact:
Chairman - Tony Girard
Secretary - Alison Foster
Meetings Coordinator - Peter Grimbly
Newsletter co-ordinator - Sue Grimbly scihortigroup@btinternet.com
Group Contact - Julia Duckworth, E: communications@soci.org T: +44(0)20 7598 1584
Related Links