Manuela Pacciarini won SCI's Young Lipid Scientist Award 2022 and participated and presented her research at the 6th edition of the International Mass Spectrometry School (IMSS) hosted in Cagliari, Sardinia, Italy. Read her report below.
'In June 2022, I had the privilege of presenting my research to the SCI Lipids group in London. This esteemed accomplishment ultimately led to me receiving the prestigious Young Lipid Scientist Award for 2022. The financial support provided by the SCI's Lipids Group enabled me to participate in and present my research at the 6th edition of the International Mass Spectrometry School (IMSS) hosted in Cagliari, Sardinia, Italy.
'The school attracts early career research scientists worldwide, focusing intensely on Mass Spectrometry and its applications in diverse fields, including health, disease, agriculture, cosmetic R&D, archaeology, chemical industry, and pollutants research. It offered a week of immersive experiences, allowing me to engage with the latest developments in instrumentation and delve deeply into the physical and chemical theories, hypotheses, and knowledge underlying mass spectrometry science.
'Throughout the school's six-day duration, I had the opportunity to present my research on brain cholesterol dysmetabolism as a potential biomarker for neurodegenerative diseases to a diverse audience of global scientists. This experience challenged me to reformulate my pharmaceutical and medical-focused research interests, making them accessible, engaging, and enjoyable for peers and senior/expert research delegates unfamiliar with the subject. I engaged in in-depth discussions about my research project during coffee breaks and poster sessions, elucidating why mass spectrometry is the most suitable tool for studying cholesterol variations over the course of disease progression.
'One particularly enriching session during the school was the "MS in Lipidomics & Metabolomics," which allowed me to expand my knowledge of mass spectrometry within the context of lipids, a subject aligned with my research interests. This session covered everything from the correct procedures for extracting small molecules in this class to the best analytical techniques involving mass spectrometry for lipid identification and quantification. It also included a Q&A session addressing common pitfalls, hazards, and troubleshooting.
'Furthermore, the school included "Problem-Solving" sessions where we collectively tackled real-world challenges related to mass spectrometry as an analytical technique. These sessions required brainstorming solutions for various issues presented by different groups.
'Additionally, the International Mass Spectrometry School served as an invaluable platform for networking and showcasing my work, which proved instrumental in forging new collaborations to advance cutting-edge research.
'In summary, my participation in the school was one of the most rewarding experiences in my career as a research scientist. I am profoundly thankful to the Society of Chemical Industry for their support in enabling me to attend this transformative event. I wholeheartedly recommend it to all PhD candidates, post-docs, and early career research scientists specialising in mass spectrometry and lipid mass spectrometry.'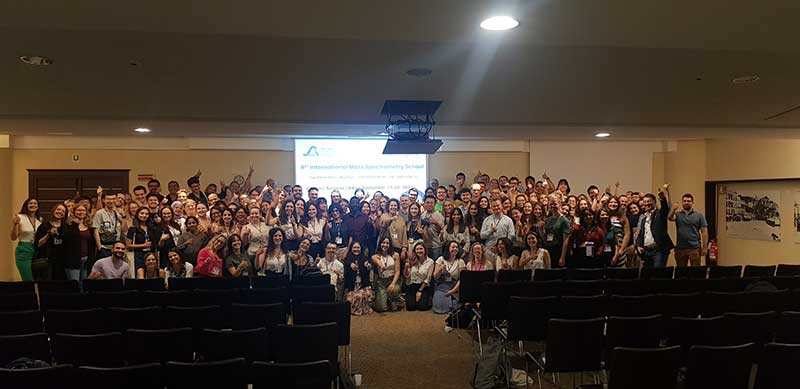 Manuela Pacciarini with students at the International Mass Spectrometry School
Manuela Pacciarini
PhD student
Swansea University Medical School
Related Links