A UN report on biodiversity loss makes a compelling economic case for businesses to be more proactive in preserving the natural environment, reports Cath O'Driscoll
Scientists estimate that thousands of mainly unclassified species of animals, plants, insects and other organisms are being wiped out or made extinct every year, mainly as a result of rainforest deforestation. Clearing of natural habitats, overexploitation of plants and climate change have, according to the UN's 2005 Millennium Ecosystem Assessment (MA) of the degradation of the world's resources, already placed between a quarter and a third of all plant species under threat of extinction. And it is predicted that even with a small rise of less than 1oC in global temperature, one in five of the world's plant species will be condemned to extinction. At 2oC, we will endanger one in three.
The Economics of Ecosystems and Biodiversity
Now, a new UN study launched in July 2010, The Economics of Ecosystems and Biodiversity (TEEB), estimates that the impact of all of this biodiversity loss is costing the global economy between $2 trillion and $4.5 trillion/year – a figure that it says is reflected in product prices and availability, as well as in supply chain disruptions and access to funding. And with two-thirds of Nature's ecosystem services – water, land, raw materials and fuel – reported to be already degraded or in decline, according to the MA, the TEEB study authors point out that businesses that depend on them can no longer afford to carry on business as usual by continuing to ignore the problems.
Billed as biodiversity's equivalent of the Stern Review on the Economics of Climate Change, 'the aim of TEEB is to make the cost of these goods and services from Nature visible,' said study leader Pavan Sukhdev, launching the preliminary report at the first Global Business of Biodiversity (GBOB) symposium in London on 13 July 2010. 'In the absence of that visibility, the trade off is as if there is nought on one side of the equation and something with a value on the other. We are being blinded by the need to equate value with price.'
The 2007 Stern Review famously declared that the cost of tackling climate change – at 1-2% of current global GDP – would be massively outweighed by the 20% reduction in GDP that would result by 2050 if governments stood by and did nothing. At $2–$4.5 trillion/year, however, biodiversity losses are already costing roughly 3-6% of the current estimated $70 trillion of global wealth.
Because most of the world's ecosystem services come freely available, the TEEB study authors argue that they are woefully neglected by businesses that profit from them most. Despite the evidence of the devastation being wreaked upon the planet, and of the threat that this poses for business, research by PricewaterhouseCoopers (PwC), completed as part of the study, found that fewer than one in five companies see biodiversity as an important business issue. More than twice as many ceos in Latin America and Africa see biodiversity as a challenge to business growth, compared with the number in western Europe.
PwC's review of the annual reports of the world's largest 100 companies by revenue in 2008 found 18 that mentioned biodiversity or ecosystems, including six that reported actions to reduce impacts on biodiversity. And, in stark contrast with the importance given to climate change, only two in five of the world's largest companies manage it as a strategic risk.
'I don't know as much about biodiversity as I should do,' admitted Gavin Neath, senior vice-president of Unilever. The consumer goods giant has come under scrutiny in recent years as a major consumer of palm oil, responsible for the destruction of vast swathes of rainforests that threatens the extinction of orangutans and other animals that live in them. Unilever's Sustainable Agriculture Programme is mandatory for all the company's suppliers and measures 11 indicators including biodiversity, but although a UNEP benchmarking study recently rated Unilever as 'best in class' of a number of major food companies, Neath concedes: 'In the kingdom of the blind, often the one-eyed man is king. Business has a lot to do to up its game in the area of biodiversity.'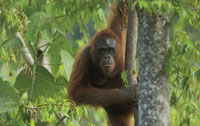 Extractive industries, such as mining company Rio Tinto, are also in the firing line from environmentalists, acknowledged chief executive Tom Albanese. In 2004, Albanese says Rio Tinto became the first company to subscribe to a voluntary commitment to achieve 'net positive impact' on biodiversity, first by reducing its environmental impacts and then through the use of offsets and conservation actions aimed at achieving an overall positive impact on nature. 'If we didn't change our approach, we realised we would lose access to supply,' Albanese commented: 'Like Nature, we could change or become extinct.'
According to some estimates, meanwhile, the TEEB report points out that global business opportunities in the sustainable energy, forestry, food and agriculture, water and metals sectors, may be worth $2–$6 trillion by 2050. It notes that tools for building biodiversity businesses are already in place or under development, while biodiversity and ecosystem service markets are now emerging alongside markets for carbon. The report authors believe the private sector is likely to play an increasingly important role in natural resource management.
However, Angela Cropper, deputy executive director of the United Nations Environment Programme (UNEP) questioned whether companies that needed to hear what TEEB had to say were actually getting the message. Cropper called for tailored information and incentive packages targeted at different business sectors, for more information for consumers directly at the point of product purchase and for mandatory reporting of biodiversity in conjunction with financial disclosures. 'We've been pilot testing tools for over a decade. It's time to stop piloting them and put those tools into existence,' Cropper said.
Meanwhile, in her maiden speech on biodiversity, UK environment secretary Caroline Spelman pointed out that in 2011 the UK will become the first country to carry out a national ecosystem assessment to look at the expected changes in our natural environment and how to respond. She also referred to a responsibility to transform currently unsustainable industries such as palm oil production and deforestation that 'cause damage in other countries as well as the UK'. In July 2010, Spelman said that the European Parliament adopted legislation that would stop illegal timber from entering the UK, while in August studies will get under way to map the country's consumption and supply chain for palm oil. 'We must finally recognise,' Spelman says, 'that there are some prices, which are too high to pay.'
Finally, and with a nod to the ongoing environmental disaster in the Gulf of Mexico, HRH Prince of Wales commented that the 'message for business is to raise its sights as it becomes increasingly important for business to factor environmental risks into its business plans.' To the traditional 3Rs of recognising, responding and reporting risks and reducing harm, he added that it is time to add a fourth: 'Restore; businesses must be partners in helping to restore biodiversity'.
In 2010, the first ever international year of biodiversity (www.biodiversityislife.net), GBOB chair Johan Eliasch pointed out that the world has failed miserably to stem the growing tide of biodiversity loss, as set out by the 2002 Convention on Biological Diversity. And the longer we wait to tackle the problems, the more expensive the problems will become, Eliasch warned: 'Delays are no longer excusable.'
The TEEB interim report is open for consultation and a copy can be downloaded at www.teebweb.org. A final version will be launched at the COP-10 meeting in Nagoya, Japan, in October 2010.
TEEBonomics and Chinese logging
To illustrate the 'true' costs of biodiversity loss, the TEEB report refers to the effects of the former logging industry in China. During 1949-1981, China logged some 75m ha of mainly natural forests to satisfy the demand for timber. Between 1950 and 1998 – after which time the Chinese government imposed a logging ban – the report authors note that the forest ecosystem services lost as a result of this deforestation were estimated to be worth $12bn/year. Roughly 64% of this loss was due to logging to supply the construction and other industries.
Expressed in terms of the market price of timber, 'this suggests that the "true" marginal cost of timber production in China may have been three times greater than the prevailing market price,' the report authors point out. China's ban on logging came in the same year that flash flooding of the Yangtze and other major river basins claimed 4140 lives, the displacement of millions of people from their homes and economic damages of around $30bn – largely as a consequence of deforestation, the report says.