The economic downturn saw the European chemical industry lose almost 5% of its workforce. With youth unemployment at record levels, Neil Sinclair examines career prospects within the industry
The European chemicals industry may be over the worst of the recession, with output forecast to grow by 9.5% this year, but it promises to be a largely jobless recovery, according to analysts and industry associations.
Just under 1.2m people are currently employed directly by the chemicals industry, excluding pharmaceuticals, in the EU, down nearly 5% from 2007/08.
But despite the strong recovery in output during the first half of this year, detailed first quarter figures released by the European Chemical Industry Council (Cefic), indicate that employment was continuing to fall. At the end of March 2010, the head-count totalled 1.16m – a decline of 4.4% over Q1 2009 (see Figure 1).
'In Europe, we are seeing an annual trend-rate of -2% in the jobs level for the chemical industry,' a Cefic spokesman said. 'During the economic crisis, the 2009 data shows that level drop by around 5% from 2008 – well beyond trend. What the numbers hide is that every job in the chemical sector creates at least two more indirect jobs like in transport, electronics and construction.'
Moncef Hadhri, chief economist at Cefic, adds: 'The European chemical industry still has an important social role, in terms of the quantity and quality of employment it generates. The industry employs highly qualified workers, who – thanks partially to the high capital intensity – are among the most productive and well-paid in Europe, guaranteeing high standards of living and purchasing power. A competitive European chemical industry has the necessary characteristics to continue to play a key role in offering young Europeans employment opportunities and professional development.'
And young people have been the biggest casualties of the recession, according to a report published in August 2010 by the International Labour Organisation (ILO). It shows that of around 620m economically active 15 to 24-year-olds, 81m were out of work at the end of 2009, the highest number since statistics were first gathered by the UN agency in 1991. These numbers put the global youth unemployment rate at 13%, up from 11.9% just before the world economic downturn began in 2007.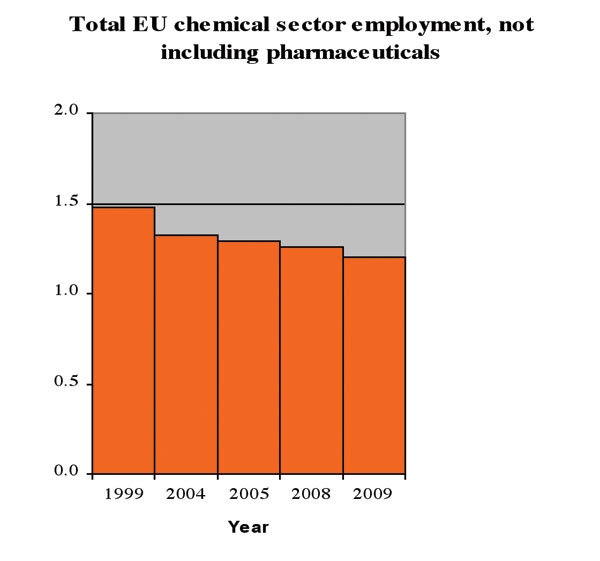 Youth unemployment rates increased by 4.6% in developed economies and the EU between 2008 and 2009 and by 3.5% in central and south-eastern Europe (non-EU) and the CIS. These are the largest annual increases in youth unemployment rates ever recorded in any region. The youth unemployment rate of 17.7% in 2009 in the developed economies and the EU is the highest the region has seen since UN regional estimates have been available.
Perhaps because of the huge oversupply of students graduating in non-science subjects, applications to study chemical engineering at UK universities have increased by 7%, compared with summer 2009, according to the latest figures published by UCAS, the organisation responsible for managing applications to higher education courses in the UK.
A record 10,784 applications have been received for chemical engineering courses later this year, the 10th consecutive year of growth. Figures show that, since 2001, applications to study chemical engineering have more than doubled, with student intake also rising twofold.
The increasing interest in chemical engineering courses over the last 10 years has resulted in a record number of students studying this scientific discipline at UK universities.
The Institute of Chemical Engineering (IChemE) has greeted the figures as the latest episode in a chemical engineering renaissance amongst students over the last decade. 'This is really good news and another strong indication that more and more students are recognising the career opportunities and earning potential offered by a degree in chemical engineering,' says Andrew Furlong, IChemE director of policy.
Bleak outlook for graduates
Although the growth in chemical engineering students and graduates is clearly a very positive development for both the UK's and Europe's chemicals industry, it also reflects the harsh reality of a generally lacklustre and, in some cases, bleak outlook for graduates in many other academic disciplines.
The increasingly competitive employment market for new and recent graduates from UK universities, has meant that hundreds, and in some cases thousands, are now chasing each advertised job vacancy. Many have been forced to consider low-paying jobs in professions for which their degrees and skills are likely to be marginal at best and irrelevant at worst.
Little wonder then, that increasing numbers have been attracted by a chemicals or physics related degree courses, which might enhance their prospects not just of any job, but one which pays much higher than average to new graduates.
IChemE says that, according to figures published earlier this year by the UK's Higher Education Statistics Authority (HESA), chemical engineering graduates command the third highest graduate salary in the UK, bettered only by dentistry and medicine graduates.
Of perhaps even greater importance to graduates saddled with huge loans to repay, an IChemE survey published earlier this year showed that less than 5% of 2009 chemical engineering graduates were still seeking employment by January 2010.
But Furlong has warned that restrictions on the number of university places available later in 2010 could leave some applicants disappointed: 'We know that university places are under scrutiny but we also know that chemical engineering graduates make an important contribution to the economy and that they will be key in our drive towards a more sustainable, low-carbon energy future.'
Employment in Germany, which has Europe's largest overall economy by a significant margin and is also comfortably the region's biggest producer of chemicals, has been least badly affected during the recession.
Employers' organisation VCI reports that the German chemicals industry employed an average of 414,000 people during the first six months of 2010, a drop of just 1.5% over the corresponding period of 2009. The head-count decline between the first half of 2009 and the same period in 2008 was 2.9%.
German employers have weathered the recession, at least partly, by putting workers on short-time, rather than by laying them off. The VCI estimates that there are now fewer than 5000 people registered for part-time work, compared with over 48,000 at the height of the economic recession.
Other positive indicators for chemical employment in Germany include the rise in plant utilisation and the willingness of companies to continue investing in production facilities, albeit at restrained levels. VCI president Ulrich Lehner reports that capacity utilisation in the first half of 2010 was just under 83%. 'Capacity utilisation of 84% to 86% is typical for production plants in our industry, so that there is still room for improvement.'
The VCI expects investment by German chemical companies in plants and buildings will total about €4bn this year, at or below the level of spending in 2009.
Although there is now little doubt that Europe's chemicals industry is over the worst of the economic recession, there should be no room for complacency. Indeed, a recently released report by financial advisers KPMG concludes that, even with economic recovery, the European petrochemicals industry and its markets may continue to contract.
It points out that new competition from the Middle East and Asia, particularly from India and China, is driving an inexorable shift eastwards in the global chemical industry, especially in the bulk commodity end.
However, despite the growing ambitions of Middle East and Asian producers to expand along the value chain, KPMG believes that it is too early to sound the death-knell of the European chemicals industry.
Paul Harnick, global executive for chemicals and technologies at KMPG, believes that Europe can continue to play a significant, albeit substantially reduced, role in the global chemicals business. But it seems almost inevitable that Europe's adjustment to the paradigm shift in global chemical industry economics will involve further plant closures and contraction of job opportunities.
Harnick acknowledges that Europe and the US responded fairly well to the downturn by taking out surplus production capacity and employees. But the KPMG report concludes that the European petrochemical industry faces further hard choices over capacity reduction in the next five years.
Some 40 out of 200 crackers worldwide are likely to become uneconomic by 2015, according to KPMG, and 14 will be in Europe. It also believes that 10 of Europe's ethylene glycol (EG) plants may also become uneconomic.
Although crackers and EG plants are not huge employers of staff, the knock-on impact along the petrochemicals chain could be very significant. The progressive decline in Europe's importance as a prime base for the world's largest chemical companies is also having an impact. In 2008, four of the top 10 chemicals producers were headquartered in Europe, according to KPMG. But its research suggests that by 2015 only one – BASF – will be based there.
The overall implications for employment in the European chemicals industry are clear, even if the precise effect on job numbers is difficult to forecast with any great degree of accuracy.
Neil Sinclair is a freelance journalist based in London, UK.