Industry is taking the green message to heart as the cleaning products sector demonstrated at a recent US conference, Neil Eisberg reports
Green is a marketing term, not a scientific one, said Brian Sansoni, vice president, communication and membership at the US Soap & Detergent Association, in his opening remarks at the recent conference: Cleaning Products 2009 – Forever Green. And as other contributors pointed out, green means different things to different people. Croda's Andy Kaziska, for example, pointed out that there is no legal or regulatory definition of green, adding that 'every country, state, company or person can define green as they wish'. Everything that Croda sells is from plants, he joked: it has production plants around the world, and everything it produces is natural and organic, since they are based on carbon. So what does green really mean?
There is a plethora of eco-labels worldwide, covering all kinds of products. Kaziska counted 472, with 78 in North America alone, but as Sansoni pointed out there is no US legislation covering cleaning product labeling. While there have been two bills introduced in Congress that would mandate such labeling, Sansoni believes that any action during 2010 is unlikely as there are only a few co-sponsors for the bills, 'but activists will be lobbying for them,' he added. So how does the consumer really know what is green?
On the green route
Many companies have already started down the route of green products, generally under the umbrella of sustainability. As Marie-Esther Saint Victor from SC Johnson pointed out, her company already has a legacy of environmental leadership. SC Johnson himself started the process in 1935 when he led an expedition to Brazil looking for a sustainable source for carnauba wax. But as Saint Victor noted, there are two approaches to greening, either by single brands or holistically, the route chosen by SC Johnson. 'A company cannot be sustainable without being innovative,' she said, adding that the performance of green products 'needs to be at parity or better when compared with similar products'.
At Procter & Gamble, the sustainability approach is focused on five strategies to be delivered by 2012, according to external relations manager, Ross Holthouse, including product innovation and operational improvement, as well as social responsibility, and employee and shareholder engagement.
In terms of product innovation, he said this should be based on a pairing of consumer insights and scientific knowledge, emphasising that it is important 'to ensure that moves to sustainability do not introduce other impacts'. The introduction of cold water laundry detergents, like Tide, represents a habit change for consumers, something that has been slower in the US than elsewhere. One possible reason is concern about the health aspects of low wash temperatures, and Holthouse emphasised that P&G has taken a holistic approach to developing suitable detergent products, considering not just the cleaning aspects of the products but all related aspects including health concerns.
Operationally, each P&G site has a sustainability improvement manager, who focuses on delivering benefits, including the reduction of what Holthouse described as 'molecular tourism', for example, not shipping water around the world through the introduction of concentrated products.
For Reckitt Benckiser, sustainability means managing its products' whole value chain, from cradle to grave, in an increasingly sustainable way, according to Neil Snyder, director, global household regulatory, safety and environmental services. It also means conducting business in a responsible and ethical manner, he added. In the marketplace this is seen through an active ingredient removal programme, with ingredients removed 'from every product, everywhere'.
At an early stage of this removal programme, nitro and polycyclic musks were removed from all formulations in 2002, followed by Red Devil Lye (100% NaOH), marketed as a drain cleaner, in 2005. The programme broadened in 2006 with the removal of formaldehyde, dichlorvos, monoethylene glycol ethers and para-dichlorobenzene, followed in 2007 by brominated flame retardants and geranyl nitrile.
For the end of 2009, the company had a target to remove formaldehyde-donor preservatives and boron compounds, chloropyrifos, as well as PVC from all household product packaging.
Snyder also pointed out that, as a result of acquisitions, the company periodically acquires new products that contain ingredients that have already been removed from its existing global formulations. When this occurs, acquisitionspecific ingredient removal progammes are initiated to bring the products into line with the company's portfolio of products and ingredients.
A key part of Reckitt's drive to sustainability is its Carbon 20 initiative. Said to be the first Fast Moving Consumer Goods (FMCG) company to set a Total Carbon Footprint target, Reckitt has targeted a 20% reduction per unit in its products' Total Carbon Footprint by 2020. As Snyder noted: 'A 20% reduction by 2020 does make an attractive alliterative phrase'; however, the challenge is: 'Can we measure our Total Carbon Footprint; cradle to grave; across 100s of products, 1000s of SKUs (Stock Keeping Units), globally?'
Snyder believes it is possible, based on six years of measuring the company's direct carbon footprint; mapping energy/carbon aspects and information; exploring data availability within the organisation, supply chain and also externally; and developing calculation methods and approaches, in line with PAS 2050, the Publicly Available Standard for assessing the life cycle greenhouse gas emissions of goods and services developed in 2007 by the British Standards Institute; and greenhouse gas protocols.
In 2008, Reckitt Benckiser calculated its total footprint to be around 25.2m t of CO2 equivalents/year. A 20% reduction is therefore equivalent to 5m t of CO2 equivalents, which is more than the annual emissions from 800,000 UK homes or 1.4m medium-sized UK cars. When the analysis was made to determine where in the supply chain the emissions were highest, Snyder reported the largest contributor, at 70%, was consumer use of the company's products, followed at 21% by raw and packaging materials at the production stage, overwhelming the next largest contributor, product and packaging disposal and recycling, at 3.5%.
The company's response, said Snyder, is to reduce energy consumption and improve energy efficiency throughout the product lifecycle, and to continue to replace ingredients, processes, packaging and energy sources with lower carbon alternatives. 'Carbon off-setting will not be counted towards the Carbon 20 target,' he emphasised. In 2008, the first year of the programme, Reckitt achieved an almost 6% reduction, Synder added: 'We will hit that [20%] reduction.'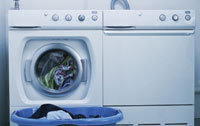 In terms of company operations, Snyder said the reductions have come from a range of actions from overhauling logistics operations, including changes in palletisation, through to energy selfsufficiency at one German facility, which now supplies energy back into the national grid as a result of the installation of alternative energy generators including solar cells.
When addressing consumer issues, Snyder believes that communication is a key factor, both through product labeling and company literature and especially via the company's website. Snyder warned, however, that a 'onesize- fits-all' approach may not necessarily work as refills are popular around the world, except in the US, and use and disposal are different for different products in different regions. 'One advantage is corporate control to set standards and address the issues,' he added.
Encouraging consumers to reduce their energy usage needs a different approach, as most consumer energy use is focused on heating water, hence a focus on lower washing temperatures and the use of dishwashers rather than hand washing. With hard surface cleaners, however, when looking at energy use, one has to look at the energy involved in producing paper towels for wiping, he added.
Lower laundry temperatures
Lower laundry temperatures Low temperature laundry detergents need enzymes, said P&G's Holthouse. Their development is a key driver for Denmark's Novozymes, whose sustainability manager, Mette Johnsen said: 'Enzyme technology is a technology for the future', adding that CO2 emissions from enzyme production are small compared with the CO2 savings from reducing the use of surfactants and lower wash temperatures. 'Turning from hot to warm and warm to cold [wash temperatures] would save 19m t of CO2 in the US, equal to the annual emissions of 4-5m cars,' she said. 'Novozymes research shows that the right multi-enzyme solution can replace approximately 30% of the chemicals in detergents to increase performance, reduce costs and improve the sustainability profile of the detergent.'
To help 'sell' the low temperature wash concept, Johnsen persuaded Novozymes to adopt a new approach for a raw materials supplier by directly engaging the consumer through the internet using a viral campaign on social networking sites like YouTube. The target audiences are young climate-conscious people and so-called 'mummy bloggers', and the website www.ido30.org acts as the hub for information dissemination, networking etc.
Communication about green products and their ingredients is a major issue, as the SDA's Sansoni emphasised. The SDA has been conducting a voluntary ingredients communications initiative since late 2008, which he describes as a 'continuing education process that goes farther than anything else out there'.