SCI CEO, Sharon Todd, spoke at Parliamentary Links Day on 25 June – an event that aims to connect policymakers and scientists – alongside Science Minister Chris Skidmore and Shadow Industrial Strategy Minister Chi Onwurah.
Georgina Hines
Each year, the science and technology community is invited to Parliamentary Links Day – the biggest science event on the Parliamentary events calendar – where scientists and learned societies come together to meet MPs to discuss the future and issues of the UK science landscape. The theme of this year's event was 'Science and New Frontiers'.
The day kicked off with a welcome from Speaker of the House, John Bercow, who spoke about the importance of events like Parliamentary Links Day in putting science and technology at the forefront of politician's agendas.
This year's Parliamentary Links Day is being opened by Rt Hon John Bercow MP, Speaker of the House of Commons: "We need more people in Parliament who take science seriously and people who promote the link between STEM and policymakers." #LinksDay19 pic.twitter.com/C7lwShN2MA

— Royal Society of Biology (@RoyalSocBio) June 25, 2019
'Parliament is a stronger body today because you are all here,' began Chi Onwurah's keynote address. As a former engineer herself, Onwurah voiced her own experiences with the lack of diversity in science and technology and how this remains a critical issue to resolve today.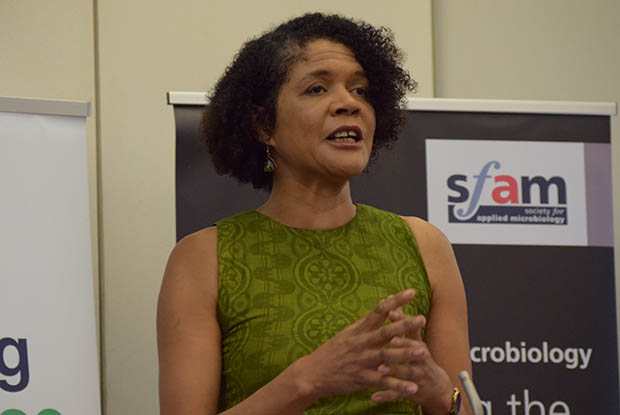 Chi ONwurah. All Images: Royal Society of Biology
Onwurah also highlighted Labour's manifesto promise to increase R&D spending to 3% GDP by 2030 compared to the current target of 2.4% GDP by 2027 and longer-term goal of 3% GDP. This investment is needed to make sure that 'innovation is part of our DNA' in the UK, she said.
| | |
| --- | --- |
| | |
| Speakers on the first panel of the day, which was chaired by Stephen Metcalfe MP, highlighted the different areas of emerging technologies and the importance of international collaboration. | Norman Lamb MP, who chairs the Science & Technology Select Committee, updated the audience with the committee's activities. |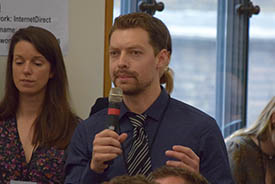 SCI guest Andrew Stonor from Johnson Matthey asked the first panel about collaboration between academia, industry and government in the area of Carbon Capture and Storage (CCS).
The second panel of the day – 'Future policies for the success of UK science' – was chaired by Carol Monaghan MP and featured SCI CEO Sharon Todd, alongside Professor Stephen Harridge (King's College London/The Physiological Society), Dr Sarah Main (CaSE), William Hardie (Royal Society of Edinburgh) and Dr Grant Hill-Cawthorne (Parliamentary Office of Science and Technology).
Taking an industry view, Todd highlighted two actions she would like to see taken to ensure the future success of UK science and innovation. First, she said that she would like to see the government's Industrial Strategy taken ahead in a much more dramatic fashion.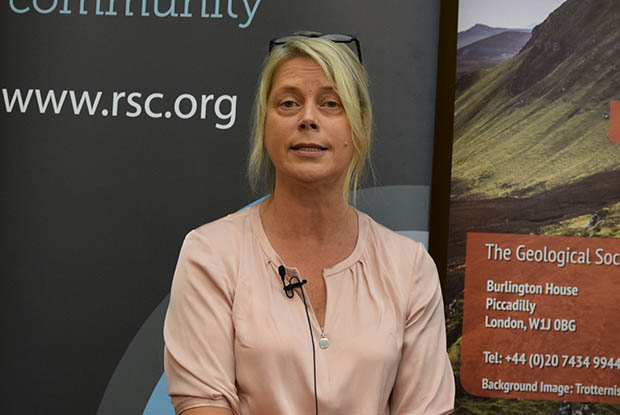 Sharon Todd.
'It's a great framework but it needs some more intensity and aspiration around, in particular, industrial development,' she said, noting the paper's strong scientific core. 'How do we set targets that really grow industry again?'
Sharon Todd, Society of Chemical Industry, said: 'We have a society that is divided. We need to move forward and listen and create solutions. The science community has a good way of posing solutions in a collaborative way.' #LinksDay19 pic.twitter.com/mBPC5EC9Xc

— IChemE (@IChemE) June 25, 2019
Her second point focused on building an innovation psychology in the UK. 'With Brexit looming, there are potential opportunities to reframe some of our regulatory frameworks and to put an Innovation Principle at what we do.'
The final keynote address of the day came from Science Minister Chris Skidmore who detailed the work and programmes that have developed since he began the role in December 2018.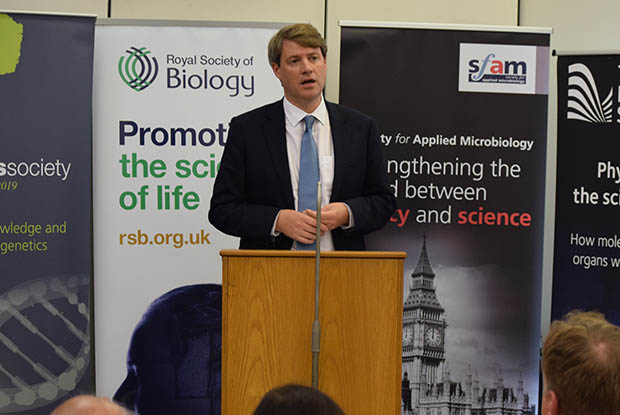 Chris Skidmore, Minister for Universities, Science, Research and Innovation.
On Brexit, he said: 'I believe we've reached a point now […] that we need to look urgently at breaking away [from the main negotiations] in order to protect science and education partnerships. We have to move away from this polarising idea that nothing is agreed until everything is agreed, that it's deal versus no deal.'
Skidmore also highlighted Germany's long-term plan to depoliticise science and guarantee funding for over 10 years as a possible tactic for the UK in the future.
Related links: