3 Apr 2018
In what is a major reorganisation of the UK's research funding system, UK Research & Innovation (UKRI) has officially launched today. Bringing together the seven Research Councils, Innovate UK, and the newly formed Research England, UKRI will strive to bring a new outlook and a renewed sense of cohesion to the UK science landscape.
Mark Walport. Image: Wikimedia Commons
UKRI is inspired by Sir Paul Nurse's influential independent review on the success of Research Councils, which recommended the integration of the councils to encourage the fluid transfer of expertise, skills, and people across sectors.
The organisation is led by the experienced Sir Mark Walport, former Chief Scientific Advisor to the government and Director of the Wellcome Trust from 2003 to 2013. Walport's appointment was widely praised following his success at the Government Office for Science, where under his leadership he made apparent his passion for open access and international research collaboration.
It's Day One of UK Research and Innovation: our brand new organisation will bring together the seven Research Councils, Innovate UK and Research England as a unified voice for research and innovation in the UK #UKRI pic.twitter.com/p90aDvJ2uh

— UKRI (@UKRI_News) April 3, 2018
Working closely with BEIS, UKRI will be in charge of a combined budget of £6bn – to include investment secured for the Industrial Strategy Challenge Fund. The seven councils will continue to distribute their share of £3bn annually to their respective disciplines, likely in the traditional peer-reviewed grant format.
Currently, there are suspicions that the specialisms of the councils are subject to change, especially with an increasing focus of multidisciplinary science, although this will be done under guidance from the research sector.
Research England will also have access to a £3bn fund, focusing on the productivity and impact of knowledge exchange between English universities and the implementation of the Research Excellence Framework. Scotland, Wales, and Northern Ireland will remain in charge of their own funding councils, and will act similarly to their respective devolved governments.
It's officially Day 1 of UK Research and Innovation! We're excited to continue our support of our researchers and institutions as well as working more closely with the other 8 organisations under @UKRI_News #UKRI pic.twitter.com/BeXL9010Uw

— STFC (@STFC_Matters) April 3, 2018
Innovate UK – centred on fostering innovation and commercialisation form the UK's strong research base – will continue to play a pivotal role in ensuring economic growth and productivity for the nation.
Innovation roadmap
One of UKRI's first major projects – the UK National Research and Innovation Infrastructure Roadmap – was announced in January this year, with the objective of identifying the UK's strengths and gaps in science research and innovation.
The outcomes of this report are likely to influence the distribution of the £4.6bn promised to UK science in the 2016 Autumn Budget and lay the foundations for a long-term strategy until 2030 for UKRI.
The roadmap will include large science centres and equipment, as well as other data- and communication-driven networks – from archives and collections to computing systems.
'From RRS Discovery to the UK Biobank and the Diamond Light Source to the UK Data Archive, this country is world-renowned for its scientific abilities,' said Sam Gyimah, Science Minister, at the time of the roadmap launch. 'Now, for the first time, we will map this infrastructure to enable us to showcase our capabilities around the world and identify future opportunities.'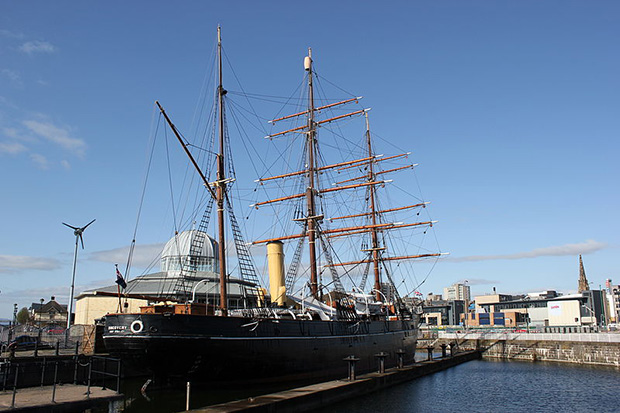 The RRS Discovery based in Dundee, Scotland.
A preliminary timeline has been produced, with evidence collection and review set to continue into the summer and the publication of a final report projected for April 2019.
'Nothing of this breadth and scale has ever been attempted in the UK before, but having the skills and expertise to carry out this vitally important work is precisely why UKRI was created,' said Gyimah.
By Georgina Hines
Related links: