The presentation of the Young Lipid Scientist Award recognises the excellence and emerging talent in research related to lipids, in any field across the physical and life sciences and engineering. Following the success of the first two SCI Young Lipid Scientist Awards, the third running of the event took place in conjunction with the SCI Lipids Group AGM on Monday 20th June 2016. Six shortlisted applicants were invited to present their research.
The presentations were made in alphabetical order by surname with three before lunch and three after. The presentations were limited to 20 minutes plus 10 minutes for questions, which worked well.
The presenters are pictured here (left to right: Jin Xu, Marjorie Ladd Parada, Siobhan Crittenden, Michael Dent, Kaiser Karamdad and Courtney Boyd).
The presentations were opened with Courtney Boyd from the Department of Life Sciences at Imperial College London.She was looking at the mechanism by which a bacterial toxin (intermedilysin) is able to penetrate cells that contain cholesterol in their membranes. She used liposomes as model membranes, and using atomic force microscopy (AFM) and cryo-electron microscopy was able to study the interactions between cholesterol, intermedelysin and a key protein (CD59) in forming barrel-like structures that are able to drill through membranes to form pores (which then leads to cell death).
This was followed by Siobhan Crittenden who had travelled all the way from the Centre for Inflammation Research at the University of Edinburgh. Her presentation related to how prostaglandin E2 (PGE2, a bioactive lipid) can affect the development of helper T cells (a type of white blood cell), and specifically what their interaction with Treg cells (which regulate other T cells) is. By comparing the microflora in the gut of mice where PGE2 has been blocked and those where it had not, and performing complementary in vitro experiments, she was able to show that PGE2 suppressed the development of the Tregs. As these Tregs themselves suppress the development of helper T cells this explained how PGE2 has a positive influence on the immune response (i.e. having active helper T cells).
The last talk before lunch featured Michael Dent from the Department of Chemistry at Imperial College London. His topic was using "molecular rotors" to probe the viscosity (mobility) of lipid membranes. Membrane viscosity is important as it affects diffusion through the membrane and hence many important diffusion-limited processes in cells. Molecular rotors are chemical compounds that fluoresce according to their rate of rotation, which can be tracked using the technique of Fluorescence Lifetime Imaging Microscopy. This allows viscosity to be imaged and applications were shown including red blood cells, E. coli and plasma membranes.
This year, unusually, three of the six shortlisted candidates came from one university (Imperial College), and a second student from their Chemistry Department, Kaiser Karamdad, was the first speaker after lunch. His work also involves membranes, but with a focus on making lipid membranes, as a potential method to help to create artificial cells. He used microfluidics whereby different fluids are directed and introduced to each other via very small (microscopic) channels. This allows a high degree of control when contacting fluids, and can be used to form emulsions with a high degree of monodispersity and control. Kaiser explained the process by which model membranes were created at the interface of water-in-oil emulsions, producing so-called giant unilamellar vesicles.
Marjorie Ladd Parada from the School of Food Science and Nutrition at the University of Leeds then took us on to a very different topic. She has been studying the crystal structure of the alpha polymorph of cocoa butter using X-ray crystallography. By applying mathematical models for calculating electron density profiles, she was able to successfully fit to her scattering data. As well as advancing our knowledge of this particular polymorphic structure she also laid out a way of using X-ray diffraction (XRD) data to estimate solid fat contents which could be a very useful additional measurement when performing XRD on fats in general.
The final talk of the day was given by Jin Xu from the Faculty of Life Sciences and Medicine at King's College London. Her work is involved in finding biomarkers (specifically lipid biomarkers) that can be used to help choose suitable transplant livers so that a greater success rate for transplants is achieved. By assaying a host of possible markers from livers donated after both circulatory death and brain death means, and then linking them to transplant outcomes she was able to clearly identify two lipid biomarkers that indicate poor livers (where significant liver tissue damage has occurred).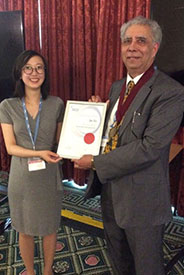 Deciding the winner was a very difficult decision and involved a lot of debate, but the committee voted for Jin Xu as the winner of the 3rd Young Lipid Scientist Award. The committee were particularly struck by the quality of the investigation and the potential impact that it could have. Congratulations to Jin Xu who receives a cash prize of £100 and complimentary membership of the SCI. She received her award from the SCI Lipids Group Chairman Dr. Parkash Kochhar (see picture). All the shortlisted candidates receive one year complimentary membership of SCI (worth £25).
The winner of the award, Jin Xu was also invited to speak at the EuroFedLipid congress in Ghent in September 2016, but was unfortunately unable to take up the offer. Instead, Courtney Boyd kindly agreed to represent SCI at the Congress, and she did an excellent job presenting her research. Courtney produced a short report of her experience at the congress which can be found here. SCI also contributed £400 towards her expenses.
The committee feels that this is an excellent opportunity for Lipids researchers to present their work, whilst also providing a great opportunity for networking with colleagues from academia and industry that have a common interest in oils, fats and lipids. We are very pleased to be providing this recognition to young researchers and to hear about the research they are undertaking. We look forward to continue running this award in future years.
Rob Griffiths and Andy Stapley
Lipids Group
Related Links