Dr Alan Baylis, Chair of the Board of Trustees, welcomed members to the 137th SCI AGM on Wednesday 4 July 2018.
Dr Baylis began the AGM with the Chairman's review, which was followed by a financial review presented by Dr Geoff Fowler – Chair of FIAC.
The results of the elections were announced as part of the AGM resolutions, starting with the re-election of the Chair of the Board of Trustees, Dr Alan Baylis.
'I look forward to continuing to work with the Board, Executive Director and team, and SCI members to consolidate the great progress made, aiming to build an SCI with a reputation for relevance, quality and value,' Dr Baylis said.
Election results were then announced for ordinary Members of the Board of Trustees:
Dr Charlotte Crowhurst
Diane Brown
Prof Raymond Jones
Dr Mark Harrison

Dr Alan Baylis, re-elected Chair of the Board of Trustees.
The AGM then noted the unopposed election of candidates for ordinary members of the Finance and Investment Advisory Committee:
Dr John Farmer
Patrick Kitt
The Publications Committee also had an unopposed election:
All other AGM resolutions were passed. SCI would like to thank all outgoing members of the Board of Trustees, and standing committees, for their hard work and efforts on behalf of the society and looks forward to working with the new Trustees and committee members to deliver our strategy and drive SCI forward.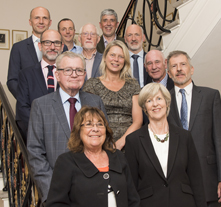 SCI thanks the outgoing Board of Trustees

To close the meeting, Sharon Todd, Executive Director, gave a presentation on SCI Strategy and key activities delivered, including the launch of a new CRM and website later this year, our continued partnership with the Chemistry Growth Partnership, and the growing diversity in SCI membership.
The AGM was followed by presentations from SCI Scholars Kay Yeung and Isobel Mackay, RS/SCI Scholar Navneeta Katyan, and Daphne Jackson fellow Rue Nzuma. In a parallel session, Regional and Technical Interest Group Officers took part in a working discussion of group strategy.
Afterwards, Dr David Witty presented the Distinguished Service Awards to Dr Parkash Kochhar, Tim Reynolds, and Kevin Smith.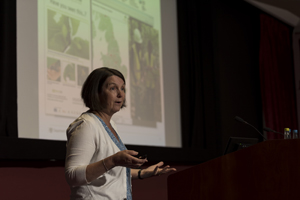 Chief Plant Health Officer, Professor Nicola Spence, delivered a talk on plant health and biosecurity.
Prof Nicola Spence, the UK's Chief Plant Health Officer, opened the evening's Summer Reception with a fascinating talk on 'Plant health and biosecurity in the UK' to celebrate the 10th anniversary of SCI's Horticulture group.
Dr Alison Foster then gave a tour of the SCIence Garden, which was followed by a lively Summer Reception, offering members and other attendees the opportunity to network throughout the suitably sunny evening.
Please note that the 138th AGM will be held on Wednesday 3 July 2019.
Related links: