For over thirty years, SCI has supported and recognised the excellence of early career people, by aiding their studies in the form of an SCI Scholarship.
Since 1985 around 74 scholarships have been awarded which have not only given the recipients financial assistance, but have enabled them to broaden their network, and strengthen their skills and knowledge. SCI Scholars receive access to publishing and mentoring opportunities and are given a platform to present their work amongst esteemed scientists and industrialists, thus raising their profile within the scientific community.
In the past ten years alone, SCI has generously bequeathed over £115,000 of its charitable funds to SCI Scholars and the scientists of the future.
Ivalina Minova was awarded an SCI Scholarship in 2018. Here, she tells us about herself and her research project.
Ivalina is from Bulgaria where she completed her A-level equivalents (Maths, Chemistry and Physics). She is a laureate at the National Chemistry Olympics and a recipient of various achievement awards. In 2012, Ivalina chose a Chemistry degree at Durham University.
During her second year of undergraduate studies, she was awarded a BP scholarship to carry out a summer research project (preparation, characterisation and testing of emulsified microemulsions for innovative controlled delivery and release technology) under Prof. Chris Greenwell and Dr. Sandra Engelskirchen.
Central to her degree was a one-year industrial placement (2015–2016), carried out at Johnson Matthey's Technology Centre, Billingham. The research involved the investigation of catalysts and support materials for industrial applications. In July 2016, she completed her MChem with first class honours.
Ivalina joined the University of St Andrews in 2016 as part of the EPSRC-funded Centre for Doctoral Training in Critical Resource Catalysis under the supervision of Prof. Paul Wright. Her research is focused on studying single crystals of zeolite catalysts as nanoreactors for operando IR microspectroscopy.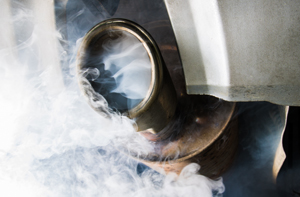 ← As part of her research, Ivalina is investigating diesel exhaust emissions.

'I am investigating important zeolite-catalysed reactions including the production of fuels and emission control from diesel exhaust gases. This work is being carried out in collaboration with Prof. Russell Howe and Prof. Andy Beale along with the Catalysis Hub and beam scientists at the Diamond Light Source (B22, UK). The synchrotron at Diamond can generate a bright infrared source that allows us to obtain detailed mechanistic insight and interpret structure activity relationships for the development of improved catalytic materials.
'I'm now entering the second year of my PhD and I am really enjoying it so far. I have gained a great deal of practical experience and have recently attended the 6th International Congress on Operando Spectroscopy in Spain to learn more about this subject. Earlier this year, I gave a talk at the 4th UK Catalysis Conference in Loughborough and my first scientific paper as lead author is now in preparation. The funding and support offered by my SCI Scholarship will provide a valuable resource to help me extend my research to new areas of industrial importance and support my continual attendance at conferences and training courses relevant to my project work.'
Outside of work, Ivalina regularly goes swimming and enjoys outdoors activities such as hiking.
Ivalina Minova
PhD Student
University of St Andrews
The 2018 cohort of SCI Scholars were recognised at our AGM on Wednesday 4 July 2018.
Related Links