Harry Swan, Chair of the Board of Trustees, kicked off the 142nd AGM with a light-hearted and engaging address, setting the tone for a day filled with informative sessions and networking opportunities. Members and attendees gathered to discuss the achievements, growth, and future plans of the Society.
Dr Elizabeth Rowsell OBE was announced as a newly elected Ordinary Member of the Board of Trustees. This year's retirees from the Board are:
Professor Joe Sweeney
Mrs Lucinda Bruce-Gardyne
Dr Andy Walker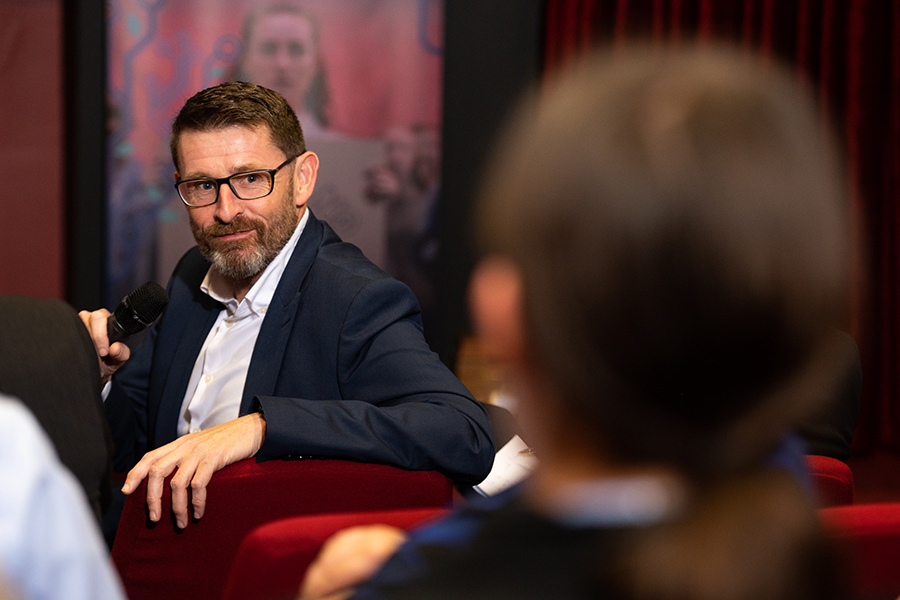 Professor Joe Sweeney, pictured asking what SCI means to early career members, is one of three Trustees to retire from their post this year.
The AGM delved into various aspects, including an in-depth financial update from Honorary Treasurer Chloe Frankish, who emphasised the Society's strong financial position. Unsurprisingly, given the impact on global finance of the war in Ukraine, the Society's investments saw losses, but income generated from investments (dividends and interest on the investment portfolio) increased, as did income from the premises at Belgrave Square, which is once again fully let out to tenants and has seen an excellent recovery in room hire income following an unavoidable fallow period during the pandemic.
Harry Swan proudly reported a significant growth in SCI's membership numbers, gaining 1,600 members over the past four years – a 27% rise. He expressed special satisfaction with the growing presence of Corporate Partners, recognising the ongoing efforts to bridge academia and industry within SCI membership.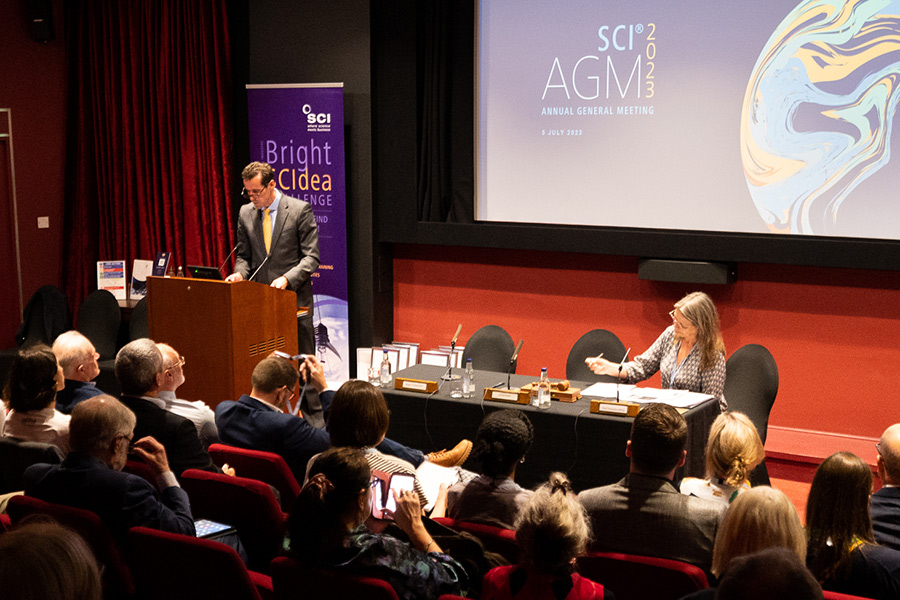 'I strongly believe that SCI is back on the map and is increasingly the place to go to bump into interesting people from the industrial and academic networks.
'Last year also saw a range of companies – Evotec, Givaudan, and Innospec; universities – University of Surrey and UCL; and SMEs – HydRegen, Isomerase, Porous Liquid Technologies, Rheology Lab, Supplant and Zentraxa join SCI. You are all very welcome, and I hope you've already benefited from the unique attributes that SCI has to offer,' he said.
Highlighting SCI's interdisciplinary nature, Swan emphasised the Society's unique position as a bridge between science and business. He commended SCI's ability to bring together a diverse range of members, from both large and small companies, fostering innovation and collaboration. Swan emphasised the pivotal role SCI plays as the 'beating heart of innovation' that the UK and wider society critically need.
The AGM also recognised exceptional contributions and talent from across SCI's innovative community. Swan acknowledged numerous awards, bursaries, scholarships, and fellowships bestowed over the past year, underscoring their importance in fostering a supportive network.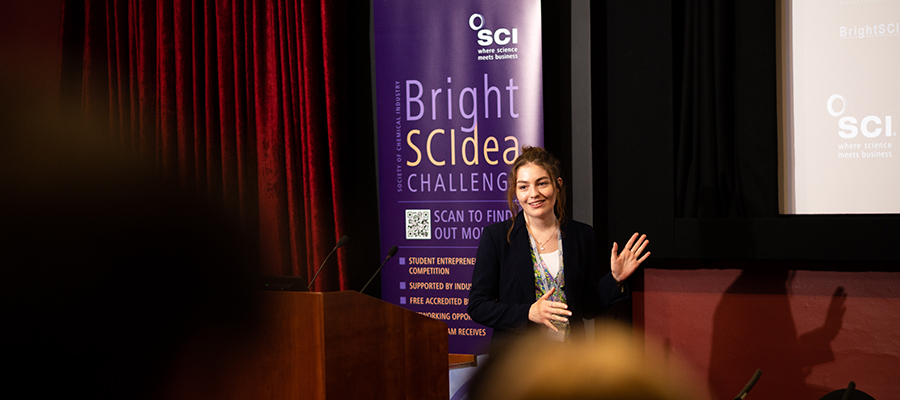 SCI's Bryony Parker gave an enlightening talk on the Bright SCIdea Challenge.
He highlighted the success of the Bright SCIdea Challenge, not only recognising this year's winners, Phagel, but noting the substantial pre-seed investment recently raised by 2022 winners CardiaTec – 'SCI is good at spotting winners for those investors out there', he said.
Swan emphasised SCI's engagement through conferences, outreach programmes and digital platforms, and highlighted the extensive range of events organised by SCI committees and conference team, with 55 events attended by over 3,000 delegates, and encouraged attendees to explore the wealth of SCItalks available online.
Looking to the future, he highlighted the strategic review conducted by the Board of Trustees, which was formally signed off by the Board in May, and the recent establishment of the Engineering Biology Group, Data, Digitalisation and AI Group and Sustainability Group, encouraging attendees to get involved and contribute to these exciting new areas of focus.
Attendees left the AGM for the Summer Reception with a sense of optimism and enthusiasm, recognising SCI's vital role in bridging academia and industry, fostering innovation, and driving positive change in society.
More to follow.