Entrants to the 2019 Bright SCIdea Challenge were treated to a day's training at SCI HQ in December, ahead of the final in March 2019, where selected teams will vye for a £5,000 prize as they pitch their innovative ideas to our panel of expert judges.
Georgina Hines
Image: Andrew Lunn/SCI
Complementary to a series of training videos released to help the teams build their business plan, SCI invited experts in their field to advise the students on topics ranging from 'Managing the Money' and 'Defining the Market' to 'Intellectual Property' and 'How to Pitch'.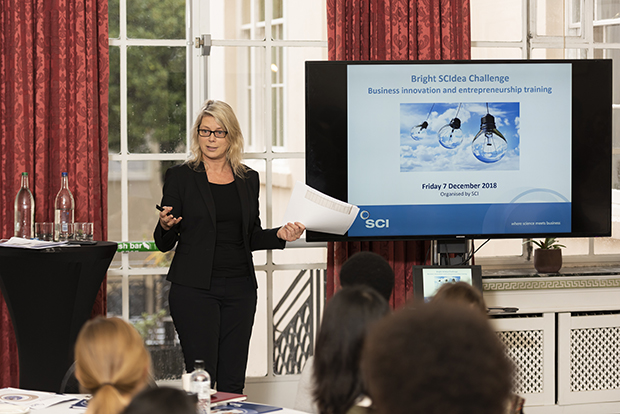 SCI's Executive Director Sharon Todd introduces the students to SCI and the Bright SCIdea Challenge. Image: Andrew Lunn/SCI
Covering the financial aspects of running a business was Martin Curry from pharmaceutical consultancy firm STEM Healthcare, which is supporting this year's Bright SCIdea Challenge.
Charlotte Crowhurst, Partner at SCI's Corporate Member Potter Clarkson, talked the delegates through the basics of IP, and long-time SCI member David Prest from Drochaid Research Services spoke to the students about taking their product from lab to market.
Last year's head judge and CEO of tech investment firm Cambridge Innovation Capital, Victor Christou, led the final session of the day, where students had to pitch everyday objects – from a lunch box to a plug adaptor.
Our teams have given some very compelling pitches! I might have call my lawyers for advice on how to invest in the Just Magic Phone Pillow now... 💡#BrightSCIdea pic.twitter.com/x3F8tJb0d8

— SCI💡 (@SCIupdate) December 7, 2018
This year's entrants were also given a talk by Libby Linfield, a member of the UCL-based Team Glucoguard, who won the inaugural edition of the competition in 2018 with their innovative business based on a genetically modified bacterium for the treatment of type II diabetes.
Building on the success of the 2018 competition, the second Bright SCIdea Challenge is set to be even bigger and better, thanks in no small part to Platinum Sponsor, Synthomer, Silver Sponser, INEOS, and support from Cambridge Innovation Capital, Drochaid Research Services, EIP, Genius Gluten Free, Johnson Matthey, Potter Clarkson, and STEM Healthcare.
Related links: