12 Oct 2015
The David Miller Travel Bursary Award aims to give early career plant scientists or horticulturists the opportunity of overseas travel in connection with their horticultural careers. Idowu Rotifa was awarded one of the 2015 David Miller Travel Bursaries and he travelled to Tennessee to conduct research into his PhD project: 'Novel approaches for the management of leaf and bud nematodes (Aphelenchoides spp.) in hardy nursery stock'
'Foliar nematodes (Aphelenchoides spp.), also called leaf and bud nematodes (LBN), are microscopic roundworms that live in leaf tissue and cause significant injury to many ornamental plants. They are a significant foliar pest of hardy nursery stock plants whose feeding results in angular-shaped blotches on the leaves which are delineated by the veins and often accompanied by leaf distortion. In the UK, Aphelenchoides ritzemabosi and A. fragariae are the two main foliar nematode species of economic importance. There are over 700 associated host species of LBN from at least 85 different plant families. LBN problems become more important because of the revocation and subsequent loss of systemic nematicides, increased nursery production of these vegetatively propagated plants and long distance movement of plants. Currently the only effective nematicide against this pest in the UK is oxamyl (Vydate 10G), which has an EAMU for use on protected ornamental plants. Not all growers wish to use Vydate as it is not compatible with biological control agents used for other pests within IPM programmes, and in addition, its continued availability is uncertain.
'This project aims to develop new approaches for the management of these nematodes in hardy nursery stock by evaluating individually, and in combination, the efficacy of some products derived from plant extracts and currently approved pesticides to reduce nematode infestation on plants. In addition, to evaluate the application of products and compounds that act as elicitors of plant defences to determine whether they can confer levels of resistance to nematodes. The mechanisms of approach include investigating movement of nematodes from soil into the plant; evaluating soil and foliar treatments with systemic activity to prevent nematode infection, as well as foliar treatments with elicitors to induce resistance; and developing a nematode treatment programme.
'The trip to the USA was necessitated by the extent of work done on the biology of foliar nematodes including population dynamics and dispersal, management and control, identification of alternatives management and host range compilation in the USA by various researchers. These includes Lisa Kohl, Jagdale G.B Grewal, P.S Warfield, C.Y and Benson, D.M.
'Moreover, I wanted to observe the practical approaches, along with the current management practices of foliar nematode by growers, and in addition to assess the level of awareness on this important pest in the USA.
'Having made necessary contact with the researchers at the University of Tennessee and some growers around Tennessee, I decided to embark on this important visit.
'Arriving in Tennessee, I first visited the department of Entomology, Pathology and Nematology, Institute of Agriculture, University of Tennessee, Knoxville.
'I was introduced to the members of staff working on pest management including nematodes and insects. I met the systematics expert who specialises on identification of nematodes for the department, Prof Ernest Bernard and his team. He showed me his current work among which is the extraction of some nematodes from millipedes, identifying them and investigating the possibility of transmitting bacteria. They also observe their mutual relationship whether harmful or not. He found some millipedes that had up to 1700 different types of nematodes.
'Dr Ruisheng An, associate professor to Prof Jagdale Grewal, who was my host, took me to the University Garden Centre where they have some experimental plants affected by foliar nematodes. Nematode infected plants are normally donated to the university by the growers once they are suspected to have symptoms, and if they do not respond very well to treatments.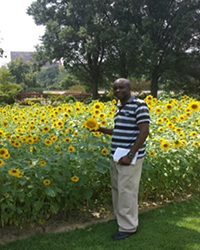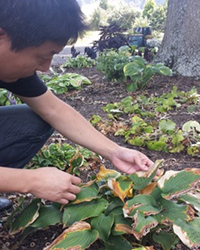 Dr Ruisheng An (left) observing foliar nematode symptoms on Hosta plant and Idowu Rotifa (right) with beautiful sunflower plants at University of Tennessee Garden
'He showed me the current product used on foliar nematode in the USA called NemaKILL™, an organic nematicide. NemaKILL™ was approved in December 2014 in the USA and most Hosta growers and other horticultural farmers know about it, although the level of awareness is still below expectation. The department have done some successful research works in laboratory bioassays and field on this product.
'NemaKILL™ was derived from extracts of essential oils and acts directly when in contact with the nematode. NemaKILL™ works on contact when inhaled by the nematode. Vapour pressures, created by the aromatic properties of the product, permeate the soil and affect the nematode. It is used on both agricultural and non agricultural crops. On Hosta plants, they are applied when the plants overwinters (dormant) before the shoot comes out, the solution in water is poured directly on the plant area. This has to be applied 2 or 3 times before they emerge as buds. They are especially concerned with Hosta plants as they command great revenues in the United State of America.
'They are also investigating another product called Pylon (chlorfenapyr), an insecticide from BASF. This worked very well in the lab bioassay but has not been fully tested on the field.
'In addition, Dr An showed me an improvised extraction method which is being used to extract foliar nematode from soil and leaves. It looks like the modified Baermann method with a dangle rubber funnel, an adjustable clip through which nematode could swim down the funnel opening and thereby be collected. The 1mm mesh size is placed on the top of the funnel, which is lined with Kimwipe tissue on top of the mesh. Nematodes are very active so they swim down through the tissue and you can collect them in small (+/-5ml) solutions.
'Advantages include (a) a clean solution and (b) an effective method to identify a solution with active nematodes especially when investigating different products on nematode management.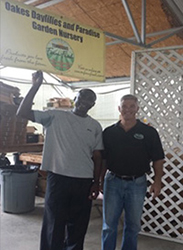 'A visit was made to a garden centre called Oak Daylilies Gardens. The farm was located at Corryton, the outskirts of Knoxville City. I met with the managing director of the Garden, Mr Ken Oakes who showed me around. He has varieties of plants like Leucathenmum superbum, Echinacea purpurea, Geranium, Liatris spicata, Veronica longifolia, Blue fortunes, Athyrium - ferns, Dryopteris, Buddleia davidii, Butterfly bush, and a host of about 30 varieties of hosta, Astilbe, Aster, Montana maryleen, Brunnera macrophylla, Polygonatum odoratum, and Phlox. He mentioned that the garden produces about 300 varieties of Daylilies.
Mr Ken Oakes and Idowu Rotifa at Oakes Daylilies Garden, Corryton, Tennessee, USA
'He has little knowledge of foliar nematode but does treat his plants with broad spectrum products like an insecticide - Decathlon 20 WP (cyfluthrin), and a fungicide Eagle 20 EW (myclobutanil). His management practices include:
Cutting back leaves if they look susceptible and composting them, but he doesn't use the compost according to him.
He is not really aware of the nematicide to treat foliar nematode. He destroys the plants if symptoms are getting severe and cannot be treated by the above products. I enlightened him about foliar nematode, management practices and current nematicide in USA. I also showed him pictures showing symptoms on various plants. During my walk around the garden, I saw some plants like Ferns and Buddleia plants with nematode symptoms which I showed him.
'The next garden centre I visited was Sunlight Garden, Andersonville, Tennessee where I met Mr Mike who is in charge of the garden. He took me round the garden and showed me various types of plants available in the centre. I asked him about the common pest in his garden and especially if he is familiar with foliar nematode. His response was that they used to treat plants for aphids, thrips and mildew as a general form of control with fungicides. He is not familiar with foliar nematode and if any of the plants treated with fungicides does not improve, plants will be destroyed. I showed him the symptoms on few plants in his garden and asked if he had ever noticed such before. He confirmed that they have recently been seen earlier on some plants. However, due to his inability to identify them as symptoms of foliar nematode, many plants had been destroyed ignorantly when using wrong products to treat foliar nematode.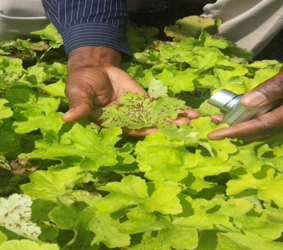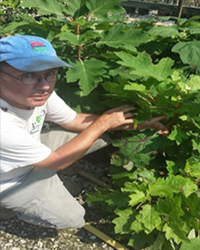 Mr Mike (left) and Idowu Rotifa (right) inspecting foliar nematode symptoms on plants at Sunlight Gardens, Andersonville, Tennessee.
'After our discussion, he agreed that he has been using the wrong products and was happy that I made the visit to the garden centre to enlighten him. He specifically mentioned that many hosta and daylilies had been destroyed due to the fact that fungicides could not control nematode symptoms. He promised to obtain the organic nematicide which I told him about. Among the plants infected in his nursery were Glade ferns, Hostas (Patriot, designer genes, Rare breed), Bergonia, Heuchera (autumn bride), Hydrangea, Aster, Phlox, Eupatorium maculatum and others.
'Major observation and benefits from USA research visit:
Common nematode species in the UK affect ornamental plants in USA.
Research project is ongoing most of the time, and usually (not limited) funded by different horticultural societies, like the American Hosta Society
Identified improvised extraction method
Grower's practical experience and awareness is still below expectation, therefore more awareness is needed both in the UK and USA.
'In all, a high level of hygiene in the nursery is needed to manage and curtail the spread of foliar nematode in our nurseries. If nematode management is well taken care of, nurseries turnover could increase tremendously according to the US growers.
'In conclusion, this visit has widened my knowledge and afforded me great opportunity to speak with researchers in the USA on their current investigations on foliar nematode, and rare privilege to interact with growers and enlightened them on the impact of foliar nematode affecting ornamental plants in the USA.'
Appreciations to the department of Entomology, Pathology and Nematology, Institute of Agriculture, University of Tennessee, Knoxville, including Dr. Ruisheng An and Prof Ernest Bernard. The growers of Oakes Daylilies, Corryton and Sunlight Garden, Andersonville both at Tennessee; AHDB - Horticulture and SCI, via the David Miller Award, who both part-funded the trip; SRUC Edinburgh and Dr Andy Evans, for logistics support.
Idowu Rotifa
PhD Student, SRUC and University of Edinburgh, Edinburgh Scotland
Related Links